It may be hard to believe this, so sit down when I tell you: you're getting old. Don't worry, so am I (unfortunately), but we're all getting old and time is moving way too quickly. That's right, we're closing in on the end of 2023 which means it's time for retrospection, and top X of 2023 lists to start making their way onto your front pages (Trust me. I'm addicted to them too). So what better way to get into it than with a little retrospective for the sequel to one of 2022's biggest tiny hits. The Miyoo Mini+.
Before we get into this, I just wanted to let you know the Miyoo Mini+ featured in this article was sent over by the fine folks at Droix. Despite that, Droix is seeing this at the same time as you are, and all the thoughts and poor opinions about this handheld and others are my own. 
What is the Mini+?
Let's start with the device we're even talking about; the Miyoo Mini+. Released in March 2023, this handheld follows up one of the big successes of 2022: The original Miyoo Mini. Featuring the same SigmaStar SSD202D, the same 128mb of ram, and the same lack of a GPU. The Miyoo Mini+ ups the stats with a 25% larger IPS screen at 3.5 inches, and a still solid resolution of 640×480. Keeping it all going is a now larger (and still swappable) 3,000 mAh battery. All of this for the original asking price of around $65… but now with wifi to boot!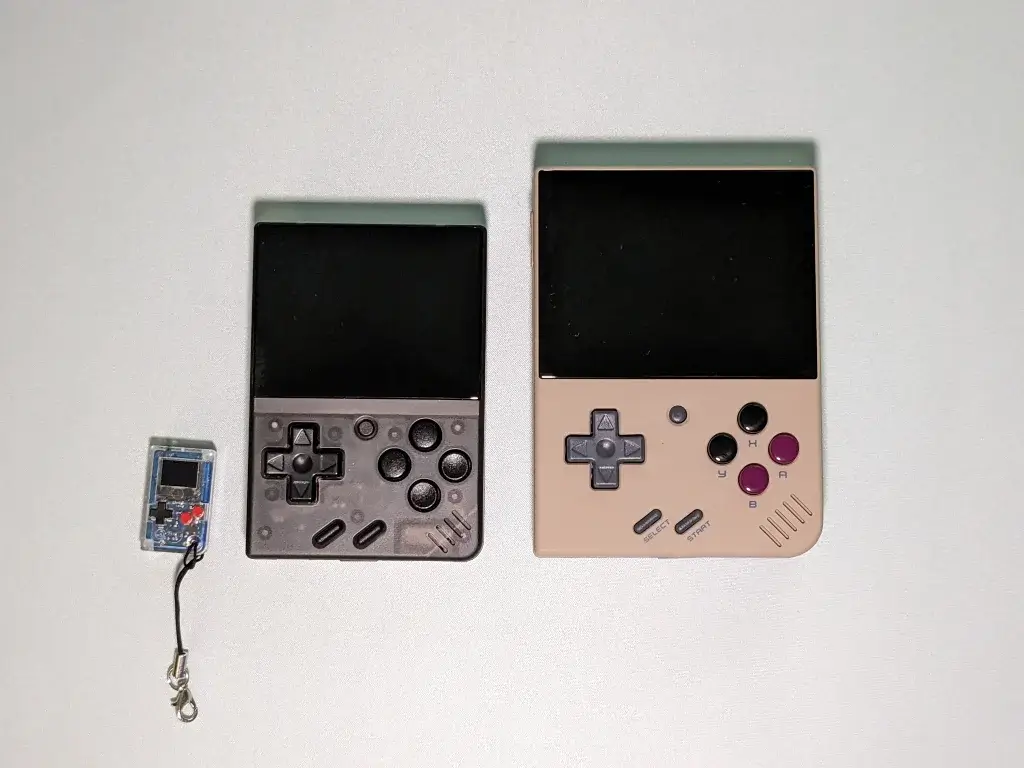 While it may not sound like a lot, that SigmaStar processor packs some power. A processor with no GPU still lets the 4:3 screen play everything nicely up to PlayStation 1, with some development even going towards working on DraStic as of recently. Also returning are the same size face buttons as the original Miyoo Mini, but some new raised yet still clicky shoulder buttons that I find to be an improvement.
The experience with the Miyoo Mini+ is great. The Stock Operating system is usable out of the box for most people, but there are options out there to make the device even nicer to use. GarlicOS, for instance, is a feature-packed system that packs as much customization, systems and even ports into it as possible. Alternatively, the MinUI OS is a stripped back, "out of the box" experience that doesn't need box art or anything. Just a few systems put in, and all you need are the appropriate roms and bios files.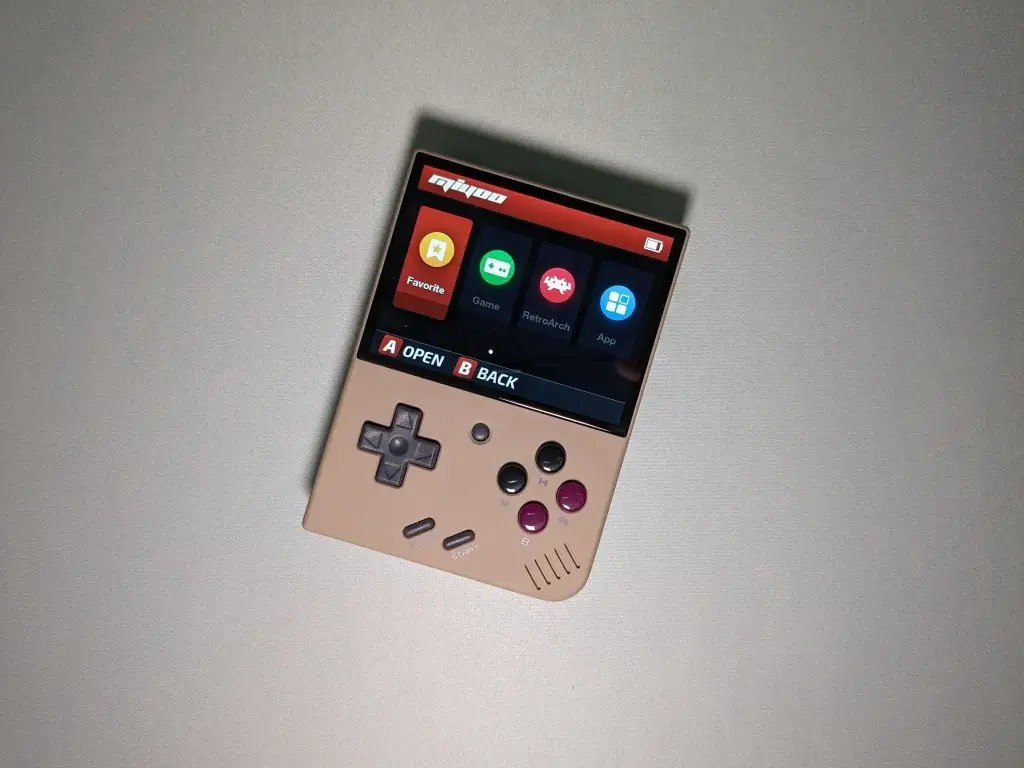 Have you Missed 2023?
2023 has been long, arduous, full of Indiegogo campaigns and handhelds flooding out of every nook and cranny that we've got. There's been a lot of good… And a lot of bad. From $20 SNES Controller handhelds, to a $1,000 big fish handheld with a mondo impressive 8.4-inch screen. We've seen the GPD Win 4 and ROG Ally, but also the KT-R1 and the Razer Edge 5G. If you have a need, 2023 has met it in one way or another. But what's nice is the low-end has filled out as well. The RG-Nano meets your small needs, the X55 meets your louder, larger needs, and the RP2S meets your all-in-one Android needs.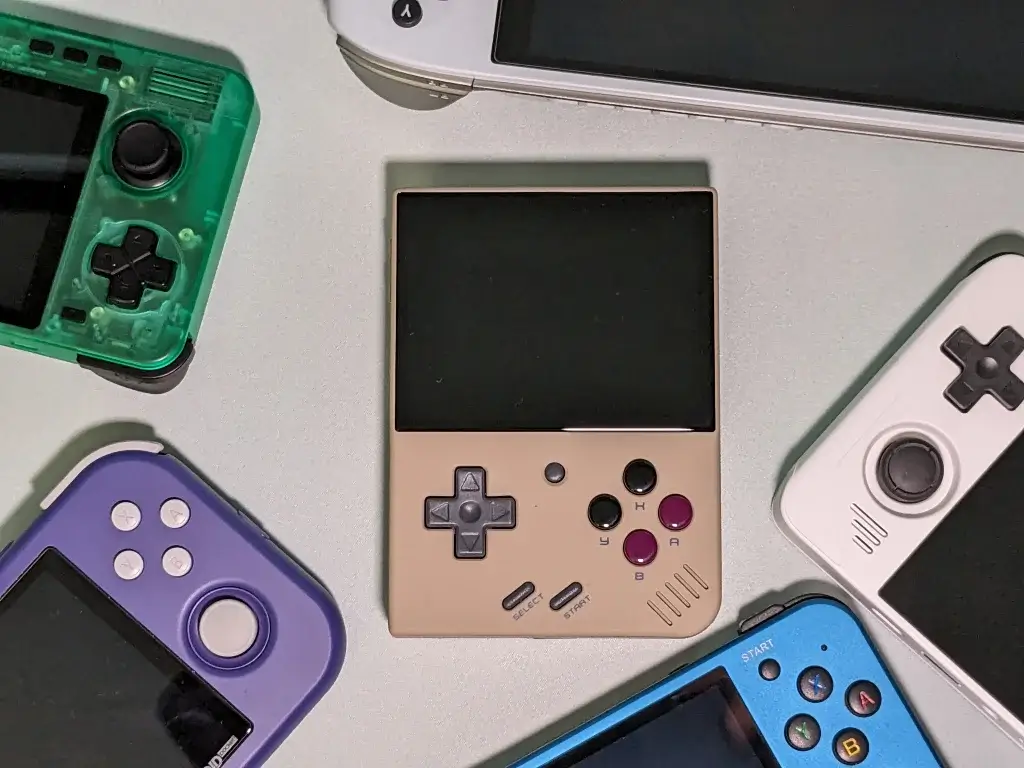 So where does the Miyoo Mini stand? At $65 it's a simple, easy to use device that fills that need for a vertical PS1 playing pal. But in 2023, it's not the only vertical choice. If you're looking for something different, with or without sticks, bigger, smaller. Well, you need to ask the question: what else hit the vertical market standing tall this year?
Miyoo Mini+ vs. 2023
Vertical devices have never been the most popular release, so in the last year they've been uncommon to see. As such, there were only 8 total verticals released in 2023, so that should make it an easy comparison… right?
First off, beginning of the year, 3 months before the Mini+ we got the GKD Mini Plus, and Mini Plus Classic. A pair of verticals rocking the classic RK3566 and 3.5-inch screen combination we've seen in a number of handhelds this year. The Classic rocks an all metal body with a pair of joysticks, while the Mini Plus has a smaller body with an optional joystick attachment. In comparison to the Miyoo Mini plus, the GKD devices had more power, and arguably better ergonomics; at least with the attachment. But where they lacked was software. They both used an unofficial port of JelOS that simply did not work for the market. The ease of use the Mini+ had in software was simply a huge step-up for useability, along its' major price difference. Again; $65 for the Mini+, but $110 to $200 for the GKD Mini Plus and Classic.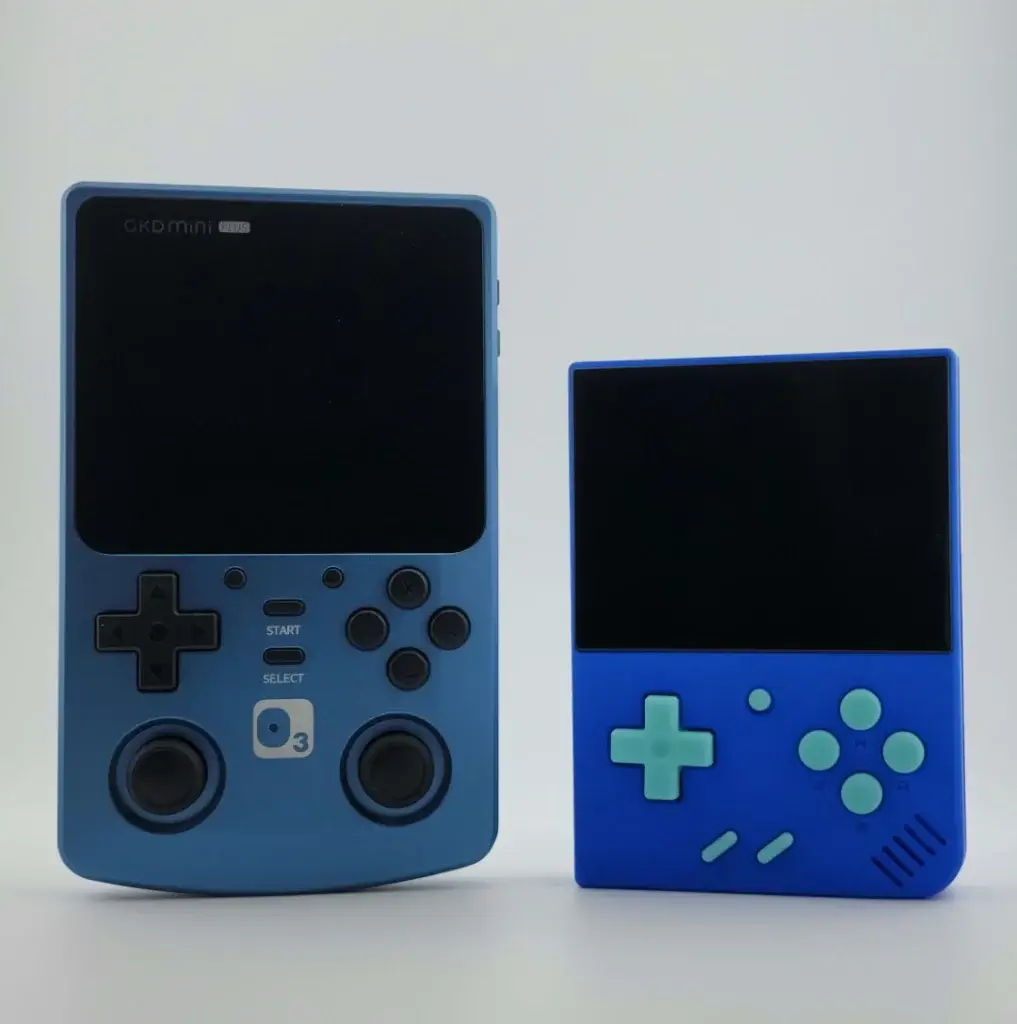 The next verticals we saw hit us around May, coming as a terrible two again were the Retro Pixel Pocket, and the SZDiiER D-007. The D-007 being a clone of the Powkiddy RGB20S meant it had the common "RK3326 paired with a 3.5-inch display" combo of yesteryear. Meanwhile, the Retro Pixel Pocket was in a league of its own with a Allwinner A64 processor and a 3-inch square 1:1 display. These devices had their own advantages over the Mini+. The D-007 featured way better ergonomics, and the RPP had a 720p display that was great for Pico-8 and other near square aspect ratio devices. However, they also had their own downsides versus the Miyoo. The D-007 had a non-laminated display and a poor implementation of "Android". The RPP featured many issues upon launch, including buttons that didn't always work properly, and many complaints about no touch screen on (another) Android device. While it doesn't win on ergonomics, or an interesting niche display, the Miyoo Mini+ continued to stand above with its surprisingly usable software and buttons. Though pricing was much closer this time. The D-007 is currently standing at $55 on AliExpress, and the RPP being unavailable now but selling for $80 when it first came out.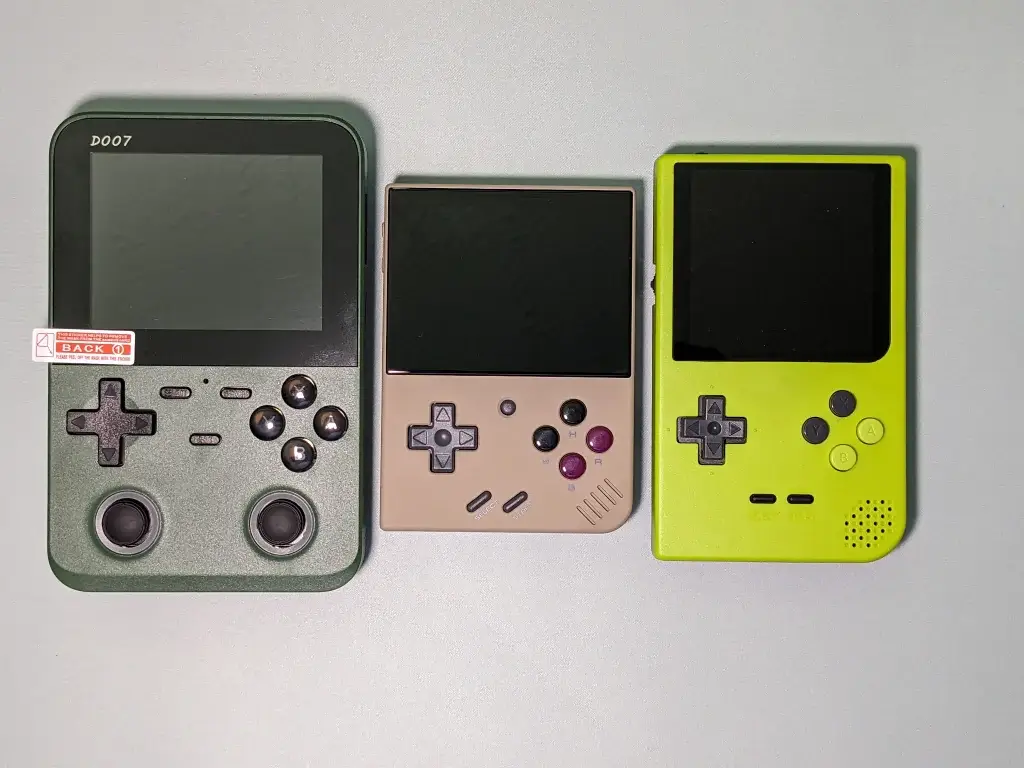 Following up for the summer in June and July were the RG-Nano from Anbernic, and the R35S from… someone. I'll keep this simple. The R35S is another RGB20S clone. RK3326, 3.5-inch screen, ArkOS 2.0 (unofficially) out of the box, and not a bad price point. Only around $50 at the time of writing. But the ergonomics of this are even worse than the Mini+ with the buttons and d-pad squished all the way to the bottom, and some pretty loud shoulder buttons.
The RG-Nano was a much better choice, with a metal build, an Allwinner V3s, and Funkey OS; a solid operating system already on two other tiny handhelds. A tiny blue buddy that can do about what the Mini+ can at around the same price $60 dollars before shipping. However, the RG-Nano might be too nano. It's a small device and you can see it. Its' 1.54 inch display is 44% the size of the Mini+ and that makes a huge difference. If you want tiny go for it, but between this, the R35S, and the Mini+, the Mini+ stands above as the best ergonomically. Even if it is a bit pricier (or similarly priced) compared to this competition.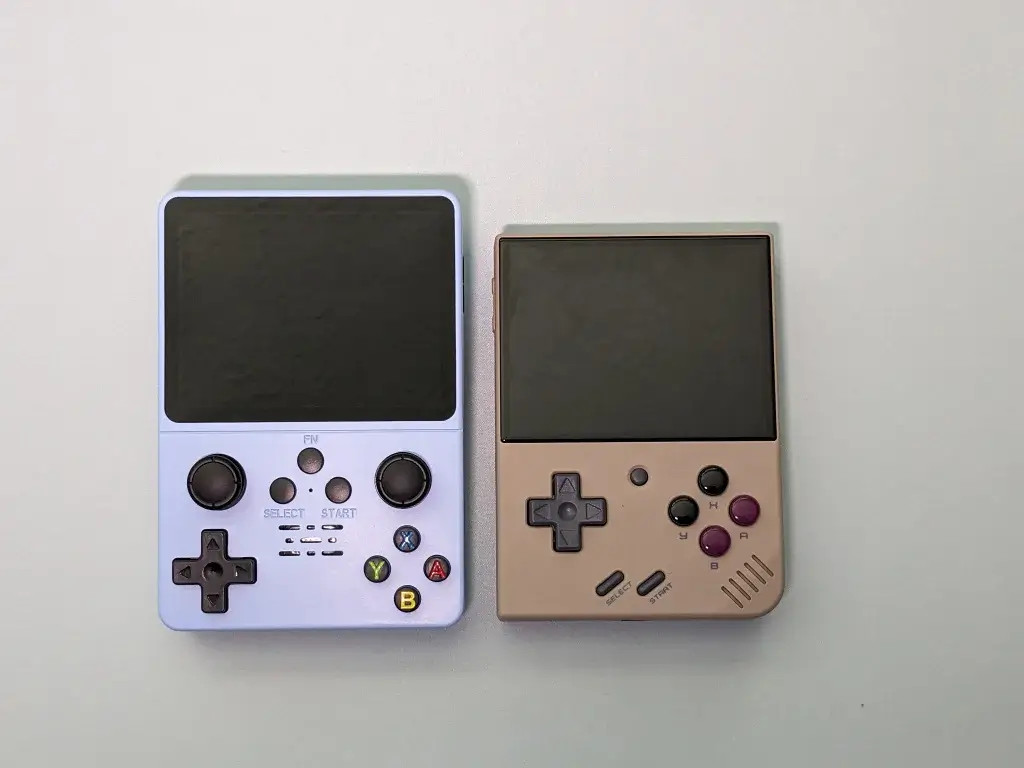 Finally, the latest vertical handheld to hit the scene in 2023 was the RG405V (again from Anbernic). This is a great handheld as well. It's a wider device with a 4-inch display. Dual thumbsticks, nice (though low) shoulder buttons, and all powered by a T618 chipset. This thing can play all the way up to some Gamecube and PS2. It really seems like a good step from the Mini+ right? Well… Yes. Outside of the price ($130 vs $65), the weight (282 vs 162 grams), and the general size of the device. The 405V is a great vertical powerhouse, but if you want something small, that just kind of works (even if you don't get as much power). I'd go for Mini+. Though you certainly can't go wrong with either.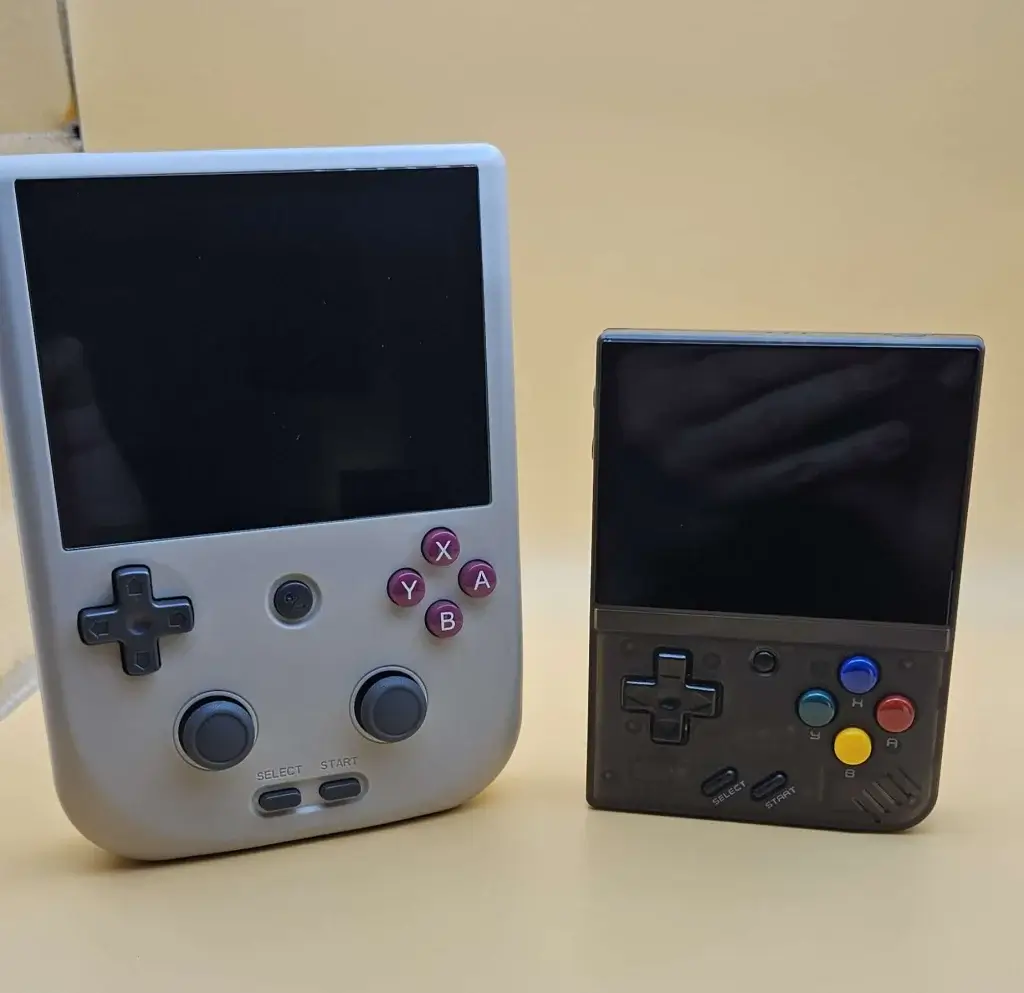 Mini+ vs. My Opinions
So what do I think? I think the Miyoo Mini+ is a fantastic little device but not without its flaws or issues. It's got a nicely sized 3.5 inch display, its got responsive and nice to use buttons (though they could be less glossy please), and it's got improved shoulder buttons over the original. However there are things that could be better. Miyoo's QC is still not there (my first Mini+ had a corner of the screen peeling away), again the face buttons are a bit too glossy, and the speaker (while front firing) I find gets blocked by my meaty thumbs. You might have smaller fingers and not have this issue, but it is something that I noticed. 
Great positives and fairly minor negatives. What's not to love? The fact that the biggest competition for this is from 2022. The RG35XX. A slightly bigger handheld with improved ergonomics and some equally quality custom firmware options. I prefer the 35XX. I'm going to continue to pick it up after I'm done with the Mini+. But these two are such good small devices that I plan to keep them around… maybe for when the battery dies in one. I don't think you could go wrong picking either one. But when you do make your decision, both are great pickups that can be had at Droix for around the same price. I don't think you'll be disappointed. 
Purchase the Miyoo Mini+ from the Droix website, or directly sold by DroiX on Amazon.
What did you think of this article? Let us know in our Discord!
This page may contain affiliate links, by purchasing something through a link, Retro Handhelds may earn a small commission on the sale at no additional cost to you.