Well it seems like Gabe is finally getting my emails, I've only sent a few thousand at this point. I tell ya, when that man ghosts you after a lovely first date, he takes it seriously. Anyway, does anyone else feel smacked in the face by that announcement? I don't even need a morning cup of coffee; the sheer shock of that sudden bomb has left my day quite a bit more interesting than I imagined it would be when I crawled out of the gutter this morning.
So we have the Steam Deck, everyone's favorite "just buy this instead" when it comes to talking about any gaming or emulation handheld. Indeed, Valve have really captured the hearts and minds of a fanbase with an excellent and well-priced machine, and now they're looking to step it up a notch. Could this have anything to do with two of the biggest laptop manufacturers in the world coming up to bat with the ROG Ally and the Legion Go? Or was this always in Valve's playbook thanks to a little borrowing out of Nintendo's? Hard to say, I'll update you on the true facts if I can ever entice Gabe into a second date.
If you've been living in a nuclear bunker for the last couple of years and haven't heard about Steam Deck, our review here should help you get your footing before going over the changes for the new model.
So the big focus is on the shiny new OLED screen, and it's pretty easy to see why from my perspective. After all, personally, one of my biggest issues with the old Steam Deck was the dull screen with the low color gamut coverage. Well no more of that, what with the new 117% sRGB coverage, 110% DCI-P3 coverage, and a whopping 600 nits brightness to contrast against those perfect black levels (1000 nits for HDR content). Side by side these panels are going to be a night-and-day upgrade from the old ones, and I can't wait to see one in person. It's also getting a small size bump to 7.4″ thanks to the bezel shrink, but really the "bigger" feeling you're going to get will be from those smaller bezels rather than the increased physical size. This won't quite be as drastic as moving up to the Legion's massive 8.8″ tablet display, but it will feel very nice in real-world usage.
We're not seeing a bump in resolution however, which means the PPI is staying where it is and unfortunately it still won't quite be the ideal display to stream your 1080p+ content to, but this is a real benefit to performance since we won't be seeing a bump in power either. That leads us into the chip, which yes will still be the same overall specs as the old one. Don't expect some leap into Z1 Extreme territory here, what played on the old chip will play on the new, but the new chip HAS been helpfully scaled down. From 7nm to 6nm, it doesn't seem like much, but it really does help mean less wattage being pushed through the chip to achieve the same performance. This, paired with the new 50Wh battery (up from 40Wh in the old one) will combine forces with the lower draw OLED screen to make for a much better overall battery life. Steam is advertising 30-50% more, which might be a little bit optimistic, but at the end of the day less battery anxiety around this device is nothing but a good thing especially when pushing the chip to its tdp limits.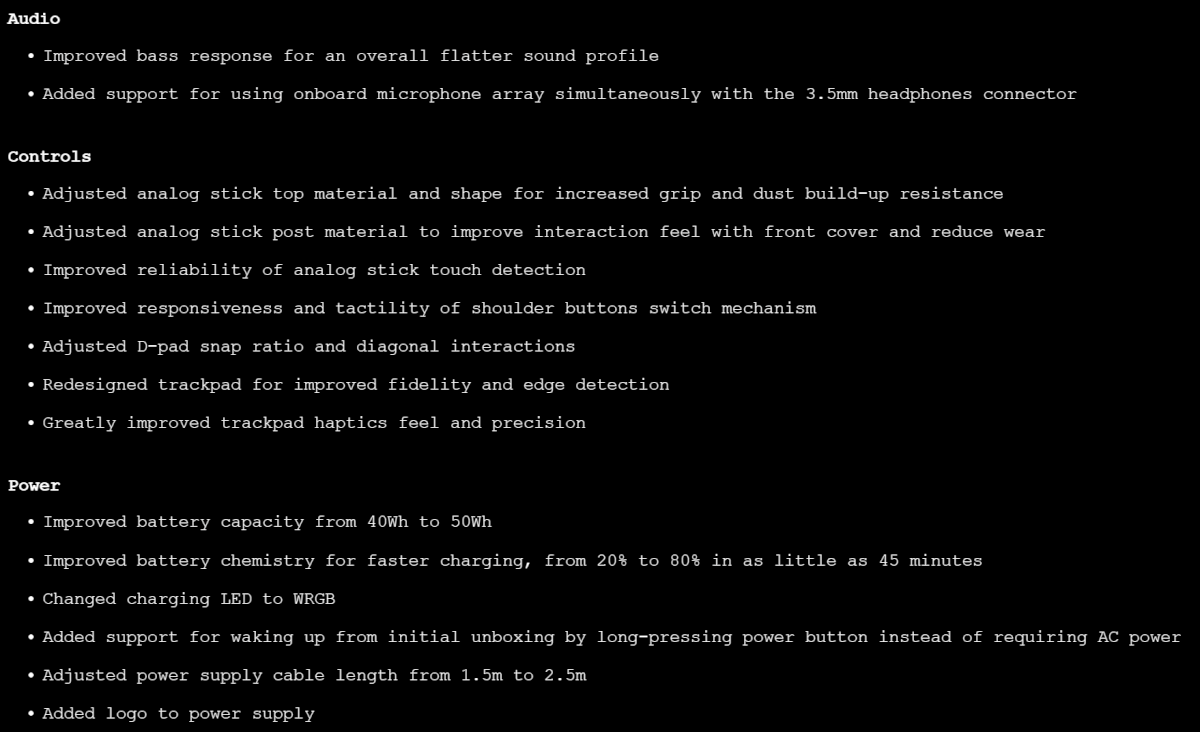 This may of course be counteracted if you wind up playing your content at higher framerates, as the new display also boasts an upgrade to a 90hz refresh rate over the former 60. The display isn't the only thing getting a speed upgrade too, with the Wifi chip getting a bump up to 6E speeds being advertised as up to 3x faster than before. The RAM is getting a speed boost also, up from 5500 MT/s to 6400, which should theoretically result in slightly better performance due to increased bandwidth for VRAM. Also a new larger fan will mean the whole thing stays cooler and quieter than it ever did before. There are a lot more small improvements as well, such as the upgrade to Bluetooth 5.3, but I've touched on the major ones here as well as providing the lists you've seen throughout. If you want more info, or you want to wishlist it now, check out Steam's page for all of that.
Purchase the Steam Deck from Valve here.
What did you think of this article? Let us know in the comments below, and chat with us in our Discord!
This page may contain affiliate links, by purchasing something through a link, Retro Handhelds may earn a small commission on the sale at no additional cost to you.