In the world of gaming, nostalgia is a powerful force, and the retro gaming scene has been booming in recent years. For those looking to relive the glory days of handheld gaming or discover classic titles for the first time, we've compiled a list of our top 5 'budget' retro handhelds (under $200 USD) that have been released or updated in 2023 so far (and if that price range makes you squawk, then stay on the lookout for our follow-up 'Top 5 under $100' list coming soon. These devices offer a blend of modern technology and old-school gaming experiences to deliver the ultimate trip down memory lane.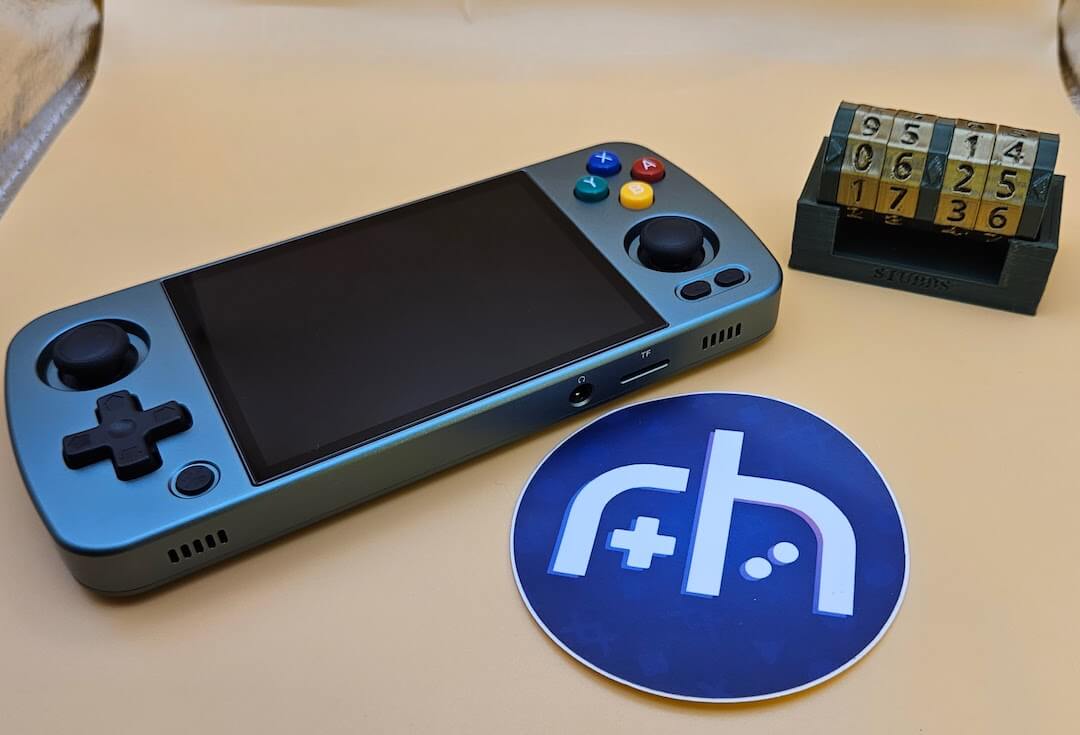 We did not save the best for last…in fact, we are starting with it! The 405M arrived this year as a compelling Android 12 based, aluminum shelled T618 handheld that looks and feels great. This is the same chip that was in the PowKiddy X18S, RG505, and Retroid Pocket 3+ from last year. However, what makes this device stand head and shoulders above the rest is the fact it offers a true retro experience with a beautifully vibrant and color rich 4" 4:3 IPS touchscreen. Up-scaling games 2-4X looks amazing here. The downside of the screen however is that much like the RG505, it doesn't get super bright. Perhaps that's not important to you if you're gaming around the house or in bed at night (luckily it gets super dim which is great!) but it may give outdoor gamers pause. Beyond that, the pleasant feeling rubber membrane face buttons/dpad, clickable and wide hall effect joysticks, clicky shoulder buttons, and familiar rubber pads on the back all feel and perform amazingly well without worry of the dreaded "stick drift."
The RG405M's metal design is both sleek and user-friendly, with a comfortable grip (despite the weight) for extended gameplay sessions, and Anbernic is adding a printed ergo grip for sale soon. Powered by a Unisoc T618 2Ghz 8-core CPU, with 4GB of DDR4 RAM, this thing ensures smooth gameplay, emulating Atari – PlayStation 2 / GameCube, even some Nintendo Switch if you're brave. The RG405M also features 128GB of internal EMMC storage, expandable up to 1TB via a micro-SD card, allowing users to store a vast library of games (speaking of you can buy this with an SD card from Anbernic, with 128GB or 256GB options, and yes, they come loaded with legally gray area roms). The 4500mAh li-po battery has an estimated 7 hours of playing time and a 2-hour charging time; the battery life here is exceptional. This is further boosted by the power efficient sleep functionality of the included Android firmware. Speaking of firmware, an amazing CFW option is available in the form of GammaOS. It fixes many issues with the stock firmware, including making the screen look better, and adds some features, like having Daijisho set up as the default frontend. It also adds to the battery life (up to 24 hours battery life on Power Saving mode!), making it one of the longest lasting batteries in a handheld of this caliber.
All in all, we feel this is the best budget retro handheld the market has to offer (as of April 2023). You'll generally find the 405M between $178 and $190 from sites like AliExpress or Anbernic.com. If you want it faster, there's always a little site called Amazon.
---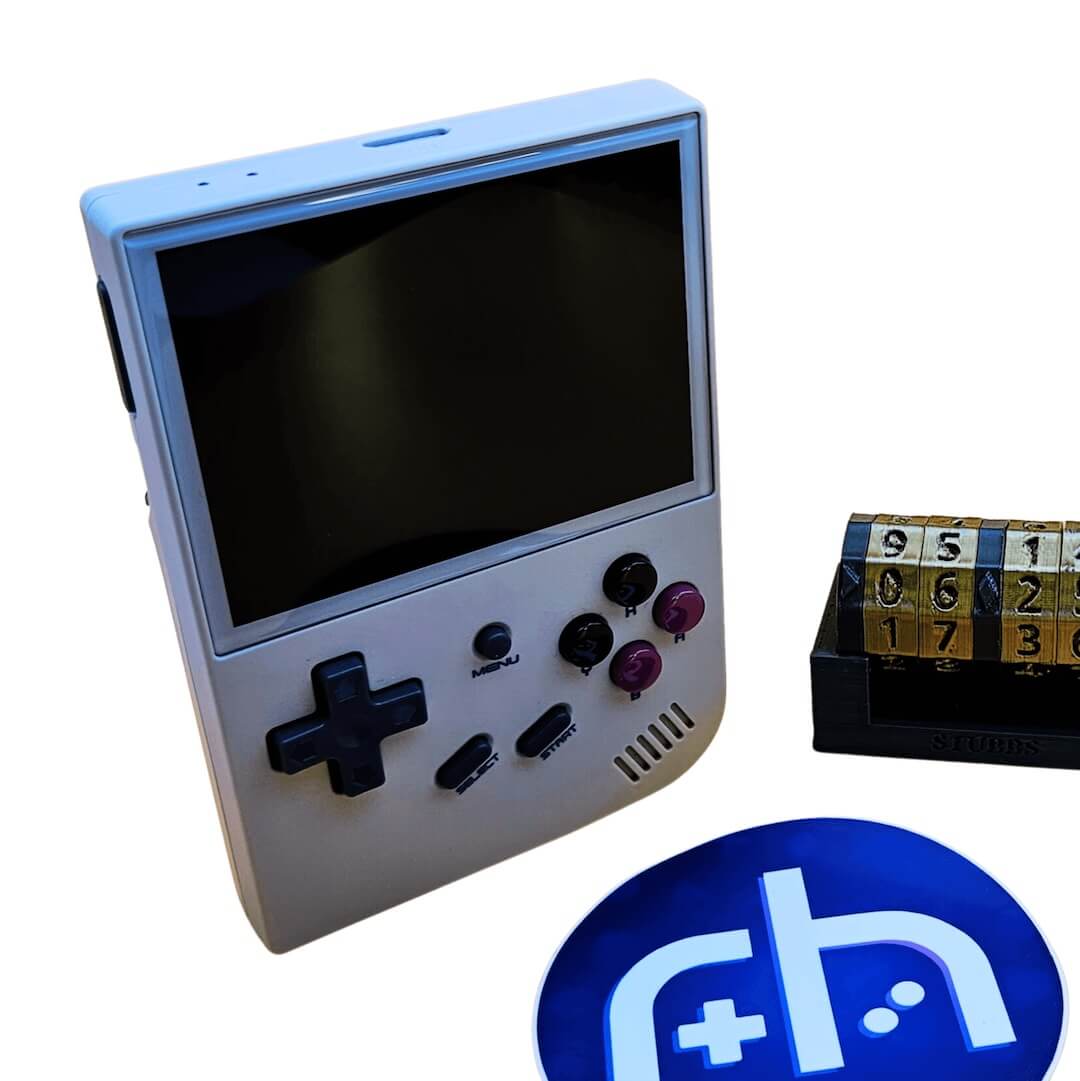 As far as bang-for-your-buck goes, it is hard to beat Anbernic's vertical budget device, the 35xx. The screen size (3.5" IPS, 640×480), button quality, and retro system playability (up to PS1 fully playable) are top-notch for something in the ~$60 price range. Add that to the overall classic aesthetic and vertical orientation, and this thing is tailor-made for your throwback gaming on the go. Its overall size lends itself well to both comfort and portability, which is the sweet, sweet balance that many devices can struggle with. Dual SD card slots allow for OS options to be loaded onto one, while the other will house your game files, a mini-HDMI out sits at the top of the device for displaying out to your favorite monitor/TV, and a single front-facing speaker allows for sound to get straight to you, so long as your hand is not over it. The face buttons/dpad are all rubber membrane, and feel absolutely excellent to use, though we have noticed the dpad to be a bit less accurate than some others. The triggers/shoulders are…usable at least and curved to accommodate your fingers as they rest.
Thanks to the quad-core ARM Cortex A9 chip and 256MB of DDR3 RAM, games up to the PlayStation can be played without issue, and the firmware allows for the usual features like save states, fast-forward, and button mapping, thanks to Retroarch. Along the lines of firmware, the 35xx also offers something unique and great in the form of GarlicOS: a custom OS rife with QoL improvements and simple but effective features. In fact, it is such a good upgrade that Anbernic themselves began shipping their 35xx devices pre-loaded with it! Make sure to try it out if you end up with one of these (along with some of the other CFW options like Koriki, muOS, or MinUI). The battery life is great (5-6 hours average) thanks to a 2600mAh li-po inside. All in all, the 35xx is a great pick-up-and-play device and is quite the solid pick for a first device or a fortieth.
If you want one of these vertical handhelds, it will probably run you around $50-$80 depending on where you shop. You can find them on Anbernic.com, AliExpress, and Amazon, and can choose from DMG gray, transparent purple or clear color schemes. Also, worth checking out are the amazing number of mods available for this device (really for all on this list). A quick peek on Etsy should keep you busy with projects for a while.
---
3. Miyoo Mini+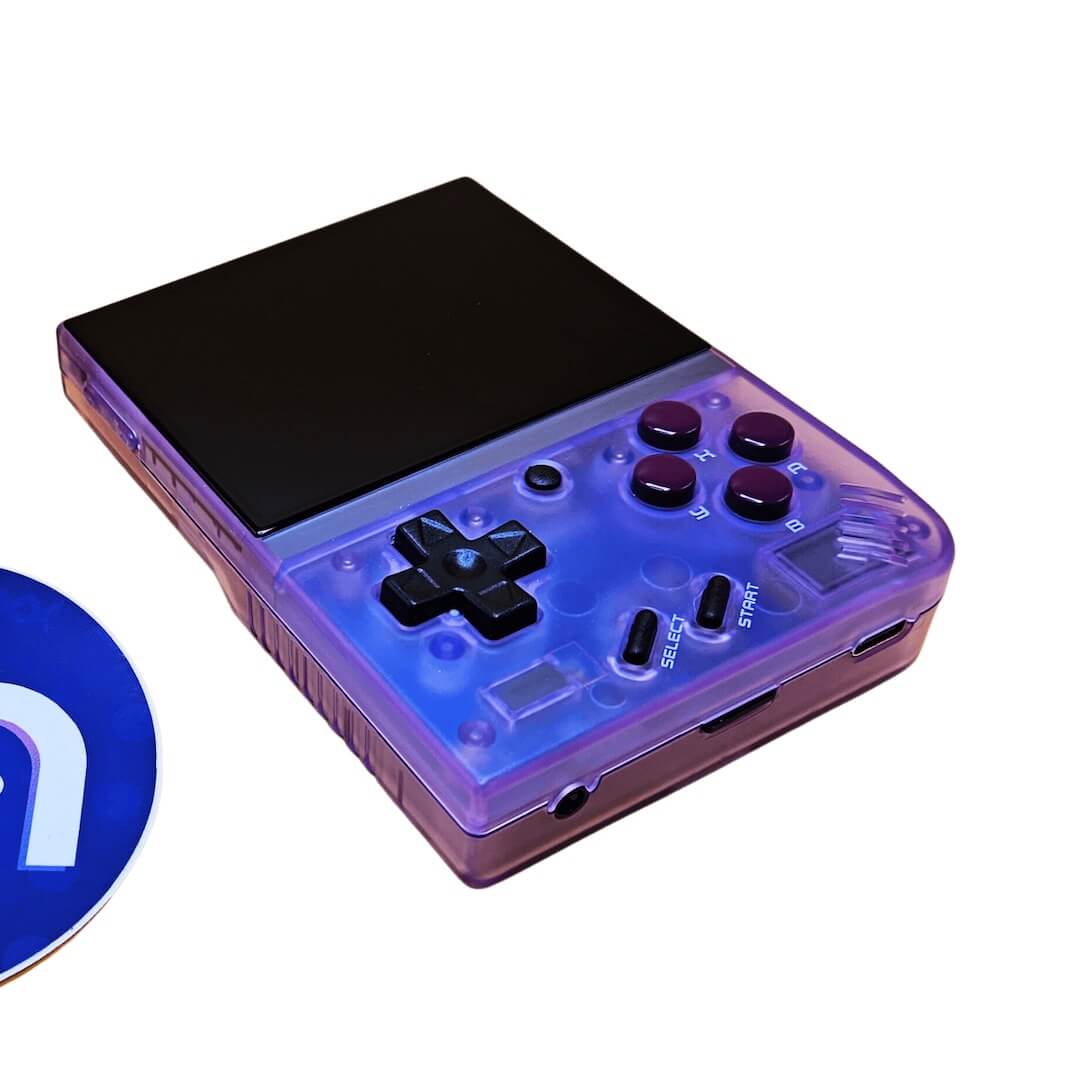 If you have been around the retro handheld scene at all in the last couple years, you have probably heard of the Miyoo Mini. It took the scene by storm! And now Miyoo is back with another version of essentially the same device in the form of the Miyoo Mini Plus. A bit larger than its predecessor, the Plus is a more comfortable alternative to the tininess that was the original Mini. Akin to something like the Gameboy Pocket, albeit not as tall, the Plus brings a stellar screen (same size, type as the 35xx), great shoulder buttons, and Wi-Fi capabilities to a pocketable package that rivals the aforementioned 35xx.
Sporting a dual-core ARM Cortex A7 CPU, 128MB of RAM, and a 3,000mAh battery, this reliable plaything can rock any games from the PlayStation back to the Atari and last a good long while as it does it. A single micro-SD card slot allows for the expansion of the storage, from 64GB internal to an additional 128GB card, and also allows for CFW to be loaded. A Linux OS provides for a sleek and simple way to jump into your games, and still has all the features that Retroarch has to offer, but CFW for this is already in place. OnionOS is a SOLID option to load onto your Plus and provides a much more customizable and user-friendly OS to enjoy (other options can be found in MinUI and Koriki). Also, the internal Wi-Fi mentioned before comes in handy when it comes to either scraping box art or using retro-achievements, something the 35xx lacks the ability to do. Aside from acceptable buttons and a simplistic exterior design, the Plus also has a few quirks, like an internal vibration motor and a 3.5mm headphone jack. However, it does lack any sort of external display port, so you will only be gaming on the screen itself. There are not many downsides to the Miyoo Mini Plus, and I think that is why it is such a popular device: it works, it works well, and it is simple to use.
If the MM+ interests you, there are various places to acquire one: GoGameGeek and AliExpress are some solid options. You will be paying around $60-$80 on average and should also receive a case included with that. The colors available for the device are white, gray, transparent black and transparent purple, and they all look sharp. Particularly the purple! Same as with the 35XX, check on Etsy for a number of awesome mods to add-on!
---
4. PowKiddy RK2023 (and WiFi edition)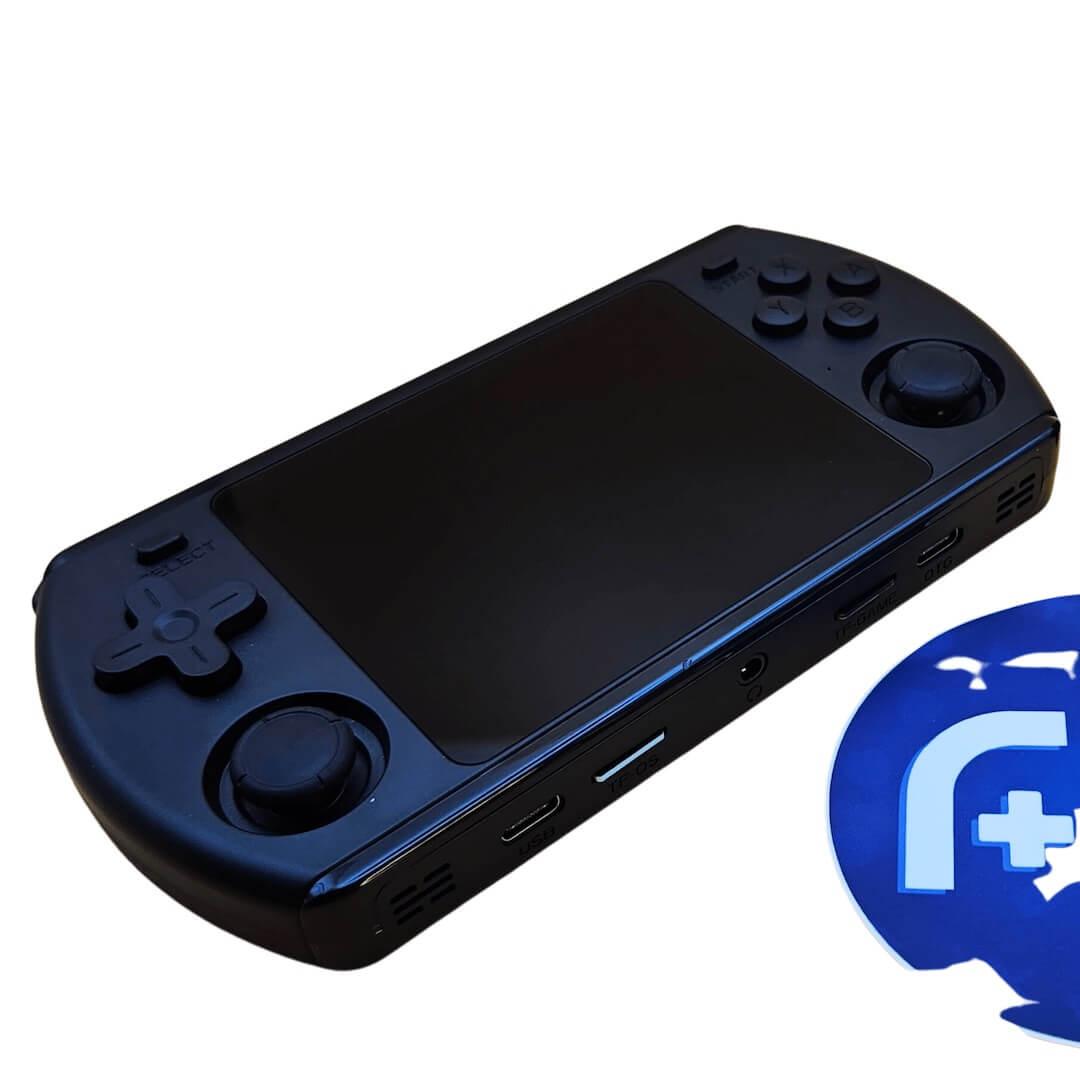 That's right, a Powkiddy device made the Top 5 and not in an ironic way! The RK2023 is one of those devices that nobody really asked for, but people really seem to like. Its horizontal orientation, rounded edges, decent chip (ARM RK3566) and wallet-friendly price tag have brought it to the land of "Budget Kings." 1GB of RAM helps the chip run a Linux based OS while a 3,500mAh battery powers the whole package, resulting in something that can play up to Sega Dreamcast games, N64 games, and even some simpler PSP games very well. The screen is also pretty solid for retro gaming, as it sits at 3.5", 640×480 (4:3) and is an IPS which is OCA laminated. It comes with a mini-HDMI port, two micro-SD card slots, a headphone jack, dual speakers, and even a microphone, creating a pretty versatile handheld if a bit on the cheaper-feeling side. It has both analog sticks toward the bottom, so you dpad purists out there, rest easy, your SNES games will feel right at home.
Internal storage is forgone for external storage instead, but there are options for the RK2023 to come with either 32, 64, or 128GB SD cards, and regardless of which you choose, the OS will be provided on a 16GB card. The charging port is a USB-C as it should be, and it is stated that it supports fast-charging. The buttons are all…well they are buttons very typical of PowKiddy: somewhat cheap but quite functional. The L1L2/R1R2 buttons are in-line unfortunately, but that does help keep the design slim. Originally the RK2023 did not come with Wi-Fi, but there is now a version out which does include it.
There are not a lot of "bells and whistles" when it comes to PowKiddy's RK2023, but it is surprisingly solid and has a price that is actually pretty tough to beat, coming in at $75-$95 plus shipping on the official powkiddy.com site, depending on which SD card size you would like. Sure, it is not necessarily something that is pushing the limits of cutting-edge technology, and yeah, it's VERY late to the 3566 party, but it is nonetheless an affordable entry into the hobby whether you are new to retro handhelds, or just looking for another new device to play with while you continue to ignore the other twelve that you already have. Also, an honorable mention to the PowKiddy X55, which did not perform well in our testing compared to the RK2023 but does have a beautiful screen and comfy ergonomics! Many prefer it over the 2023 however, so it is worth a look!
---
5. Retroid Pocket 3+ (Metal Edition)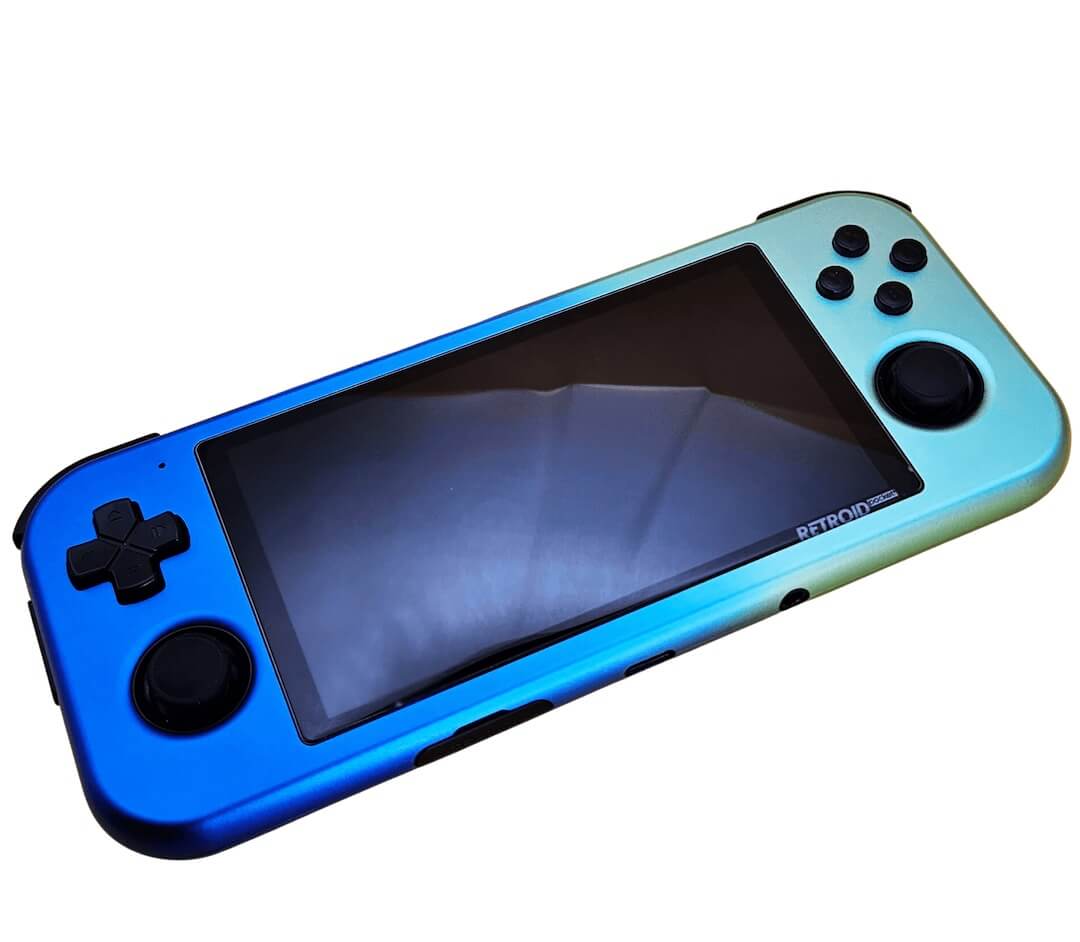 The handheld that will round out our list is one that is somewhat new, somewhat not, but is either way a true staple in the retro gaming community. The Retroid Pocket 3/3+ have been regarded by many as the best budget devices available for quite some time now, and honestly it is pretty hard to argue with that. However, we are focusing on the revamped metal variant of the tried-and-true device that has changed the retro handheld landscape for the better.
Not much has changed from the T618 powered 3+. It still has the same chip, same Mali G52 GPU, same 4GB RAM running the same Android 11 OS. The buttons are the same (clicky dpad, mushy face buttons) including the layout; the crisp 4.7" IPS touchscreen remains unchanged as well. Even the downward facing speakers and IO are all identical! So, what's the difference, you ask? Well, the shell of course! It is now made of aluminum and comes with a pretty radical color scheme of blue fading to green. Of course, this adds a bit of weight but also adds to the overall premium feel, as well as the durability. The shell is not the only difference, and it could be argued that it is not even the biggest change, as the standard analog sticks have been replaced with the ever-sought-after hall-effect sticks that everyone seems to adore. They will last longer without wearing out, giving the longevity of the 3+ a good boost, further justifying the slightly higher cost compared to its plastic counterpart. Just like the 3+, this metal edition can handle everything PSP and below with ease, as well as a decent chunk of Gamecube and PlayStation 2 games. The dpad is up top, and the screen ratio is 16:9, which I find to be an odd combo, but as far as performance goes, much like the 405m the 3+ is amazing for the money.
If you held out on getting an RP3/+, or if you simply want a slight upgrade to the one you currently have, the metal 3+ is absolutely something to think about. Thanks to the overall high quality and relatively low price, it should be easy to justify the purchase. For this metal-made handheld, you will be looking at around $180-$200. You can pick one up at goretroid.com, and snag a screen protector, case, SD cards, or even an HDMI cable that will work with it. If you're looking to save money, we recommend the regular 3+ which gives you all the same benefits minus hall effect sticks. Honorable mention to the Retroid Pocket Flip clamshell, which has the same chip, however some have noted QA issues on the shell, so do your own research before buying.
---
With the year 2023 more than halfway over, and as usual many new handhelds on the horizon, we think it is always nice to look back, much like we do with the games we play, and determine which devices are still viable and worth a look. The devices in this list are new now but won't be that way for long. We know better than most that just because something new is coming doesn't mean what we have is obsolete, and the five items on this list prove it. You may or may not pick one of these handhelds up, but either way the truth remains the same: these five are the cream of the crop when it comes to gaming on a budget. We just hope you find something you like and spend the time with it that it deserves.
Honorable mentions also need to be given to some excellent handhelds that didn't quite make this list (for now). This includes the PowKiddy X55 (read rk2023 above), Retroid Pocket Flip (read 3+ above), PowKiddy X28 (awesome Android device!), Anbernic RG353PS (we LOVE this one), and the upcoming Retroid Pocket 2S (which we haven't reviewed yet but looks like it could be our new #1 shortly). Stay tuned for our 'Top 5 Under $100' list coming soon!
What are your thoughts on this Top 5 list? Anything you're picking up? Let us know in our Discord!
Article provided by RocketMan824 with additional edits from Stubbs