Last summer, we took a look at the handhelds we were looking forward to towards the end of 2021 and beginning of 2022. Now that we're in the waning weeks of December, it's safe to say that we're still waiting. The ongoing pandemic has not been kind to the global supply chain, and retro handhelds are no exception. We know a lot more about these upcoming devices however, so now seemed like a good time to circle back and see what we can expect in the coming year.
The AYN Odin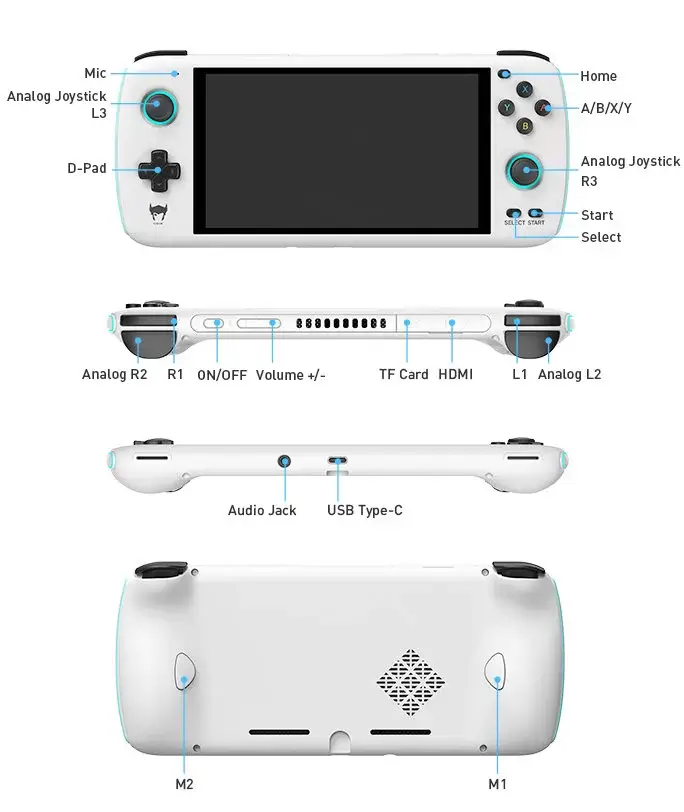 Newcomer AYN planted their flag in the next generation of handhelds with a popular and widely-hyped IndieGoGo campaign. Instead of just one device, AYN took preorders for three different configurations of handhelds. The Odin Lite is sporting a Dimensity 900 processor, while the Odin will be featuring the popular Snapdragon 845 chip. AYN will also be offering an SD845-based Odin Pro with twice the RAM. These beefy internals allow the Odin to leverage relatively recent versions of Android, with the Snapdragon models using Android 10, and the Dimensity version using Android 11.
All configurations of the Odin sport a 5.99″ touchscreen and an ergonomic design reminiscent in feel and size to Nintendo's Switch Lite handheld. The Odin also supports a Switch-style "Super Dock", which will allow players to output their Odin's video to a TV and leverage retro controllers from retro systems such as the GameCube and N64.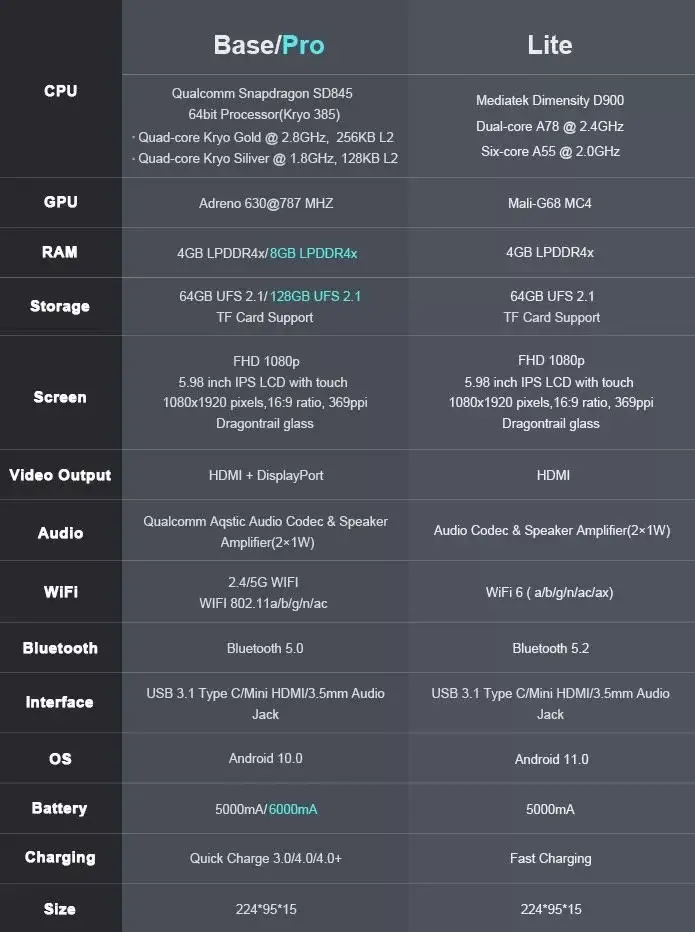 There's been considerable interest in the Odin's active cooling technology. Unlike smartphones with the same processor, the Odin will be able to leverage a large heatsink and fan to push the chips harder and hopefully get a bit more performance out of the handhelds. There's strong hope in the community that the SD845 will be able to handle some GameCube titles. Less is known about the performance of the D900, but there's some potential GameCube support there as well. Ironically the D900's strong single core performance may lend itself better PlayStation 2 performance than the SD845 using the newly released AetherSX2 beta. Time will tell, but the Odin and Odin Lite remain the high water mark of performance for the upcoming generation of handhelds. All three versions should have no problem with platforms such as the N64, DS, and Dreamcast.
While the early bird pricing is no longer available, the Odin can still be preordered through AYN's IndieGoGo campaign. The Odin Lite costs $200 USD, the Odin will cost $240, and the Odin Pro costs $290. The dock will set players back $50 USD. Hardware purchased through the IndieGoGo campaign have a $30 USD shipping fee. The initial ship date has slipped 45 days due to some manufacturing logistics. The Odin and Odin Pro should ship around January/February if everything goes smoothly, and the Odin Lite will ship a month or two after the base model.
The Retroid Pocket 2+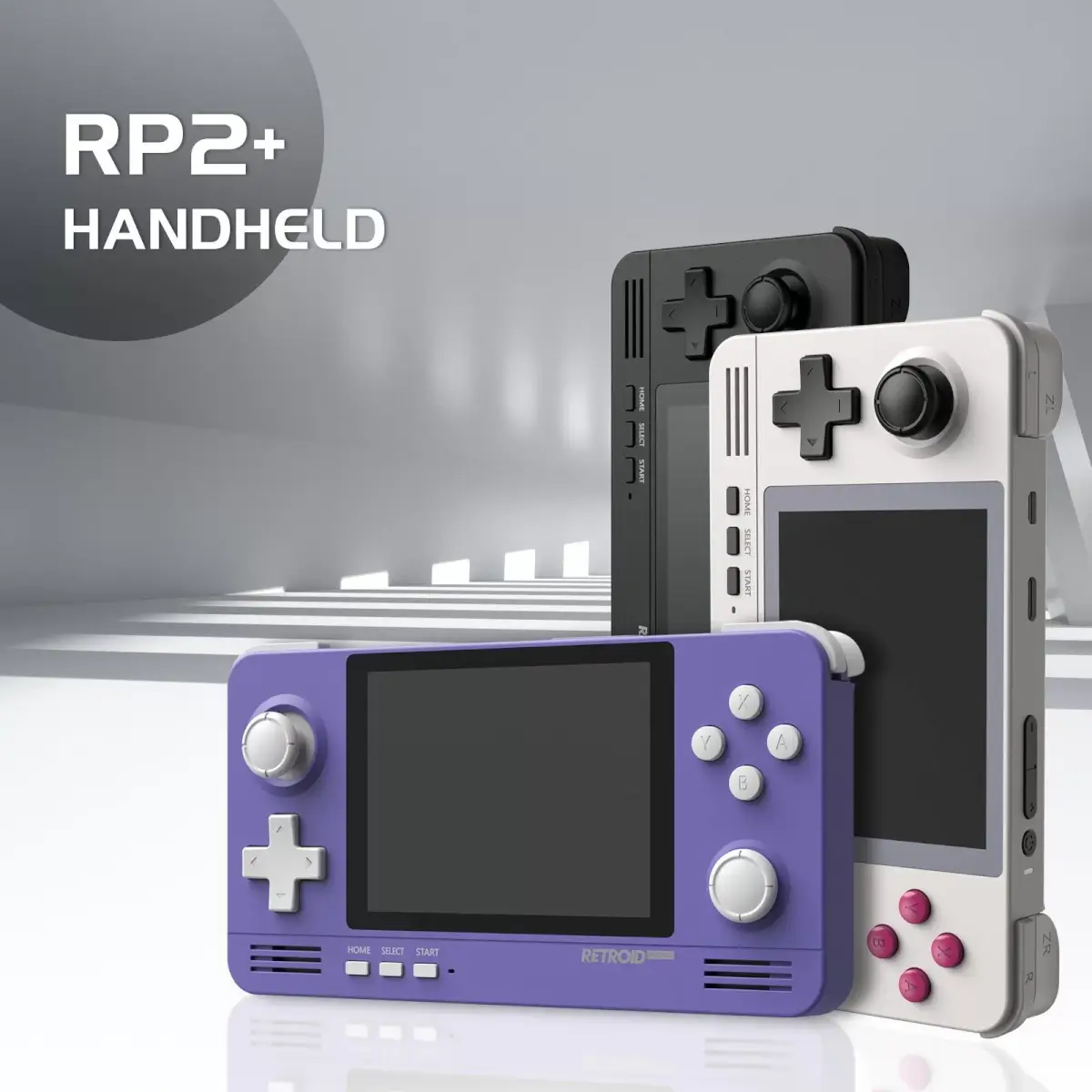 Last summer, little was known about a potential "RP2.5" update, outside of Moorechip's apparent plans to scrap a floated "PCB Upgrade" concept. Fast forward a few months, and not only has the Retroid Pocket 2+ been announced, but the Retroid team has decided to move forward with their plans to give existing Retroid Pocket 2 owners an enticing upgrade route.
The Retroid Pocket 2+ is a new handheld based on the original Retroid Pocket 2 design. It features all new internals, including a Unison Tiger T310 processor, a rumble motor, redesigned rubber membrane buttons, and full analog support for the right stick. It retains the 3.5″ 4:3 screen that everyone knows and love, but has been upgraded with full touchscreen support. In addition to these hardware changes, the Retroid Pocket 2+ will leverage Android 9, and come with a custom launcher/frontend that should help streamline the Android gaming process.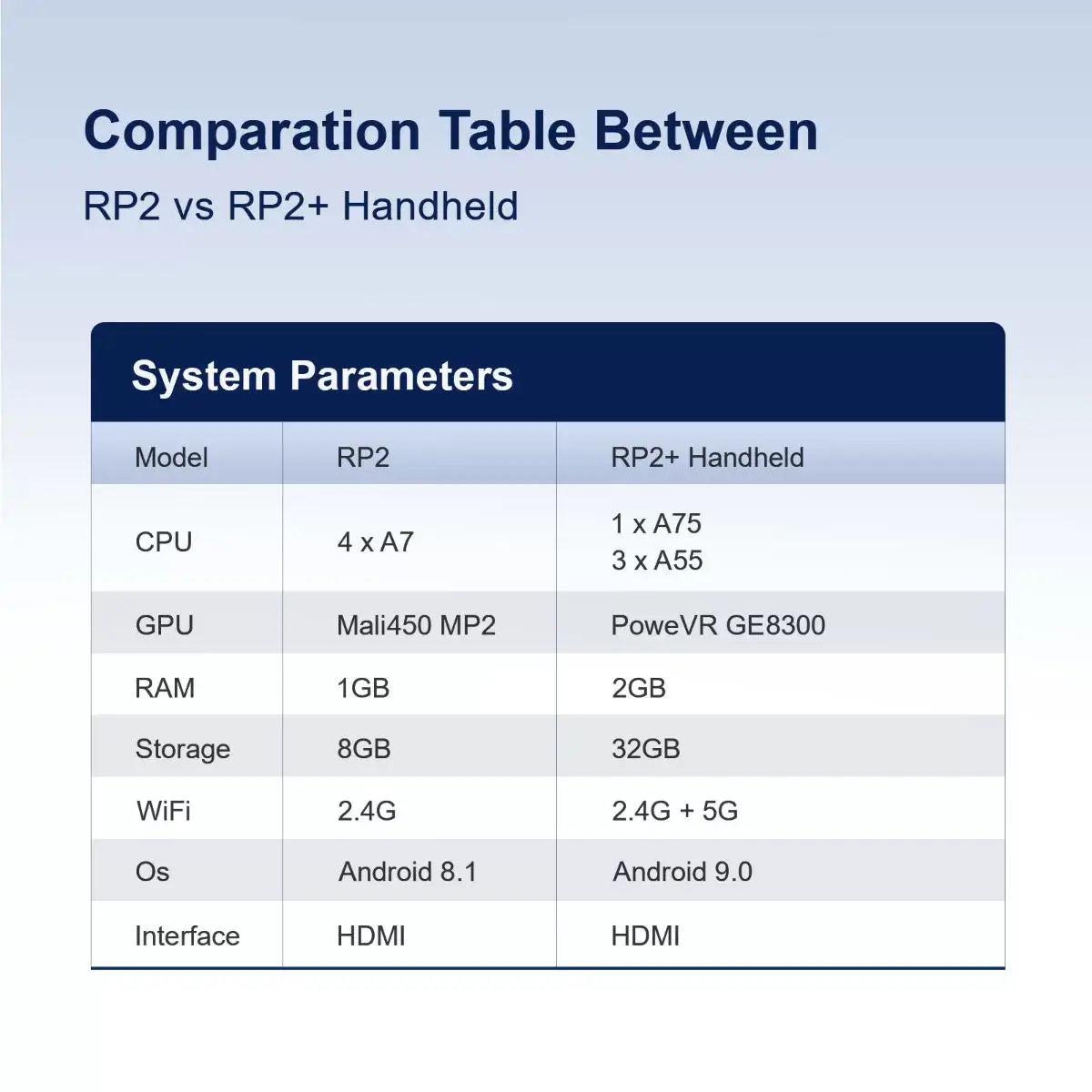 In addition to this new handheld, the Retroid team is offering a Retroid Pocket 2+ PCB Upgrade Kit for existing Retroid Pocket 2 owners. This kit will allow enthusiasts to replace the internal electronics of their original Retroid Pocket 2 with the same T310 processor that powers the Retroid Pocket 2+. It's a nice option for players looking for a cheaper upgrade option, and includes a small acrylic case for the old Retroid Pocket 2 motherboard so that tinkerers can potentially use their old handheld's components for some sort of TV-based mini console.
The exact performance of the Tiger T310 processor isn't entirely clear just yet, but we're expecting at least solid N64, DS, and Dreamcast support. There have been some initial teasers of the Retroid Pocket 2+ running the Dolphin and AetherSX2 emulators, but time will tell what the real world performance of this handheld will be. The Retroid Pocket 2+ can be purchased prebuilt for $99 USD. The Retroid Pocket 2+ PCB Upgrade Kit costs $65 USD, but it notably does not include the prebuilt Retroid Pocket 2+'s touchscreen. Upgraders will have to settle for their non-touch screen unless they would like to pay an additional $20 USD for an add-on touchscreen. Orders from GoRetroid.com have the option of $12 USD 4PX shipping, or $32 USD DHL shipping.
In an exciting move for the retro handheld industry, Moorechip has recently started selling replacement parts for nearly every aspect of the Retroid Pocket 2 and 2+. If you have a well-loved handheld gathering dust with a broken screen, worn out buttons, or even just a few missing screws, you can now purchase individual replacement components direct from the manufacturer without having to buy a whole new handheld.
Preorders are live for the Retroid Pocket 2+ now. After some brief delays due to minor manufacturing issues, the RP2+ is expected to ship on 12/10, and will most likely be landing in people's hands around New Years.
The Retroid Pocket 3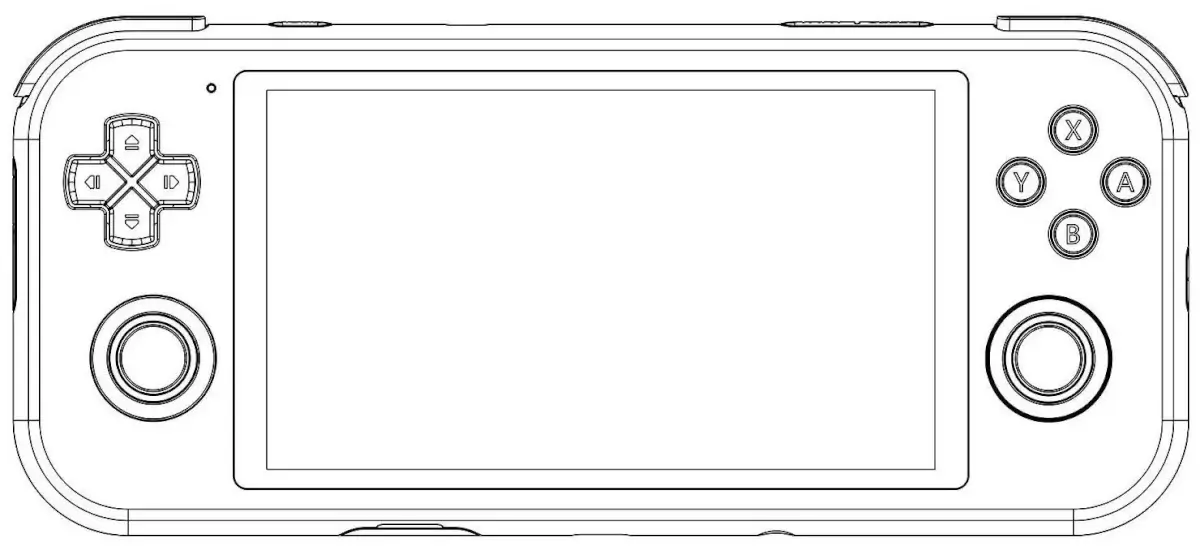 We haven't received many new details on this handheld since our last device roundup. The Retroid Pocket 3 is expected to be a successor to the Retroid Pocket 2 with an all-new design. Some initial patent drawings have shown it to be a 16:9 handheld with a screen size expected to be somewhere around 4.7″. There's no word on the processor for the Retroid Pocket 3 just yet, nor on an expected timing for when the device will become available. Once the Retroid Pocket 2+ launches, we should begin to hear some more rumblings about Moorechip's next venture.
The KTR1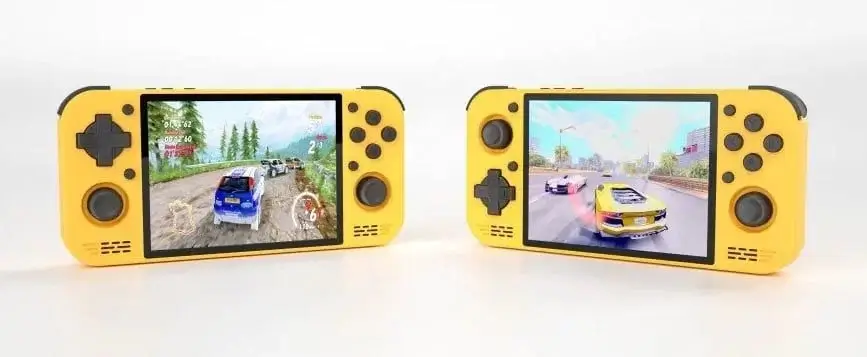 Speaking of devices we haven't been hearing much about, we've gotten mostly radio silence from the KTR1 camp since our last roundup. This Android-based handheld is shaping up to be a smaller competitor to the Odin, with a 4.5″ screen, 3:2 aspect ratio, and rumored Snapdragon 845 processor. The most distinguishing aspect of the KTR1 at the moment is the persistent speculation that buyers will have the option of purchasing the handheld with Xbox-style or PlayStation-style analog stick placement. Expect to hear more news on this handheld next year.
The Anbernic RG552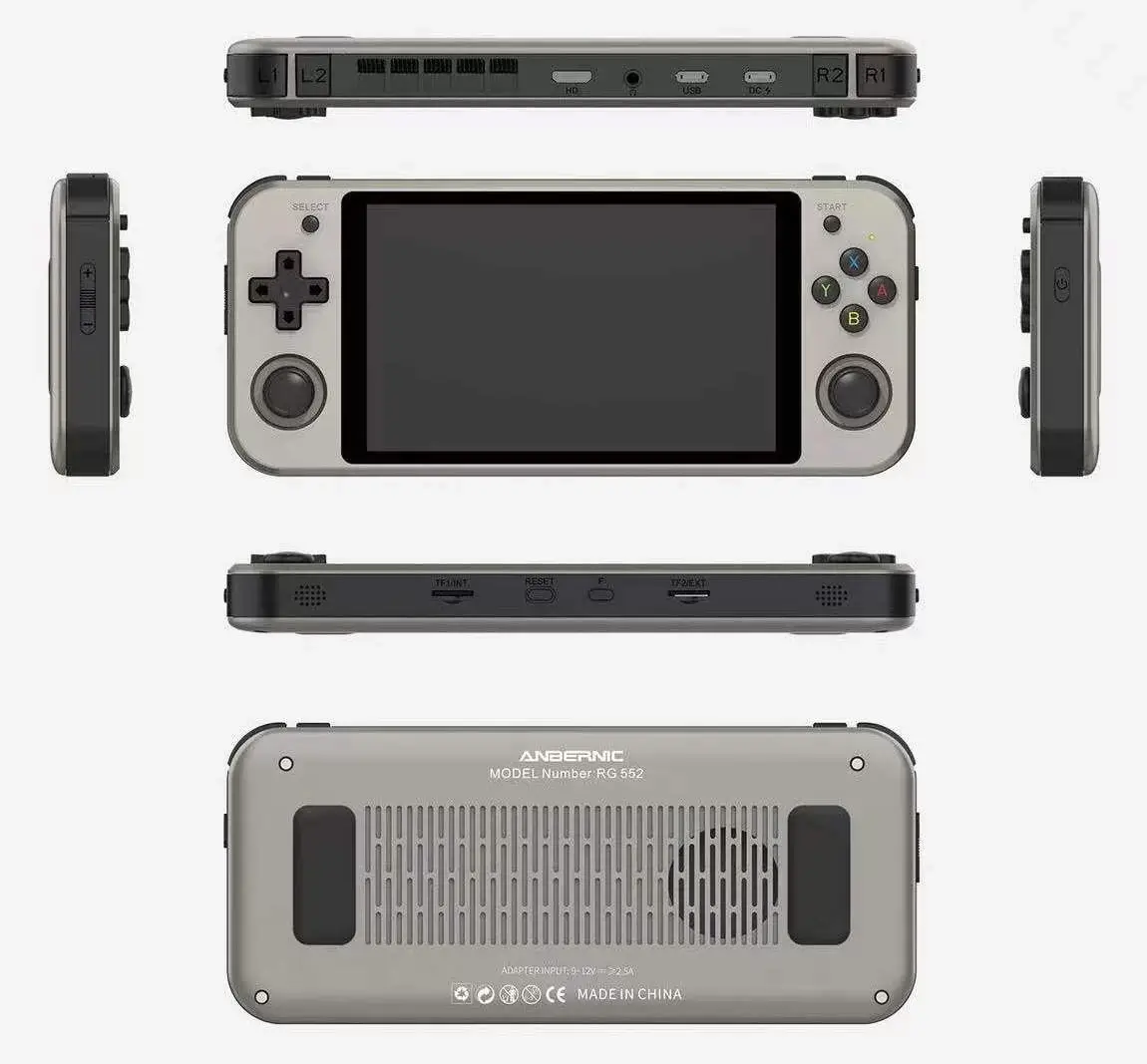 Anbernic's kicking off this next generation of handhelds with the RG552. After nearly two years of riffing on various handhelds designed around the RK3326, Anbernic's finally releasing a device with a bit more oomf. Interestingly, they're sticking with RockChip for their processor, leveraging the company's more powerful RK3399 CPU.
This choice raised a few eyebrows in the retro handheld community. On paper, the RK3399 processor is slower than the SD845, D900, and T310. It should be able to handle N64, DS, and Dreamcast games better than its RK3326 predecessors, but it's yet to be seen how the RG552 will handle GameCube or PlayStation 2 games. There's a few old proof of concept videos of the RK3399-powered Rock Pi 4 running less-demanding GameCube games, but time will tell if the RG552 will be able to keep up with the competition when it comes to performance.
One advantage of the RG552 however is its ability to dual boot operating systems. The RG552 is shipping with Android 7 and a version of the Batocera Linux OS. Batocera is a Linux distribution centered around an Emulation Station-based frontend. This experience should feel right at home to anyone who's experienced EmuElec, 351Elec, or ArkOS on the current generation of RG351/RK3326 devices.
So despite it's reduced horsepower, the RG552 has the potential to offer up the best of both worlds when it comes to usability and application ecosystems. Batocera's drag-and-drop setup and access to Linux Ports should make current RG351 users feel right at home, while the Android support will allow players to tinker with the Dolphin and AtherSX2 emulators, as well as Android-only games. We're all excited to see what the next generation will bring, but there's been notable excitement from the retro handhelds development community for this upcoming device.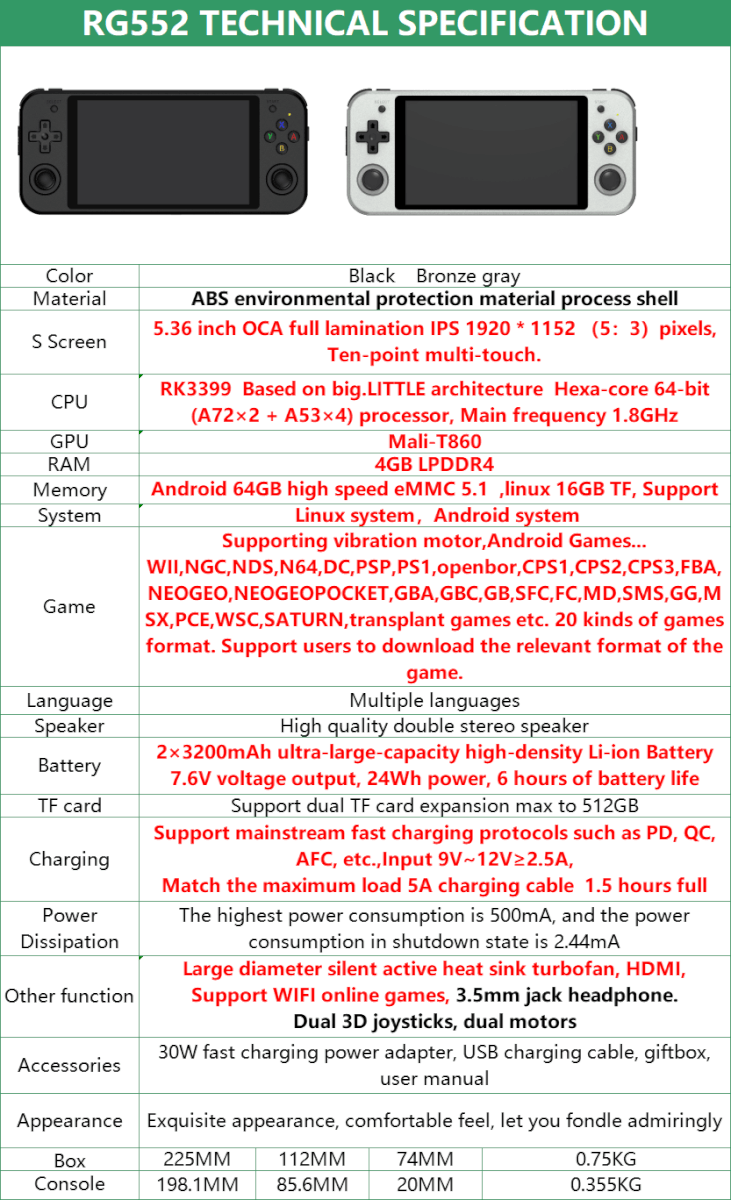 The RG552 has a 5.36″ touchscreen with a slightly-unusual 5:3 aspect ratio. This should allow it to show most platforms without egregious amounts of black bars, but it's yet to be seen just how well the community takes to this unusual ratio. It features the return of HDMI-out to Anbernic devices, and now introduces a second motor for rumble-supporting games. It continues Anbernic's existing rounded-rectangle design style, with an overall size slightly smaller than a Nintendo Switch Lite.
The Anbernic RG552 just began shipping, and will set players back a notable $225 USD.
Production Delays Aplenty

Supply chain issues haven't just been a problem for smaller Chinese manufacturers. Western-based device makers are also being hit with setbacks and delays. Valve's Steam Deck ship date slipped from December to February. This hotly anticipated Linux-based PC handheld already had a considerable wait list, so this move is particularly disheartening to those who were already waiting until Q2 2022 to get their hands on one.
Likewise, Panic's PlayDate handheld was also hit with a production delays. Their production update is an unusually frank inside into the world of hardware development. Not only have they been having trouble with their battery vendor, but the CPU they had chosen for their twee handheld is now subject to a 730 day lead time. To avoid an astronomical two year delay in their handheld in player's hands, Panic's currently redesigning their device to use a similar, but more plentiful CPU.
To end things on a happy note, the frequently delayed Analogue Pocket finally has a ship date. This FPGA-based Game Boy handheld is shipping on December 13th. Analogue originally took preorders for this handheld in August of 2020, so it's nice to see it finally landing in the hands of customers.
Parting Thoughts
It's an exciting time in the retro handheld scene right now! The Odin looks to be an emulation powerhouse, the Retroid Pocket 2+ is shaping up to be an unbeatable cost-value proposition, and the RG552's offering up a premium Linux experience. There's a lot to look forward to, including some devices we weren't able to touch on here. There's some Raspberry Pi Compute Module 4-based devices like the Retro Dreamer on the horizon, as well as more diminutive devices such as the Miyoo Mini.
We continue to heartily recommend TimeIsArt's handheld Google spreadsheet to keep an eye on everything on the horizon. As usual, Russ has also done an excellent roundup of 2022's upcoming handhelds over on the Retro Game Corps channel.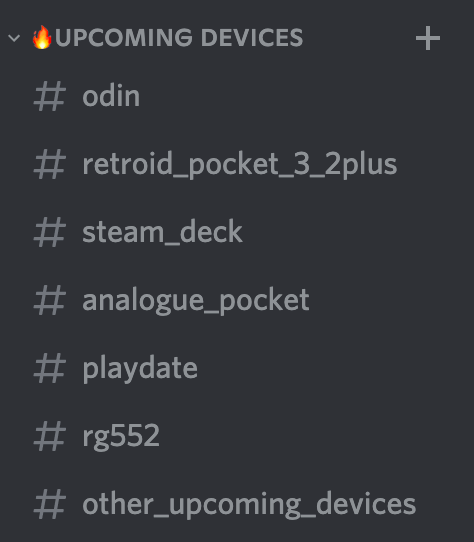 Most of the handhelds we covered here today continue to have a dedicated channel on the Retro Handhelds Discord. With any luck they'll quickly get promoted to a fully released device channel in the coming months.