As we discussed in our previous post, retro handhelds have hit a bit of a performance plateau. They're great at handling classic 80s and 90s handhelds and consoles, but anything this side of the new millennium has a tendency to hit slowdown and compatibility issues. The venerable RK3326 CPU has been remixed into a myriad of handheld formfactors at this point, but even the Retroid Pocket 2's Cortex-A7 hasn't been able to break through the ceiling of consistent stable N64, Dreamcast, and PSP support.
So naturally this begs the question, what's next for the retro handheld scene? We've already seen a few glimpses at next-generation handheld hardware, and the good news is that we've got quite a few devices to look forward to. In no particular order, he's the handhelds we're looking forward to over the course of the next year or so.
Anbernic's RG552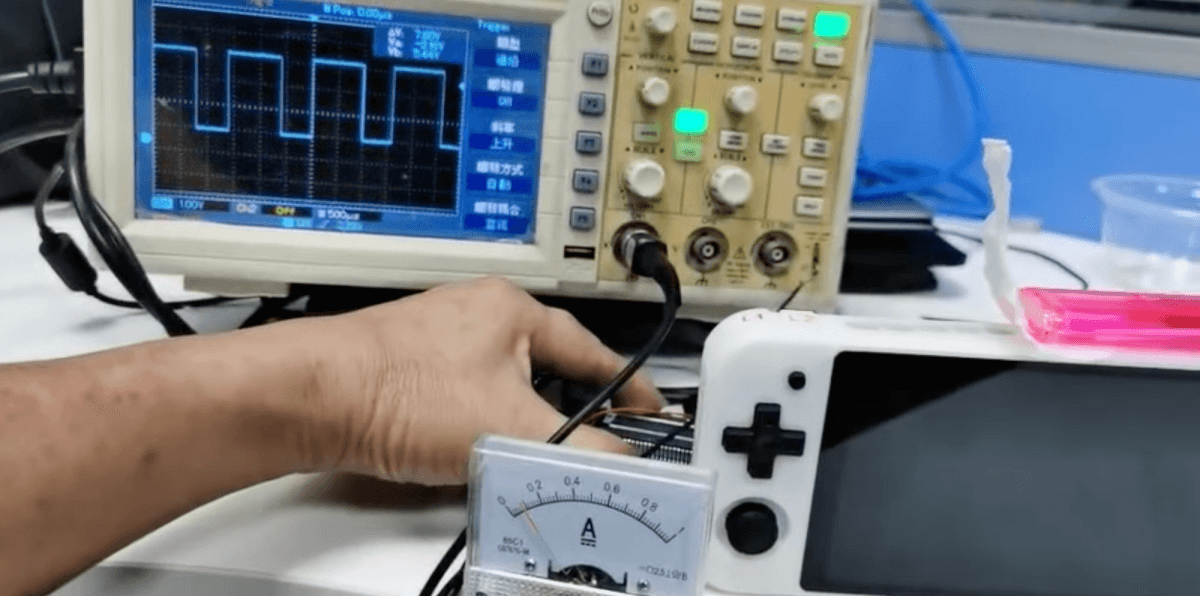 Anbernic is no stranger when it comes to experimenting with screen sizes. Their RG351p and RG351m devices use a relatively unique 3:2 aspect ratio, and they were the first RK3326 device on the market with a classic 4:3 aspect ratio screen. When the ODROID-GO Super burst onto the scene with a 5″ screen, everyone assumed that Anbernic would follow suit and create a competing device similar to Powkiddy's 5″ RGB10 Max handheld.
In the intervening months, we've gotten word that Anbernic intends to take a slightly different approach. The RK3326 was already struggling to power some high-performance titles on a 3.5″ screen, and these issues were only exacerbated with the switch to a pixel-dense 5″ 16:9 display. Rather than stick with the tried and true RK3326, Anbernic is looking to put a bit more horsepower behind the RG552.
Rumors currently peg the new processor as Rockchip's RK3399. This workhorse processor delivers plenty of oomf, but it also comes with its own set of power and heat considerations. The RK3399 wouldn't have made sense in a smaller 3.5″ handheld, but a larger 5″ device has room for a larger battery and fan-based active cooling. In our first glimpse of this upcoming device, Anbernic showed off some fan tests with a prototype that resembled a scaled-up RG351p. There's some potential that Anbernic may instead go with Rockchip's newer RK3566 processor, but older chips generally have more plentiful and cost efficient inventories.
From a gameplay perspective, one can expect a much improved N64, Dreamcast, and PSP performance out of the RG552. Anbernic themselves have posted a video online of God of War for the PSP running at much higher framerates than previous devices. If they are indeed going with an RK3399 processor, we can also look to performance tests of single board computers such as the Rock Pi 4 for a rough idea of what we may be able to expect out of the RG552. These SBCs generally don't have as many power or cooling concerns as a portable device, but it's optimistic to see some gameplay examples of early GameCube games running on the Dolphin emulator.
There's still a lot we don't know about Anbernic's RG552. It's yet to be seen what the final size of their 5″ screen will be, with some early rumblings suggesting that Anbernic may go as large as a 5.5″ 16:10 screen. There's also no word yet if the screen will have touch support. Anbernic's also been quiet on whether or not the RG552 will continue to use a Linux-based operating system, or if they'll be pivoting to an Android-based OS. Anbernic's ease of setup and use has always been one of the high points of their device, so the OS choice may come down to whether or not the handheld ends up with a touchscreen, and whether or not Anbernic wants to try developing their own custom Android launcher.
After several early glimpses in the first half 2021, Anbernic has fallen silent on this device as of late. With any luck we'll see more of the RG552 towards the end of this year.
The KTR1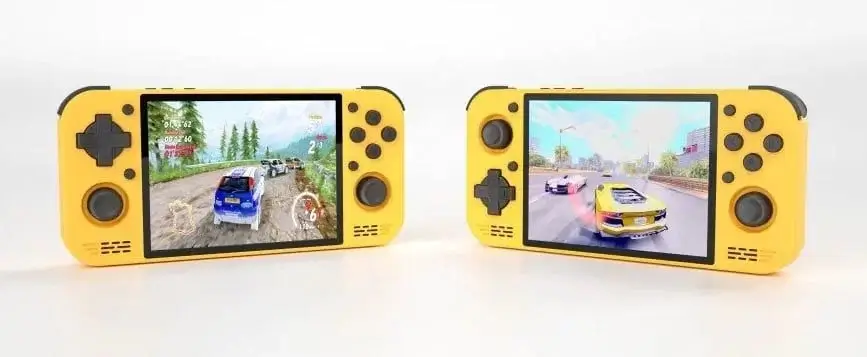 These next few devices fall squarely within the Android camp. Allow us to introduce the KTR1, AKA the handheld that was voted most likely to be confused with the Retroid Pocket 3. Much like the GameForce Chi, this handheld represents the singular efforts of a passionate hardware developer. From what we can tell, this device has been riding the trends of the retro handheld industry, and is aiming to make a device that checks numerous enthusiast boxes.
The KTR1 will be slightly larger than the current crop of 3.5″ devices, opting to go for a 4.5″ screen with a middle-of-the-road GBA-friendly 3:2 aspect ratio. The screen is expected to have touch support, making it easy to navigate around its Android operating system. On the input side of things, the KTR1 will have Retroid Pocket 2-style stacked shoulder buttons, dual analog sticks with L3/R3 support, as well as four macro buttons on the back of the device.
As you may have noticed in the renders above, the placement of the analog sticks is not a settled affair with the KTR1 currently. The location of analog sticks is a hotly debated topic within retro handheld circles, and the KTR1 has tossed around a few different ideas to try and keep the two camps happy. The most straightforward approach is to simply sell two versions of the KTR1: One with the analog stick over the d-pad on the left side of the device, and another with the d-pad on top. Additionally, the KT team has explored making the left stick and d-pad modular so that users can experiment with different configurations and rearrange the layout as their gaming priorities shift.
From a horsepower perspective, the KTR1 has gone through several processor considerations during its lengthy development cycle. They're currently targeting a Qualcomm Snapdragon 845+, which should be more than enough power to handle the library of currently-struggling N64, Dreamcast, and PSP titles. The 845+ is also expected to have enough processing power to handle numerous Android Play Store games, and has the potential to run some Gamecube games. For fans of streaming games, the KTR1 is also expected to ship with 5ghz wireless for all your Moonlight, Steam Link, and Stadia needs.
The KTR1 is expected to launch an IndieGoGo campaign before the end of the year for anyone who's looking for a bit more horsepower than their Retroid Pocket 2 can currently provide. That is of course, if you're not already looking forward to our next handheld in the list.
The Retroid Pocket 3 and Retroid Pocket 2.5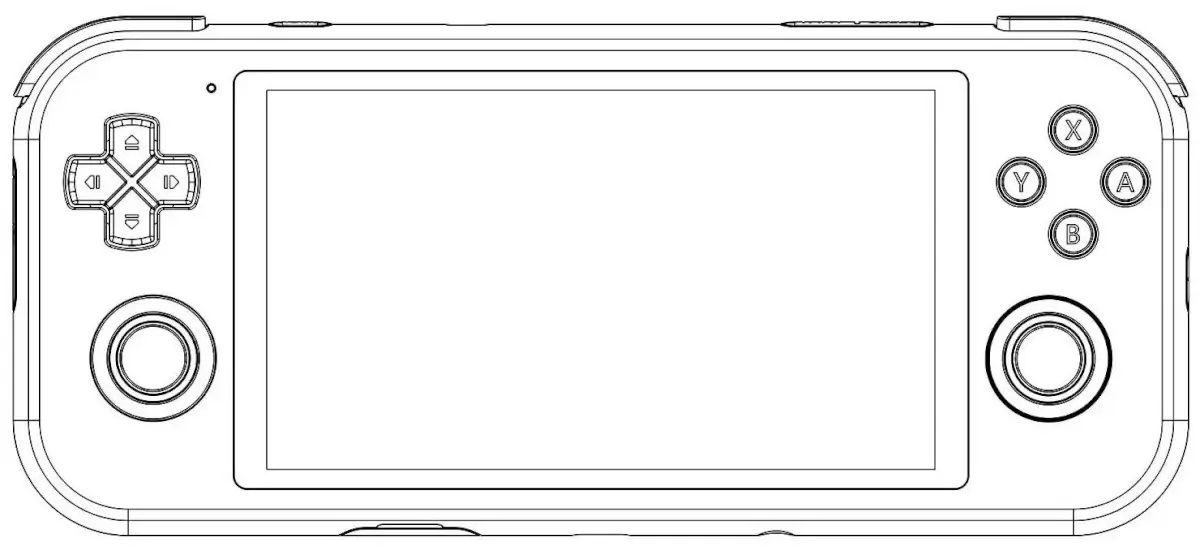 For as hyped a device as the Retroid Pocket 3, there are not a ton of concrete details about this upcoming handheld. Much of this information has been gleaned from a set of patent drawings that were released online recently. For the Retroid Pocket 3, it looks as if the Retroid team is seeking to lean into its Android roots and develop a device which play to the platform's strengths.
The Retroid Pocket 3 will feature a "less than 5″ screen, estimated to be around 4.7". This 16:9 widescreen display is expected to have touchscreen capabilities, and the device itself is expected to have some form of active fan cooling. No word yet on which processor the RP3 will sport, but the device is said to be "5x faster than the RP2", and will be upgrading to 5ghz WiFi for better streaming game support. At a minimum, the RP3 should be able to play N64, Dreamcast, and PSP games. It's currently unknown if it would be able to power GameCube games.
While the Retroid Pocket 3 will retain the device's popular stacked shoulder-button configuration, it's swapping the stick placement this time around, opting to put both of it's L3/R3-capable sticks at the bottom of the handheld. This move may not be popular with all RP2 fans, but at least we can all agree a second true analog stick is better than the right slide-pad its predecessor struggled with.
Speaking of the Retroid Pocket 2, you may be wondering what's the story on the Retroid Pocket 2.5 The Retroid team has been kicking around a few different ideas when it comes to creating a successor to the Retroid Pocket 2. The Retroid Pocket 3 is still the true successor to their vision of a high-powered Android gaming handheld, but the Retroid Pocket 2.5 seeks to carry forward some of the things the community loved the most about the RP2.
The current gist of the RP2.5 is that it would be a slightly smaller handheld than the RP3, with a 4:3 screen and the original configuration of the analog stick above the d-pad on the left side of the device. The idea is that it would run the same processor as the Retroid Pocket 3, but in a slightly remixed packaging.
The Retroid team briefly floated the idea of selling the RP2.5 as a PCB-upgrade kit to the RP2. (There was also talk of some sort of consolizer-kit for user's now-unused RP2 PCB.) These upgrade kit investigations were pretty quickly squashed when it was determined that the amount of cooling offered in the RP2's case would not be sufficient for the more powerful CPU used in the RP3. If an RP2.5 handheld does eventually make it to market, it will be as its own standalone device. Update: The Retroid Pocket 2+ has been announced, and the PCB upgrade kit was able to become a reality! Buying a premade RP2+ nets you a touchscreen, but it's great to see this cheaper DIY option.
Expect more details towards the end of this year. The Retroid Pocket 3 would most likely be released first, with the Retroid Pocket 2.5 being released at a later date.
The AYN Odin AKA Project Valhalla AKA The 199 Handheld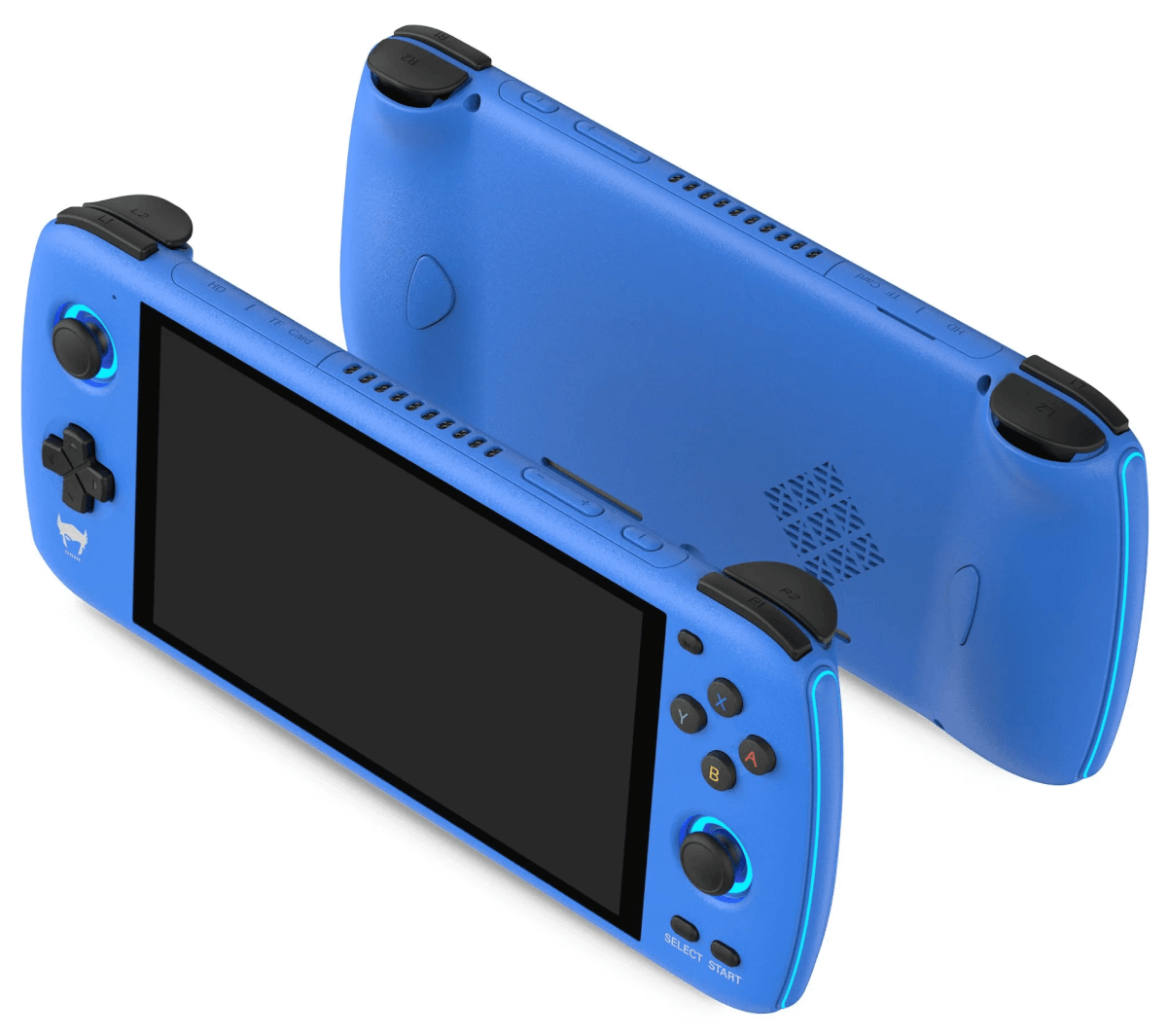 Rounding out the upcoming suite of Android-based devices is the AYN Odin. This device has been teased for months now as the 199 Handheld, and briefly went by the moniker of "Project Valhalla" until its full name was revealed. (Pour one out for our Reddit moderator reserving multiple Subreddit names throughout the year.) As the original 199 name implies, this device is aiming for an introductory IndieGoGo price of $199 USD.
Fully embracing the large-format gaming pioneered by the Nintendo Switch and the similarly-sized Switch Lite, the Odin will feature a 5.99″ touchscreen display. While the CPU has not been fully verified yet, the device is expected to run on a Qualcomm Snapdragon 855+. Taking advantage of a large heatsink and an active cooling fan, one can expect the Odin to easily handle N64, Dreamcast, and PSP games. The initial previews have shown some very promising GameCube performance with the Dolphin emulator, and the Odin should be powerful enough to handle many contemporary 3D Android games.
Unlike last year's Retroid Pocket 2, the Odin is also looking to have some custom Android software for the device, including its own gamepad-friendly application launcher. It will also come with its own custom gamepad-mapping software, letting users trigger custom screen tap inputs via a button press. Even Android games without gamepad support should be an enjoyable experience on this handheld.
The Odin has a control setup aimed at more modern gaming, with a set of dual L3/R3 sticks in the stick-first configuration on the left side of the device. Not only are the device's shoulder buttons stacked, but the L2 and R2 triggers are fully analog. We haven't seen many analog triggers in the retro handheld space, but they should be perfectly suited to GameCube titles such as Super Mario Sunshine. The Odin will also sport two macro buttons on the backside of the device.
AYN is planning to release the Odin in white, gray, black, red, yellow, blue, and green. The handheld will also house some eye-catching blue LEDs on the analog sticks and the side of the grips. A placeholder IndieGoGo page launched earlier this year for interested parties to sign up to their mailing list. A full IndieGoGo campaign is expected to launch later this year.
Valve's Steam Deck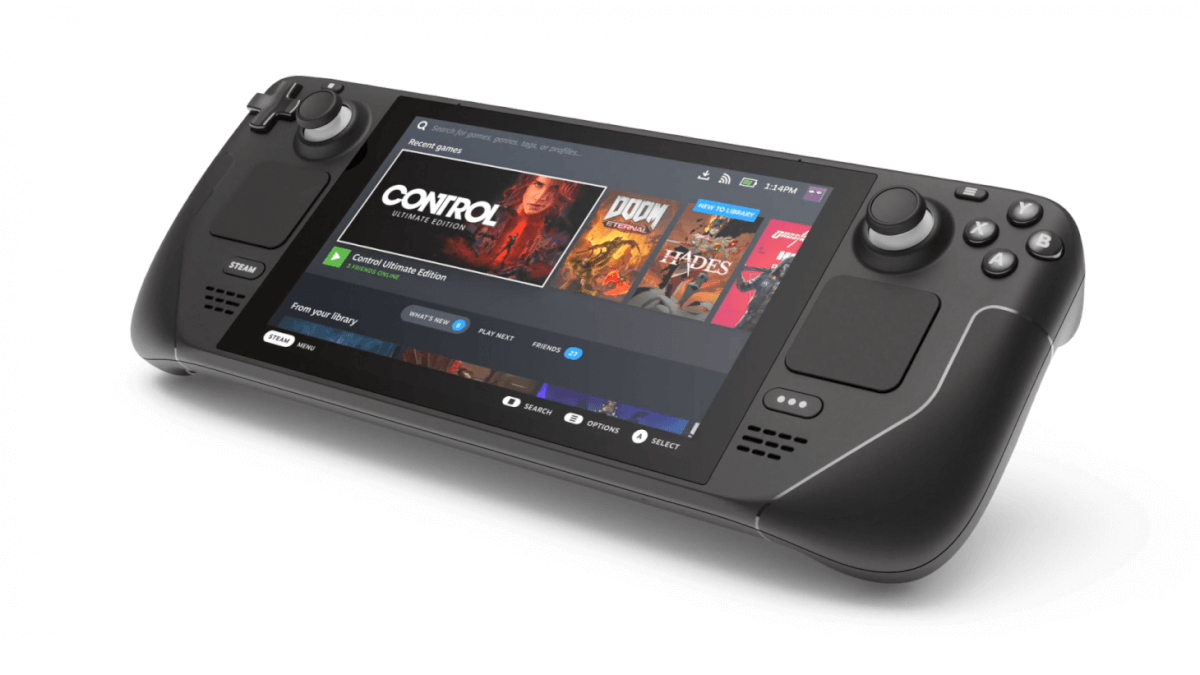 As a good friend would say, "It's a heckin' chonker!"
The Steam Deck came out of nowhere, but has already captured the hearts of retro handheld enthusiasts and PC gamers alike. It's got a four-core Zen 2 CPU and a RDNA 2 GPU, which if I check my notes here, has better gameplay performance than an RK3326. It comes standard with 16GB of RAM, and is available in 64GB, 256GB, and 512GB configurations. The 512GB configuration also comes with a matte anti-glare screen.
This is a big device. The screen itself is a 7″ 16:10 display, and it's flanked by full-size gamepad inputs that would be right at home on an Xbox One controller. The Steam Deck has two full size thumb sticks, face buttons, a d-pad, stacked shoulder buttons, and two full analog triggers. Unusually, the Steam Deck also has two thumb-oriented touchpads, allowing users to play more mouse-focused games, or access quick hotkey menus. There are also four macro pads on the back of the device's grips.
When it comes to a retro gaming perspective, this thing will handle just about anything you throw at it. N64, Dreamcast, and PSP are clearly going to be no problem, and the Dolphin emulator for GameCube and Wii is expected to have good performance. Enthusiasts also have high hopes for PlayStation 2 emulation, although it seems like emulating the Playstation 3 will be just out of reasonable reach for the Steam Deck's CPU.
Of course, there's the entire world of PC gaming to enjoy as well. Interestingly, Valve chose to go with a custom Arch Linux distribution instead of the standard Windows installation that's common for PC gaming. This will allow Valve to completely craft the Steam Deck and Steam OS experience from top to bottom, but will bring some interesting speed bumps with its Proton compatibility layer. Proton should be able to make the vast majority of Windows-based PC games run on Linux, but Valve's currently working out the kinks of getting online games with aggressive anti-cheat systems up and running. Thankfully these Protron concerns aren't much of an issue when it comes to a retro gaming. Most emulators have Linux builds, and the Steam Deck is going to have a desktop mode which gives free rein to users to install third party software.
Preorders are live now, with the initial batch of Steam Decks shipping in December of 2021. Subsequent batches of devices are already slated for delivery throughout Q1 and Q2 of 2022. It will be exciting to see Decks begin to rollout to people, and how the retro handheld community will receive this new formfactor. Valve has done a good job miniaturizing the PC gaming experience, but this is still a device one will need a backpack to carry around. It will be a good relief valve (pun intended) for folks who have been itching for some solid portable GameCube experiences, but it may leave some nostalgic fans looking for something like, well, our next handheld on the list.
Analogue Pocket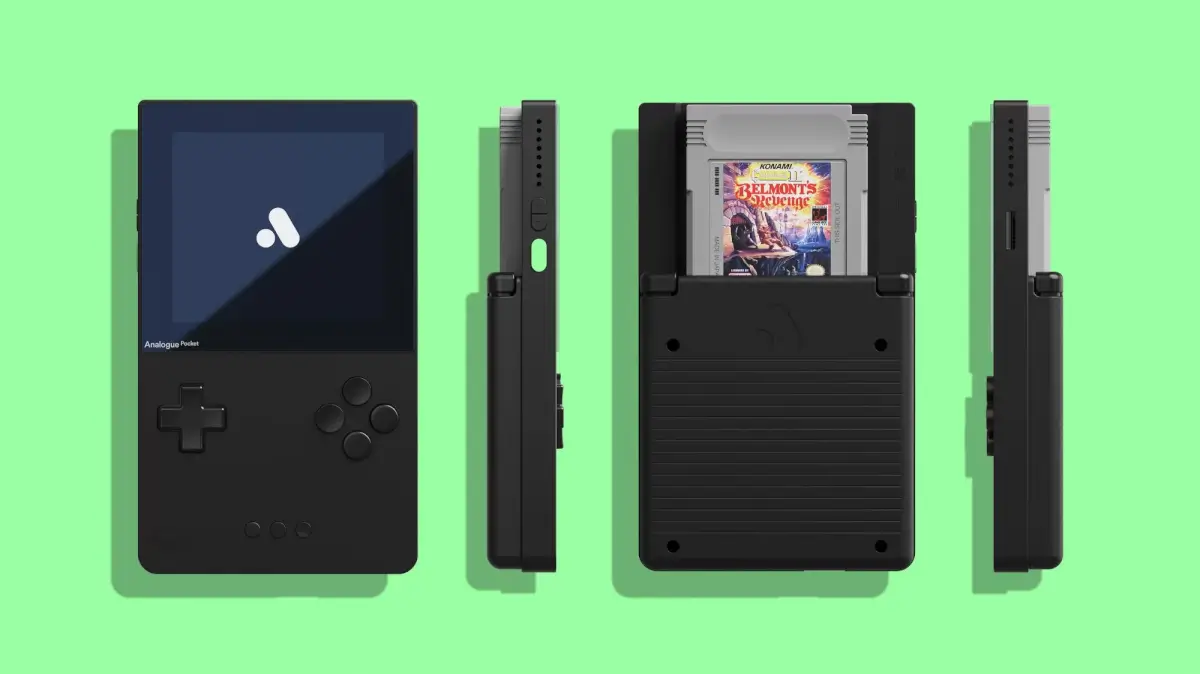 The Analogue Pocket is a completely different beast from everything else on this list so far. Analogue has made a name for themselves with a series of FPGA-based consoles. FPGAs, or "Field Programmable Gate Arrays" are a unique piece of computing technology that allow programmers to physically define the individual logic gates that make up a processor. This allows you to define custom hardware that is exceedingly good at performing a certain type of calculation. FPGAs are used for everything from Machine Learning to Bitcoin mining, but in the case of Analogue's devices, they're able to mimic classic consoles down to the hardware level.
This approach is also used by the popular MiSTER project. Rather than emulating games at the software level, you develop FPGA "cores" that allow you to simulate classic consoles at the hardware level. This has allowed consoles like Analogue's Super NT to work flawlessly with traditionally tricky-to-emulate SNES games using things like the Super FX or SA-1 expansion chips.
So it's exciting to see Analogue make their mark on the portable space. The Analogue Pocket is styled after the classic Game Boy, and supports reading Game Boy, Game Boy Color, and Game Boy Advance cartridges using the port on the back of the device. Analogue is also planning to release adapters for the Sega Game Gear, the Neo Geo Pocket Color, and the Atari Lynx. The Pocket will feature a super-high resolution 3.5″ 1600×1440 display, so your games should always be clear no matter which system you're playing. They also intend to release a dock which will allow Pocket owners to play their Game Boy games on a TV.
Analogue took their initial round of preorders earlier this year, and has yet to ship them due to a series of Covid delays. Out of the box, the Analogue Pocket will only play games from your personal collection of game cartridges. Analogue has included an SD card slot however, and most of their previous consoles have received a community jailbreak so that backed up game roms can be stored and run completely off of the device itself without the need to fish out a game cartridge. Just don't expect the Pocket to be able to play any platforms not supported by Analogue due to its unique nature as a FPGA device.
Panic's Playdate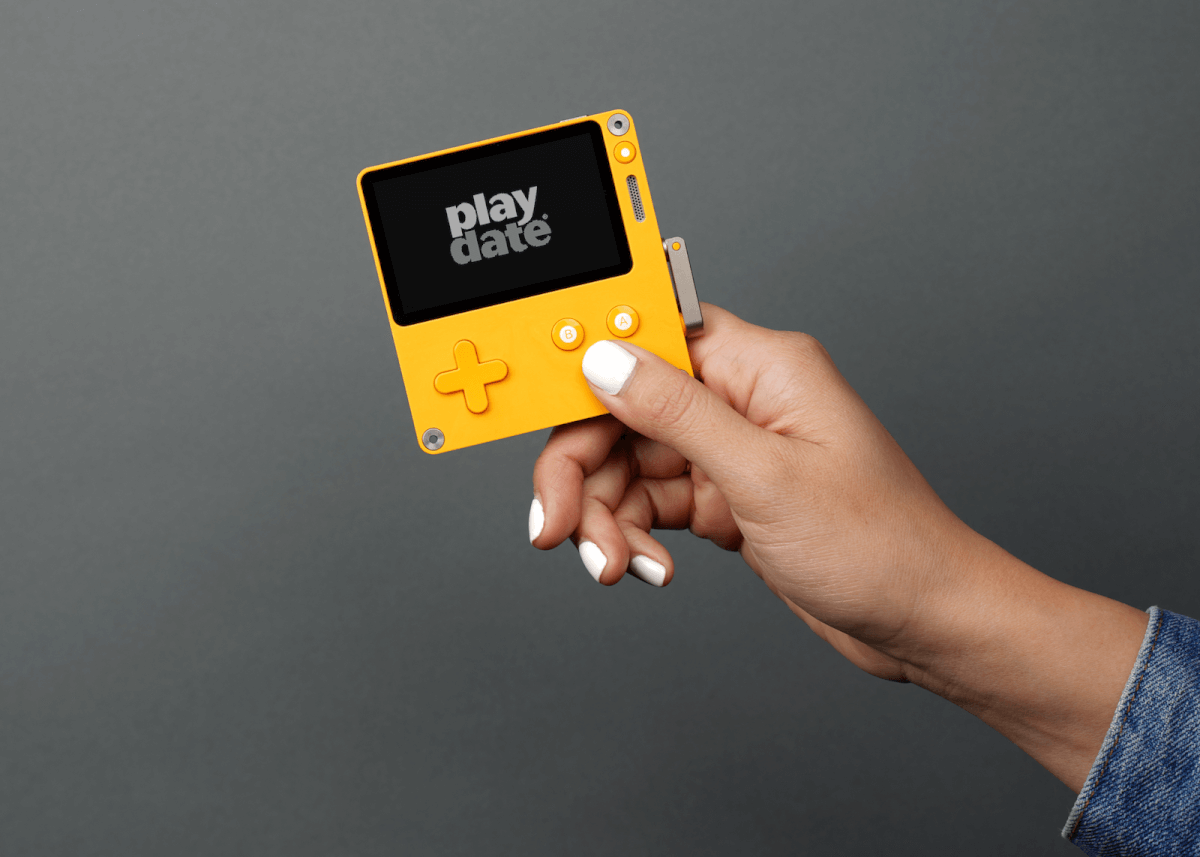 The Playdate is an interesting take on retro handheld nostalgia. Rather than trying to create some interesting portable hardware to emulate the classic games of yesteryear, software and video game publisher Panic chose instead to create a completely new gaming platform which takes advantage of modern conveniences while leaning on some classic nostalgic influences.
At first glance, the Playdate's hardware looks like a modern take on creating a low-power Game Boy-like device. It's powered by a 180 MHz Cortex M7, with 16 MB (megabytes!) of RAM, and 4 GB of flash storage. This sort of hardware spec looks like something you'd find in an Adafruit catalog, and is more in line with a hobbyist platform like the Arduboy. However, the device has just enough power under the hood to offer up some modern niceties like WiFi, Bluetooth, a 3-Axis accelerometer, and microphone input.
Panic's approach with the Playdate appears to be trying to drive creativity through the use of novelty and intentional limitations. The most striking part of the Playdate is its lack of color on the display. Despite its classic appearance, the Playdate is actually using relatively new transflective LCD technology. As seen on devices such as the Pebble watch, this highly-readable display technology has an appearance similar to eInk, but with refresh times comparable with standard LCDs. This creates a stark, memorable look, at the expense of color depth. The Playdate has a "1-bit" display, meaning it's either drawing a black pixel, or it's off entirely. This makes the classic Game Boy's "2-bit" display with its four shades of gray look positively futuristic in comparison.
The initial batch of Playdate games have embraced this limitation however. Harkening back to the similarly-constrained days of Mac OS System 7, many of the Playdate's teased games have employed unique dithered effects to simulate shades of gray in their games. Thanks to the high pixel density of the Playdate's display, this creates an effect not possible on classic gaming hardware, but also not seen on more contemporary portables.
On the novelty end of things, one of the Playdate's most prominent features is its small analog crank input. Similar to the crank on a fishing reel, Playdate has already shown off a few titles that use this input to unique effect.
Put these two aspects together, and you have something that feels like a classic portable, but is altogether something entirely new. The Playdate's crank input and black and white display do not lend it to easily porting titles on or off the platform, meaning that the platform will most likely be host to experiences you can't get anywhere else.
Panic took preorders for the Playdate earlier this year, and will be delivering initial units this December, with subsequent preorders being delivered next year. It's yet to be seen if the platform will take off, but it appears that Panic has learned the lessons of similar indie game experiences like the Ouya and Pico-8.
Rather than taking a if you build it, they will come approach, Panic has paid several high-profile indie game developers to create the initial suite of launch titles for the Playdate. Packaged together as a "Season 1" of games, purchasers of the Playdate will receive two games every week in the twelve weeks after the platform's initial launch. This season of games includes titles from developers such Keita Takahashi, Zach Gage, Bennett Foddy, Shaun Inman, and Chuck Jordan, and is included with the purchase price of the device.
Panic has mentioned the potential for followup seasons of games, but has not mentioned any price or timing. They will also be releasing a free SDK for the Playdate, allowing devs to write games in C, or the popular Lua programming language as seen on the Pico-8 fantasy console. There's already been a good amount of buzz for the platform within gamedev communities, and Panic has already confirmed that users will be able to sideload titles outside of the initial canon of Season 1 games.
This handheld isn't going to be for everyone. At $180, it's nearly the cost of a Nintendo Switch Lite. While there is a Game Boy emulator in the works for the Playdate, you're mostly banking on the community giving this handheld some longevity. Still, there has been enough interest in the Playdate to sell out of its initial 20,000 unit preorder stock in under 20 minutes, so clearly this twee little gadget is resonating with some people.
Parting Thoughts
This writeup ended up being a bit longer than I expected! We've got a lot to look forward to in the next year (with maybe the exception of the sizable dent a 512GB Steam Deck will make in one's wallet.) I'd like to give a shoutout to TimeIsArt for their excellent retro handheld Google spreadsheet. This living document outlines the specs of all currently released and upcoming handhelds, and was an invaluable resource for building this roundup. Rumors move fast in this space, and all the details I shared here are annotated and cited further in that document.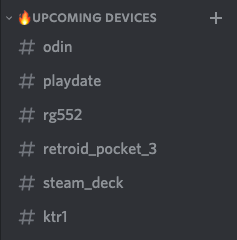 All of these handhelds have a dedicated channel on the Retro Handhelds Discord. Did one of these catch your eye? Want to get hyped with your fellow Steam Deck fans? Need convinced on the Playdate? Stop by and let us know what you think!