We're fine! Thank you! How are you?
Okay, seriously. It's been a busy few years in portable classic gaming. Things have come a long way since the original ODROID-GO shook up the scene. With the current release cadence of handhelds in a bit of a lull, we thought it might be a good chance to survey the current options and take a look at the scene's top offerings.
The Retroid Pocket 2
If you're new to the space and have only seen one retro handheld, the Retroid Pocket 2 is probably it. This device burst onto the scene in 2020, and has made a name for itself with an appealing formfactor, Android operating system, and wide variety of retro-inspired color schemes. The Retroid team has paint jobs appealing to Nintendo, Sony, and Sega diehards alike, as well as those who just want some good old fashioned 90s-era transparent plastic.
The handheld can emulate a wide variety of systems, including the NES, SNES, GB, GBC, GBA, MS, MD/Genesis, PCE, WSC, and a large swath of MAME titles. While the RP2 can run most PlayStation 1 games at full speed, it begins to struggle when emulating some Nintendo 64, Nintendo DS, Dreamcast, and PlayStation Portable games. Earlier titles in those console's catalog will generally run well on the device, but more demanding games will struggle.
One of the Retroid Pocket 2's core strengths is the fact that it runs the open source Android operating system. This device is a tinkerer's paradise, allowing users to take advantage of a variety of custom frontends, leverage Google's Play Store applications such as Magic DOSBox, and even play some native Android games such as the mobile Grand Theft Auto III port. The Retroid Pocket 2 does take some extra configuration and tweaking to set up due to its Android OS, but it remains a high watermark in the community.
The RG351 Family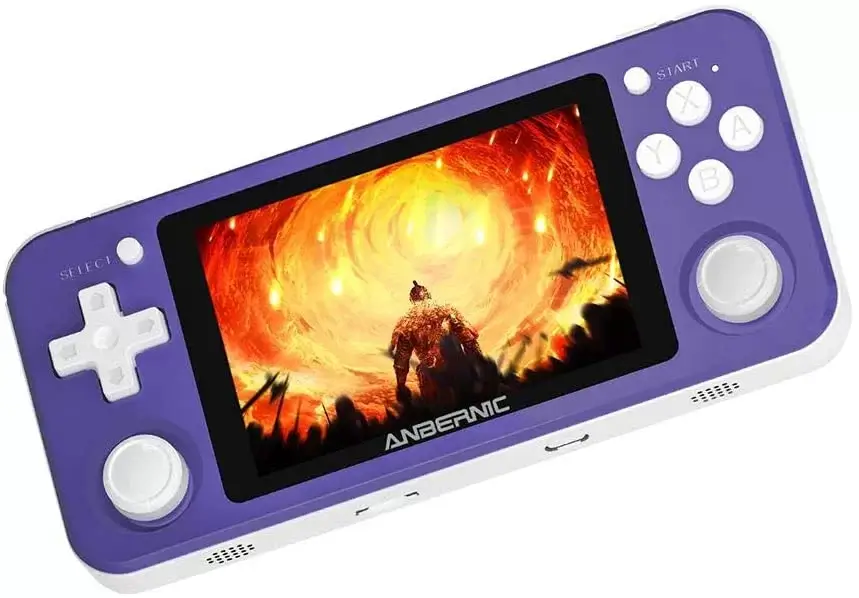 Previous generations of handhelds generally hit a wall when it came to emulating anything more powerful than the PlayStation 1. It wasn't until the ODROID-GO Advance hit the scene with its powerful Rockchip RK3326 in early 2020 that the community began to see more powerful options. A bevy of clones have since hit the scene, but Anbernic and its RG351 scene have made the biggest splash. These devices see a similar compatability to the Retroid Pocket 2, with full performance for the NES, SNES, GB, GBC, GBA, MS, MD/Genesis, PCE, MAME, WSC, and PSX, and mixed performance for the N64, DS, DC, and PSP.
The RG351p is the closest analog to the Retroid Pocket 2. It sports a similar horizontal formfactor, but ops for a screen with a 3:2 aspect ratio. This causes the RG351p to have black bars when emulating most platforms, but it's pixel-perfect for all the Game Boy Advance fans out there. It's plastic body has a sturdy construction, with d-pads and buttons that feel similar to a classic Nintendo construction.
The RG351m, as its trailing letter implies, trades the RG351p's plastic enclosure for a solid metal housing. This variant also introduces onboard wifi, and is a solid (if not hefty) centerpiece for any enthusiast's collection.
Switching things up a bit, the RG351v introduces a vertical orientation to the line.. This device is a bit larger than its horizontal siblings, and takes obvious design cues from the original Game Boy. One design cue it didn't take from the Game Boy is it's unusual faux wood-grain color option. For fans of the Retroid Pocket 2's 4:3 aspect ratio screen, the RG351v also represents the first time the RK3326 sported the more retro-friendly square frame.
All of these devices are Linux-based, running on a variety of firmwares powered by the Emulation Station frontend. In true Linux fashion, there's a variety of community firmwares for the RG351 devices. 351Elec and ArkOS are the most popular, with RetroOZ gaining more traction thanks to the popularity of the RG351v and the next handheld we're about to cover, the RGB10 Max. These firmwares are well regarded for their plug-and-play nature, simply requiring users to format an SD card and drag-and-drop their game files before they can start playing. Not to be outdone however, the 351Droid project is currently seeking to bring Android to this line of handhelds.
Due to the device's open Linux nature, there's a variety of games that have been able to be ported to the RG351 line and other RK3362 devices. These include titles such as Cave Story, Half-Life, Shovel Night, and Undertale.
The Powkiddy RGB10 Max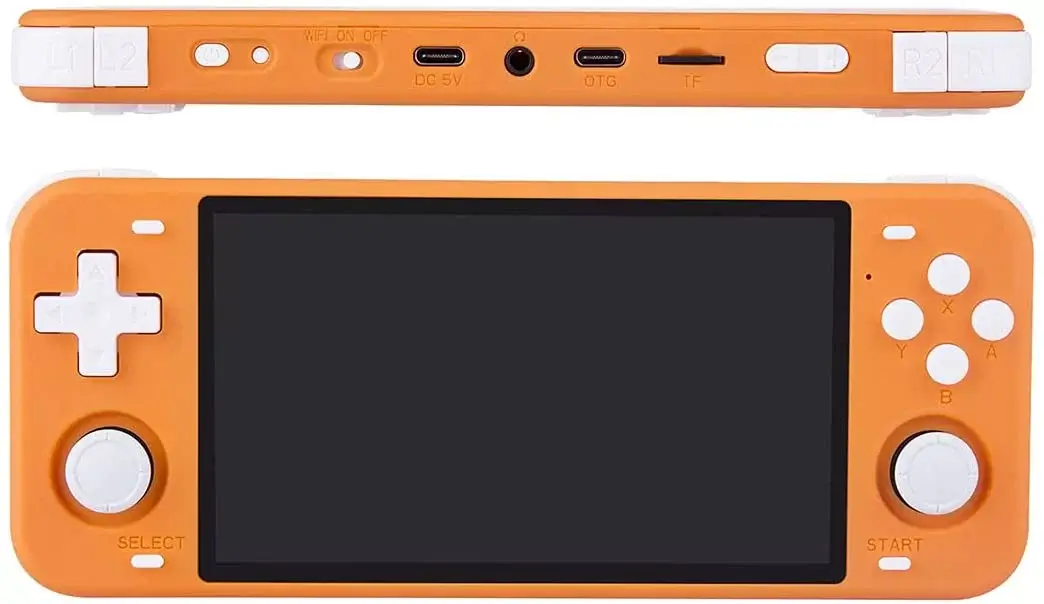 They say the bigger the better, and Powkiddy sought to prove this adage right. Working off of their sturdy RK3326-based RGB10 handheld, they launched the RGB10 Max in early 2021. This device has similar specs and performance to the other RG351 devices described above, but it trades in their 3.5″ screens for a full 5″ screen.
This handheld is a solid fit for anyone seeking a Switch Lite-sized experience, but with more of a focus on classic gaming. The 16:9 widescreen display is well suited for running the lighter PSP experiences that the RK3326 can manage.
The GameForce Chi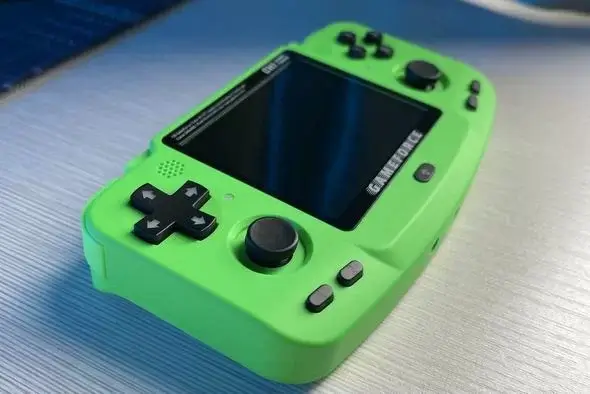 This is a handheld that cannot be missed, in more ways than one. Once again sporting the RG3326, the GameForce Chi takes its stylings from the Game Boy Advance and Neo Geo Pocket Color. Its bright colors and chunky body can take some getting used to, but it's ergonomics are a welcome reprieve for anyone who was bemoaning the smooth candy-bar trend of its contemporaries.
The GPD Win 3 and AYA NEO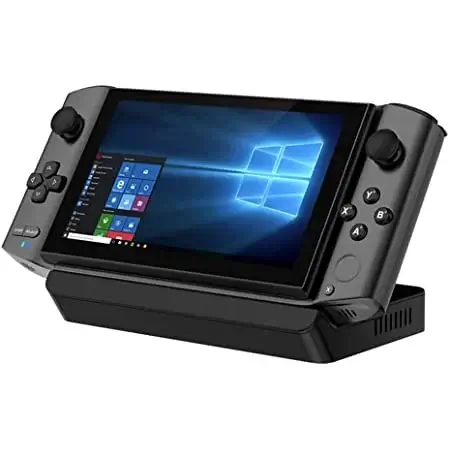 Every device we've discussed up until now can be comfortably purchased for between $80 and $150. These next two devices blow past the $200 price point and never look back. For the serious portable gaming enthusiast, the GPD Win 3 ($1,300) and AYA NEO ($1000) offer a premium Windows 10 experience for those who aren't willing to compromise.
Experiments in Formfactors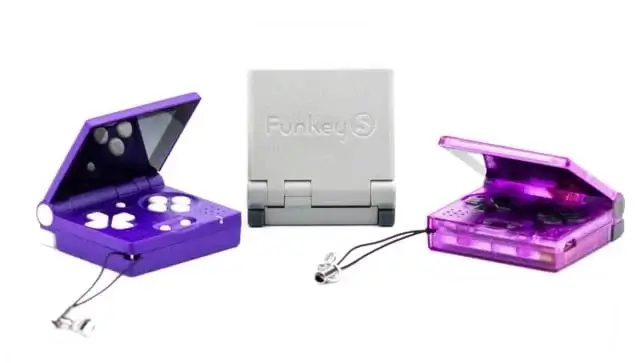 Rather than pushing the envelope on handheld performance, some manufacturers have taken advantage of the relative ubiquity of small low-power chips to create handhelds with unique formfactors that top out performance wise around the SNES or GBA.
The Powkiddy v90 is a $40 clamshell with obvious Game Boy Advance SP influences. Is that too large for you? Then how about the diminutive keychain-sized Funkey S?
For fans of the Game Boy Micro, this summer has seen not one but two devices trying to win over enthusiast's nostalgia. The Anbernic 300x and the Powkiddy Q90 Mini are two solid choices for truly pocketable gaming.
What's Next?
This was just a brief overview of some of the more popular retro handhelds currently on the market. Many of the earlier devices are still for sale as well, offering up a solid SNES/GBA experience for a reduced cost.
As you may have noticed though, the community's in a bit of a holding pattern. Handheld performance has currently tapped out at N64/DC/PSP emulation, and everyone's waiting for the next hot CPU. There's plenty to look forward to, so stay tuned for a round-up of the devices we're keeping an eye out for in the second half of 2021 and beyond.