It's finally here! During the relatively short lifespan of the modern retro handheld scene, there hasn't been a handheld with more hype than AYN's Odin.
Originally billed as the "199 Handheld", the Odin had a relatively simple mission statement: What if you leveraged older smartphone hardware to build a dedicated portable gaming device? This isn't the first handheld with this lofty ambition, the Retroid Pocket 2 famously ran Android, and boutique short run handhelds like the Z Pocket Game literally took advantage of salvaged Sony Xperia phones. The Odin sought to take the lessons learned from these devices and create a large touchscreen device with traditional handheld ergonomics. All of this sounded great on paper, but it came with one extra cherry on top: The "199 Handheld" was going to retail for $199 USD.
AYN was founded as a new company to get this handheld off the ground, although they've been able to leverage a fair amount of experienced talent from the retro handheld scene. (There's a strong amount of evidence that they share at least some coding and hardware technology with Retroid.) They launched an IndieGoGo crowdfunding campaign at the end of August 2021 to raise funds for this new handheld.
Or rather, handhelds. Plans evolved over time, and it was eventually announced that the "199 Handheld" would actually be three handhelds. The original 199 pitch became the Odin Base. A high-spec version of it was also revealed, and dubbed the Odin Pro. There was just one small problem: Both of these handhelds cost more than $199 USD. So the Odin Lite was announced as a new entry-level config for the Odin.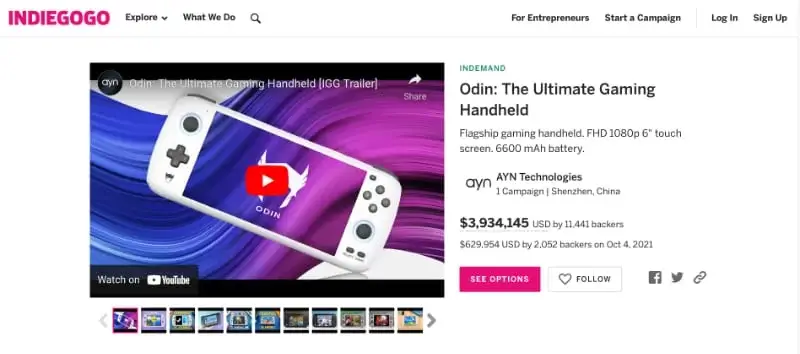 The crowdfunding campaign exceeded everyone's expectations. Device preorders are not uncommon in the retro handheld world, and while crowdfunding campaigns come with some additional risk, the community absolutely flooded AYN with preorders. Unfortunately, during the production process the AYN team ran into more than a few of the component sourcing issues and technical challenges that have become all too common during the Covid era. Communication has been steady from the team however, and after a few announced delays, Odin Pro handhelds began shipping towards the beginning of this year.
The Odin Lite took a bit longer to start landing in users hands. Both of these devices are remarkably similar, and we decided to hold off and publish our thoughts on the Odins as this single joint review.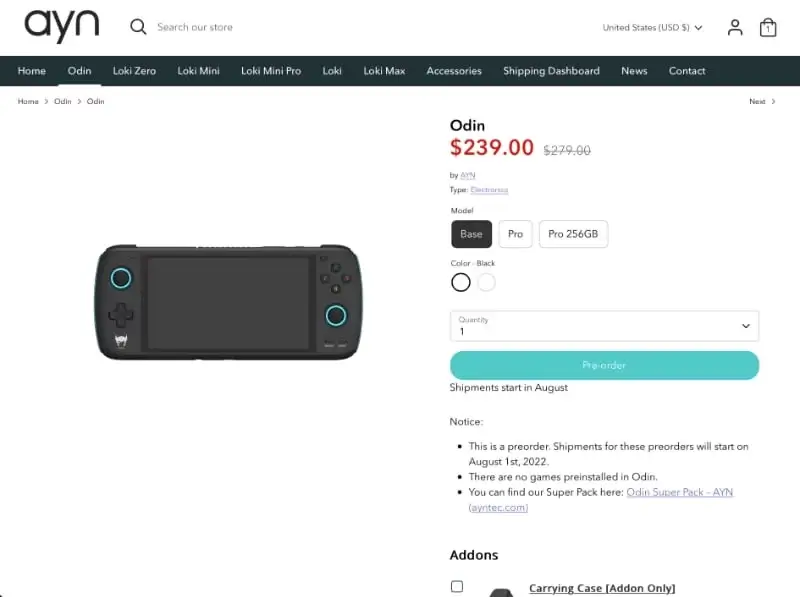 Actually purchasing an Odin right now is still a little tricky. AYN is continuing to assemble and deliver IndieGoGo preorders, so new purchases are subject to fluctuating months long lead times. If you'd like to get in line however, the Odin Base can be purchased from AYN's website for $239 USD, and the Odin Pro can be purchased for $287 USD. A higher-storage version of the Odin Pro is also available for $328 USD. All orders off of AYN's site also subject to $36 USD shipping with DHL. The Odin Lite will eventually be available to purchase through AYN's website for $199 USD (with $36 USD shipping), but it is currently only available for an "InDemand" post-campaign purchase on IndieGoGo for $227 USD (with shipping costing around $28 USD). AYN has also developed a Super Dock for the Odin, which can be purchased through their site or IndieGoGo for $68 USD. Depending on which configuration of Odin you purchase, the handheld is available in black, white, transparent black, transparent white, and transparent purple.
The Hardware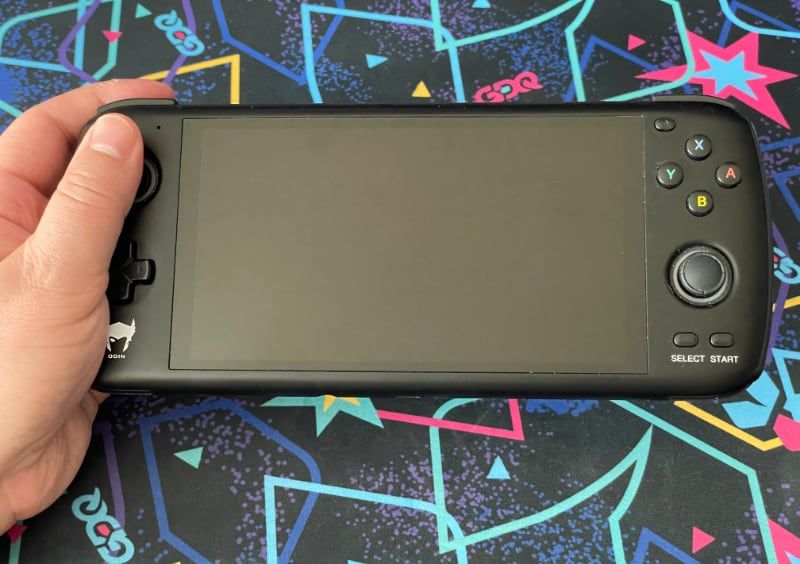 The Odin Base, Odin Pro, and Odin Lite are an impressive amount of variation for the retro handheld space, but things are actually a bit more complicated than that. During the IndieGoGo preorder period, potential buyers had three different specs they could adjust. In addition to the choice of processor, AYN allowed some RAM and storage upgrades not present on their full retail site. If you're purchasing a secondhand Odin, it's worth asking the seller if the Odin has any atypical tweaks to its configuration.
The Odin Base and Odin Pro are powered by a Qualcomm Snapdragon 845. The Snapdragon line is well respected in the world of mobile processors, and is frequently used in Samsung smartphones. The 845 is a few years old at this point, but it still has some impressive specs. It has four 2.8 GHz high performance cores, as well as four 1.8 GHz lower performance cores. On the graphics side of things, the 845 features an Adreno 630 GPU, clocked at 787 MHz. The Snapdragon also comes with a few intangible benefits. Qualcomm's processors are well known in the mobile computing space, and their quirks are thoroughly documented. Emulator developers have been specifically targeting Snapdragon chips for years, so the Odin Base and Pro benefit from some software-side optimization.
Meanwhile, the Odin Lite is powered by a Mediatek Dimensity D900 processor. Given the Lite name, one would be forgiven for assuming that the D900 is a diminutive chip, but it turns out this MediaTek processor is no slouch in the performance department either. The D900 has a more balanced multi-core approach, featuring two 2.4 GHz high performance cores, and six 2.0 GHz cores. It's Mali-G68 MC4 GPU actually has a small leg up on the Snapdragon, running at a respectable 900 MHz. We'll discuss emulation performance later in this review, but it's important to note that the "Lite" in the Odin Lite primarily refers to the handheld's cost. The Dimensity line of processors were originally created primarily for use in LG smartphones, and wouldn't you know, LG got out of the smartphone industry a few years ago. AYN was able to procure these processors for a notably lower price, and was able to create the Lite as a result. The D900 isn't quite up to SD845 levels of performance, and the emulator ecosystem doesn't have the same level of software optimizations, but it frankly blows away the competition when compared to other handhelds in its price range.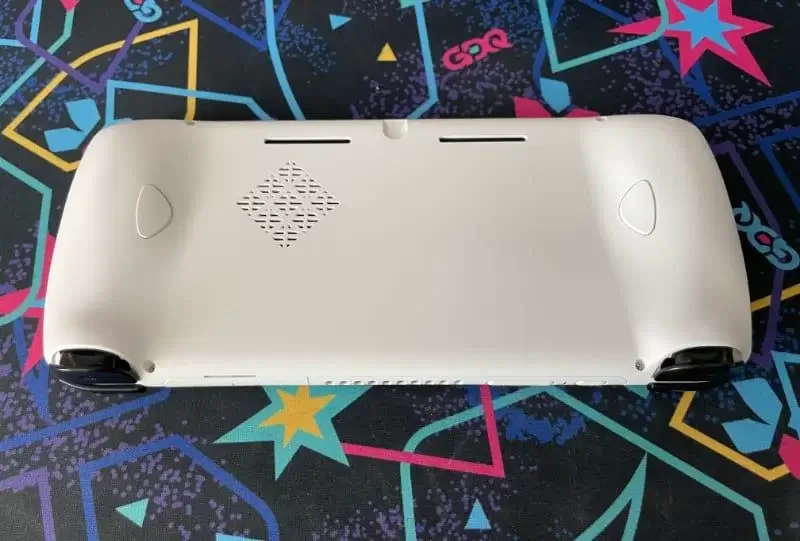 The other differentiating factors are more straightforward. RAM has become a relatively affordable component. The Odin Lite and Odin Base both come with a hearty 4 GB of memory, while the Odin Pro features an impressive 8 GB. Of course, this was one of the aspects one could bump up during the IndieGoGo campaign, so there's more than a few Odin Lites floating around which also feature 8 GB of RAM. We'll actually be taking a look at one of these affectionately nicknamed "Odin Lite Pro" units today. Apologies for anyone looking for an apples-to-apples comparison of the post-IGG retail offerings.
Finally, there's storage space. The default storage on the Odin Base and Lite is 64 GB. The Odin Pro starts at 128 GB of storage, but AYN is continuing to offer a 256 GB upgrade option for users interested in getting a fully loaded Odin. Again, these options were adjustable during the preorder period, so there's a few oddball Odin Lites or Odin Bases out there with increased storage. All Odin configurations also come with a Micro SD card slot, so increased onboard storage may be less of a concern for you depending on your priorities. Built in storage is if you're playing a lot of games from the Google Play store, but is less important if most of your games are going to be emulated off a collection that can be housed on a Micro SD card.

Beyond those three aspects that could be tweaked during the IndieGoGo period, there's a few additional difference between the Odin Base, Odin Pro, and Odin Lite. Most of these differences are due to components or aspects tightly coupled with the handheld's processor. The Odin Base and Pro run Android 10, and take advantage of Bluetooth 5 and WiFi 5. The Odin Lite is using a slightly newer chip, so it is running Android 11, while leveraging Bluetooth 5.2 and WiFi 6. Interestingly enough, the Odin Lite also retains its original smartphone SIM slot. If you're looking for a handheld that can pull double duty as a smartphone, the Odin Lite is the device for you.
These aren't huge factors, but may tip you one way or another if your primary use case is streaming. The color options for the Odins have also changed throughout the preorder and retail process, and can depend on whether or not you purchase the "Super Pack" which comes with the Odin's dock. Both of the handhelds weigh nearly the same. The Odin Base and Pro are about 367 grams, while the Odin Lite stays true to its name at 362 grams.
For the rest of this hardware section, the specs are shared between all configurations of Odin handhelds. They all share a 224 mm x 95.2 mm case design. The handheld has a contoured shape, with grips on the edges, and shoulder buttons that stick out a bit at the top. It's 15 mm at its thinest point, and can get up to 23.7 mm thick. The Odin is similar in size to Nintendo's 208 mm x 91 mm x 14-28.4 mm Switch Lite handheld. It's a little larger in every aspect, including its screen.
The Odin has an impressive 5.98″ touchscreen display. This is one of the largest we've seen yet on a retro handheld, and has Nintendo's 5.5″ screen beat in both overall size and resolution. The Odin has a full HD 1920 x 1080 display, complete with the OCA lamination we've come to expect from premium handhelds. Thankfully the bezels on the device are fairly minimal, so despite its larger size, it doesn't feel noticeably different from a Switch Lite. Every aspect of the Odin runs circles around last year's Anbernic RG552, so it's unfortunate to see that handheld's 5:3 aspect ratio screen hasn't caught on in the rest of the retro handheld space just yet. The Odin's 1080p display handles a variety of classic systems, but like most 16:9 handhelds, it will have some amount of black bars or video filtering depending on which platform you're tackling.

All of the Odin configurations have a 6000mAh battery. This will net you about 5-6 hours of playtime, with more intensive games knocking your playtime down closer to 4 hours. Another factor influencing battery life is how much active cooling the Odin is leveraging. That's right: The Odin's got a fan! Typically mobile processors just leverage large heatsinks and performance throttling to manage the heat coming off their system on a chip. The Odin has a beefy heatsink as well, but it also sports a small fan which can help dissipate heat quicker to allow you to avoid throttling the performance of your handheld. This fan's speed can be controlled via software, or set to kick in automatically based off the strain the handheld is under. It's generally not too distracting if you're playing with game audio turned on, but it is a noticeably higher pitch than either the Steam Deck or Anbernic RG552's fan. It's generally the sort of noise that you can tune out while playing, but you notice its absence the second you shut the handheld off. Thankfully, most play sessions do not require it to run at full speed, if at all.
The Odin leverages USB-C charging, and doesn't get tripped up by more advanced USB-C to USB-C fast charging solutions. The handheld has a suspend mode, which retains power well and doesn't have any egregious battery life when being left alone for the better part of the day. The USB-C port is on the bottom of the Odin along with the handheld's 3.5mm headphone jack.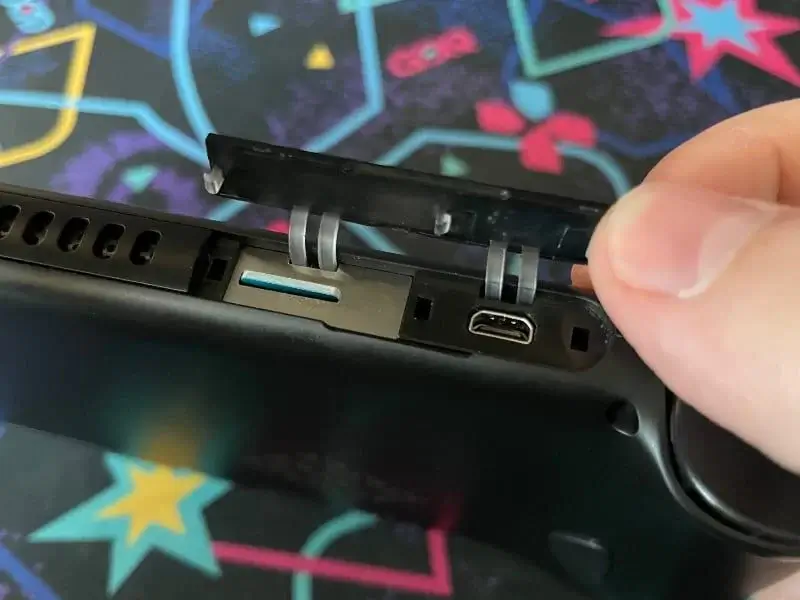 The rest of the handheld's ports and system buttons are on the top of the device. From left to right, you've got a Micro HDMI video out port, a Micro SD card slot, the fan exhaust, volume +/- buttons, a status LED, and the handheld's power button. Like many Android handhelds, the Odin can be plugged into a large TV or monitor for couch-based gaming. The Odin also has an Android "Home" button, but it's situation on the front of the device along with the gameplay inputs.
Speaking of which, the Odin checks all of the handheld input boxes, and then some. In a nod to this handheld's performance, AYN has opted for a more modern Xbox-style stick placement, with the left analog stick being situated on top of the handheld's d-pad. The analog sticks are of a similar design as the Nintendo Switch, and support L3 and R3 inputs. They're somewhat more recessed than you see on some other handhelds, but are overall well placed and easy to use. There's no awkwardness playing a modern twin stick shooter with these inputs.
The d-pad is a PlayStation Vita-inspired input, with clicky buttons and a good amount of rocking. It's excellent for switching between different weapons in a modern title, but it doesn't have the most retro feel when playing older 8-bit and 16-bit titles.
On the right side of the handheld, the Odin sports a standard set of face buttons with an SNES-style button layout. These membrane style buttons have the right amount of "mushiness" to them, and never got in the way of any of our gaming sessions. The Start and Select buttons are out of the way at the bottom of the right side of the handheld. We occasionally found ourselves leaning on our Switch experience and pressing the handheld's Home button instead of the Start button, but all of these inputs are out of the way enough that you're not going to accidentally press any of them during normal gaming.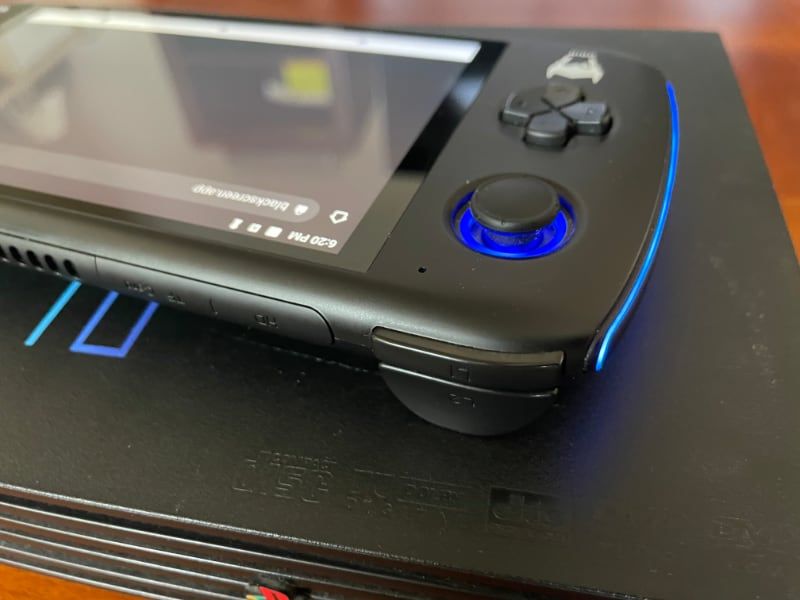 The Odin has a lot going for it, but the stars of this handheld are the analog triggers. We've seen the retro handheld space moving towards the popular console-style "stacked" shoulder buttons for a while now, but they've always been digital inputs. Devices like the Retroid Pocket 2+ only know whether or not you're pulling on one of the triggers. The Odin on the other hand uses a full analog input for its L2 and R2 buttons. The ability to report back just how far you're squeezing each trigger is vital for certain console games, and was one of the marquee features of the Nintendo GameCube controller. Seeing as the Odin is one of the first handhelds to tackle a large swatch of the GameCube catalog, it's a great fit here.
Not satisfied to leave things there, AYN also included two macro buttons on the back side of the Odin's grip. These buttons can be set to whatever makes the most sense for the title you're playing, and is the sort of addition we've started seeing more recently on premium gaming hardware.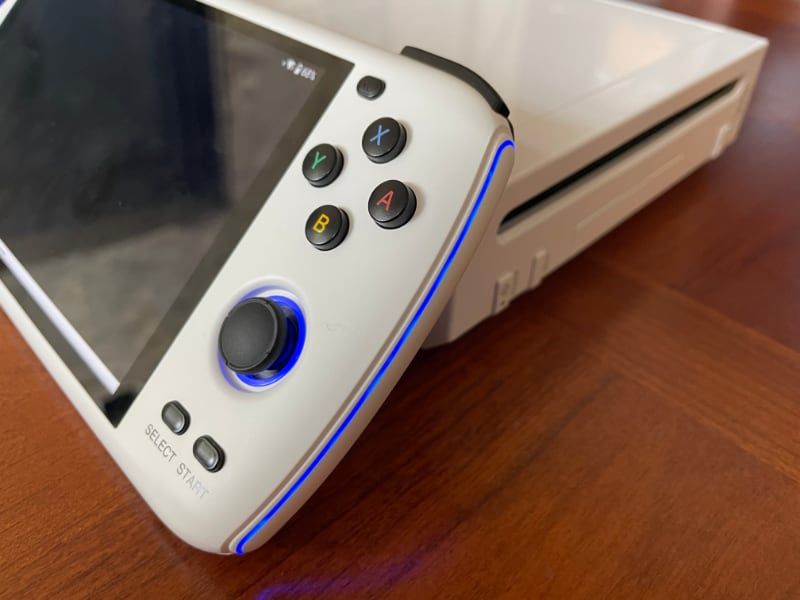 Perhaps the most Gamer™ aspect of the Odin however is its LED lighting. If you purchase a non-transparent Odin color, the handheld comes equipped with LED trim lighting on the sides of the handheld and underneath both of the analog sticks. Its superfluous, silly, and honestly a lot of fun. You've just spent several hundred dollars on a niche emulation handheld from China. Of course you're going to fire up those LEDs and revel in its over-engineered glory. Individual tastes may vary, but the LEDs are so over the top they somehow wrap around from dorky and back squarely into the realm of cool.
Inside of the Odin, there's a few more hardware features rounding out its spec sheet. Naturally, the Odin has rumble for games which support force feedback. The handheld also sports a microphone and gyroscope, making sure no corner of gaming input is left behind. Finally, it has a pair of bottom-facing stereo speakers which deliver excellent audio while playing a game.
Overall, the Odin is a nice piece of hardware. It feels solid without being overly dense, the contours of the device fit comfortably in one's hand, and all the controls all feel right where they should be. It's a handheld that feels remarkably close to a Nintendo Switch Lite. Just, you know, one running Android.
The Software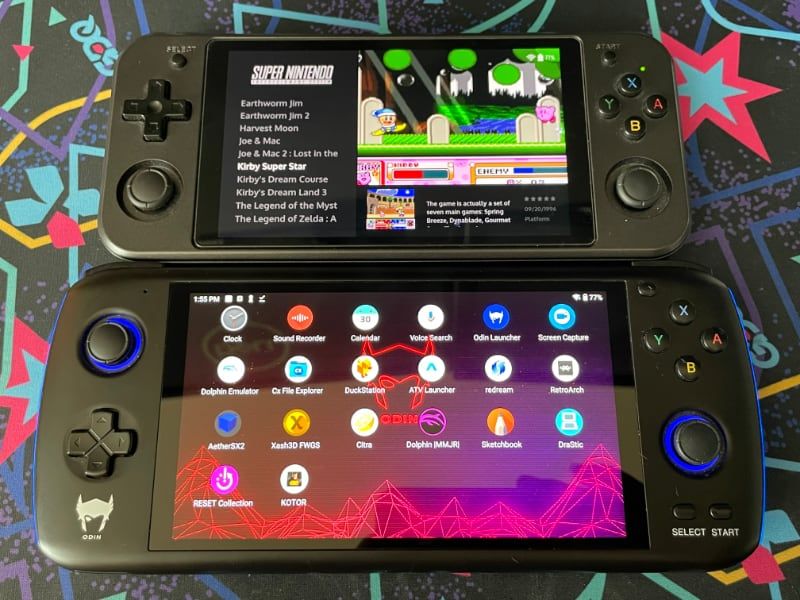 Wait, come back! Okay, in all seriousness, Android vs. Linux has been a contentious topic in the retro handheld space for the last few years. Linux handhelds have generally had the leg up when it comes to setup and ease of use (in no small part thanks to the Emulation Station frontend), while Android handhelds have always had an edge when it comes to performance and flexibility. Pile on pre-existing smartphone sentiments, and it's a topic where everyone has an opinion.
We've come a long way since the Retroid Pocket 2 and the early days of Android handhelds. The Odin leverages modern smartphone processors, so the act of navigating around the operating system is no longer a slog. It also doesn't hurt that the Odin has a rectangular touchscreen. Some apps are still a little surprised to be running in landscape, but it's overall a much more pleasant and straightforward experience.
Perhaps the biggest improvement of all is that the Android 10 or Android 11 installations that the Odins ship with are actually good. Previous handhelds like the Retroid Pocket 2 or Anbernic RG552 were characterized by seasonal re-flashes in search of the best community image. Just when you'd get comfortable with a handheld, a new version of Android or Lineage would come out promising a new feature or a few extra frames of performance.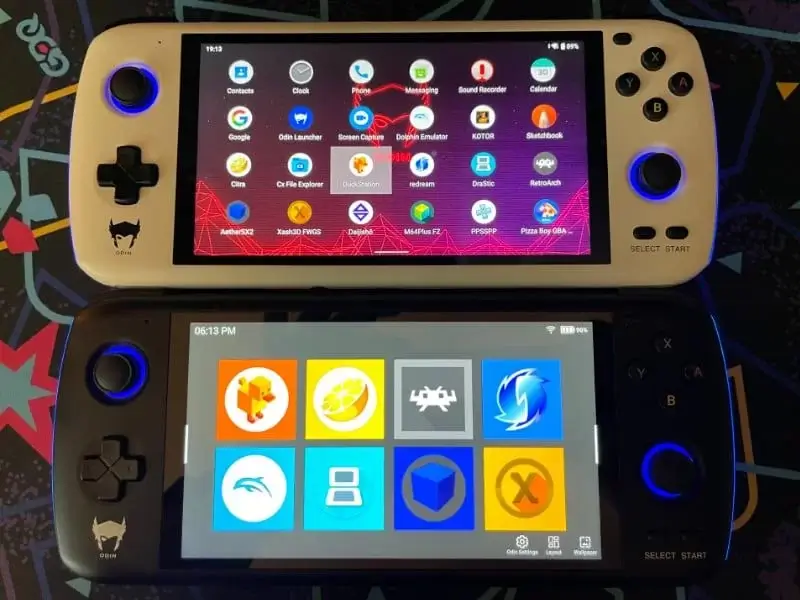 The Odin comes with a great Android experience right out of the box. It's a custom image, but AYN's additional software knows how to keep out of the way. They've included a controller-friendly onboarding workflow, but after that AYN flat out asks you if you'd prefer to use Android's default application launcher or their own customer launcher. At this point, diehard Android fans can opt-out of all of AYN's software enhancements and proceed with customizing the handheld to their own personal tastes. You get a very near-stock experience, while retaining useful hardware controls for things like the handheld's LEDs or the performance of the active cooling fan.
If you would like to dabble in AYN's software customizations, their primary components are the Odin Launcher, their "Floating Icon" applet, and the Odin Settings options.
For those not familiar with Android, Google allows device manufacturers to ship with their own "Launcher" application. This program acts as the standard smartphone grid of icons, and lets you pick which program you'd like to launch. There are a variety of interesting launcher options for Android, and even a few handheld-specific options. The Odin Launcher provides a nice lightweight way of launching one's emulators and games. It's styled loosely off of the Nintendo Switch's home screen, giving players large touchscreen-friendly rectangles to interact with.
AYN clearly didn't throw this launcher together over the course of a weekend. It has app categories for separating your games, entertainment, and productivity tools, and system applications. The developers have included useful customization options, such as adjusting the background color of the icon tiles. There's also background image support if the Switch's drab gray isn't your jam. AYN has surfaced a variety of hardware settings in their launcher, ranging from stock Android options such as WiFi and Bluetooth toggles, to Odin specific hardware options like the LED lighting.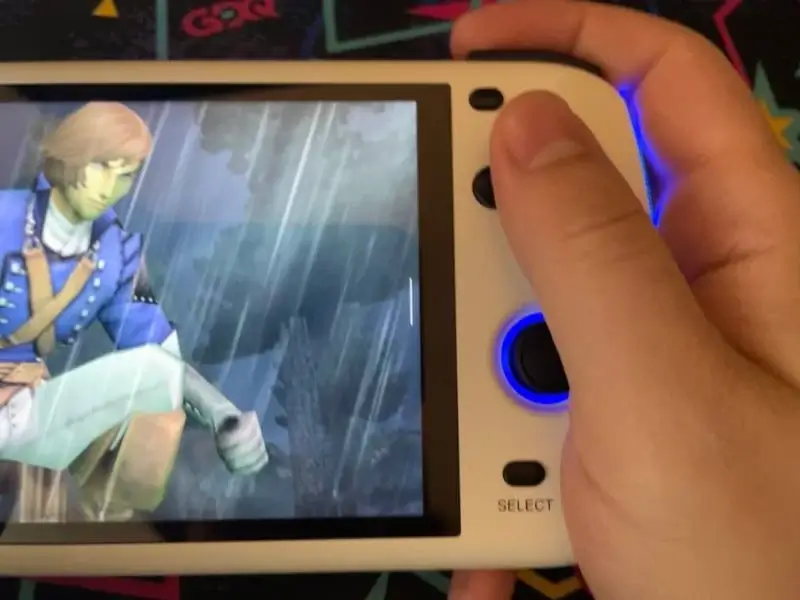 AYN's "Floating Icon" tool also provides access to a few of the handheld's hardware and software settings. When playing a game, users can swipe a small single-pixel line on the right side of the display to pull up a quick settings menu for their Odin. It has some standard settings options such as brightness controls, but it also houses some of the Odin's more unusual enhancements.
This menu has multiple screen recording options for players interested in capturing their gameplay. Users can take a standard screenshot of any application on the handheld, as well as locally recorded videos. Twitch fans will also be delighted to find that AYN's also included a "Go Live" button for Streamlab's Android based streaming utility.
Along with these recording options, the menu also houses one of the Odin's most important utilities for Android-based gaming: The touchscreen key-adaptor utility.
Android is first and foremost a smartphone platform. Game developers have to write their applications with touchscreen gaming in mind, and many popular Android games have skipped controller support altogether. This button mapping tool allows you to simulate a tap on the screen with one of the buttons on the Odin. You can configure simple things such as, "Tap this part of the screen when I press the A button", or more complex interactions such as mapping the real-world joystick to a virtual onscreen joystick.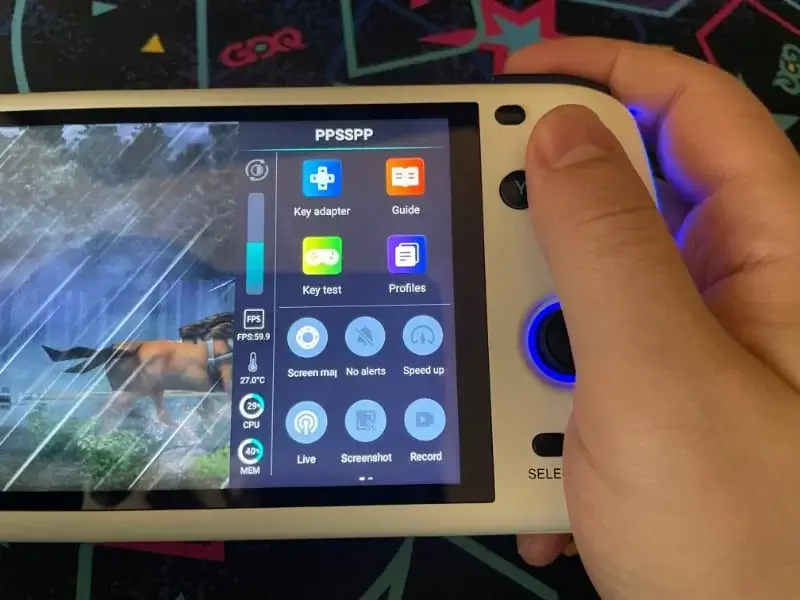 Your mileage may vary depending on the title you're trying to play. The mapping tool delivers a solid virtual joystick experience, but some touch-and-drag based gestures for looking around a 3D environment can trip up the software. Thankfully many Android games now support button support, but it's nice to have the option to fall back on if you need it.
The floating icon menu can be disabled through Android's control panel if you don't need any of its features, or if the white line icon just really bothers you. It may be worth keeping around if you play a lot of resource intensive games however. The menu has an extremely useful "Speed Up" button which clears out all of your background processes with a single tap. On such a performance conscious device like the Odin, it's nice to see AYN provide shortcuts and gauges for making sure you get the most out of this handheld.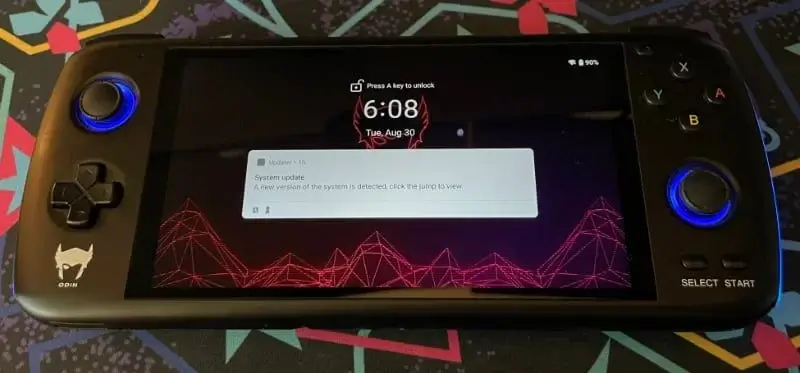 Finally, the Android's Settings application has a dedicated section for Odin Settings. AYN hasn't skimped on anything here. There's independent controls for the system's LEDs, video out and HDMI behavior options, notification tweaks, SNES and Xbox-style ABXY button layout swapping, rear-button key mapping, joystick calibration and gamepad testing utilities, a virtual mouse option for couch gaming, and a handy option to re-run the initial setup wizard. In one last nice touch to usability, AYN's been delivering updates to the Odin as over the air (OTA) updates. It's nice finally leaving the days of re-flashing device firmwares behind. Overall, ANY has provided a comprehensive collection of software enhancements, and has likely set the bar for Android handheld images for quite some time.
Of course, there's the small matter of the Odin not actually doing much straight out of the box. You get a nifty launcher, access to Google Chrome and the Play Store, and are essentially left to fend for yourself.
As you well should be of course. We've reviewed several handhelds in the past on sketchy ethical grounds including paid applications like the Drastic DS emulator. AYN provides a nice clean slate for you to work from, but you do need to work.
At this point, describing how to set up emulators on the Odin is the same as describing how to set up emulators on any Android device. There's a lot of potential complexity involved, but thankfully Russ over at Retro Game Corps has written and filmed many, many, good launching off points for the Odin. He's got a general Android emulation, a guide to the excellent RetroArch emulator, and finally a setup guide offering some Odin-specific tweaks. If you somehow haven't come across Russ' body of work before, please go take a look.
We'll touch on specific apps in the gameplay section of the review, but the general gist of gaming on an Android device is that you need to download a specific application in order to emulate a particular system. If you want to play Nintendo 64 games on the PC, you install Project64. If you want to play Nintendo 64 games on an Android handheld, you install Mupen64Plus.
This means that gaming on Android is all about knowing which app to launch to play the type of game you're in the mood for. It's much like use a smartphone. If you want to play a Nintendo 64 game, you have to look at a grid of icons and find the Mupen64Plus icon. Each emulator will behave slightly differently. You'll need to configure your gamepad inputs, point the application at your games folder, and configure other small application-specific tweaks.
This stands in contrast to the experience on your typical Linux-based handheld. These devices have long been able to leverage the popular Emulation Station frontend to create a cohesive gaming experience. You simply drop your game files onto an SD card, scan for new entries, and watch as the frontend provides visually impressive lists of titles to choose from. Once you've selected a game, Linux handhelds are immediately able to launch an emulator and boot directly into the game.
It's a neat trick made possible in no small part thanks to the work performed by the Raspberry Pi community. Portable emulation handhelds are still a relatively niche space, but the folks behind RetroPie has been able to polish Emulation Station to a mirror shine. There's nothing quite like it on Android, but a few projects have come close.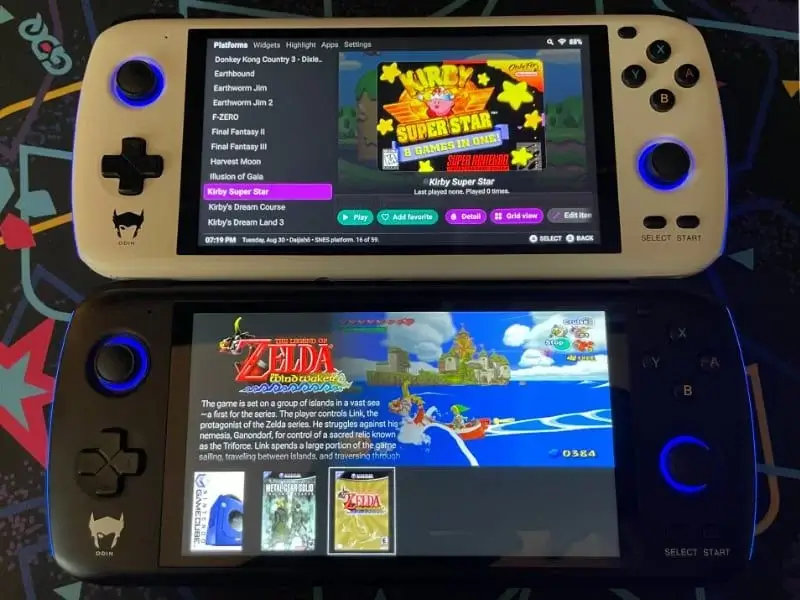 Retro Handheld's own Javier has created the popular RESET Collection frontend. It supports on-device scraping, and is a great fit for the Odin. Another good paid option is the LaunchBox frontend. Meanwhile in the open-source realm, the Pegasus project continues to provide a frontend with a head spinning amount of customization options, as long as you don't mind scraping box art with 3rd party or PC-based scripts. There's a few other popular options such as the Dig frontend, but one of the more intriguing options is the new Daijishou frontend. It supports on-device scraping, and has some very Pegasus-like launcher configuration options. The project is still relatively new, but it runs well on the Odin and is worth a look.
None of these options are still a perfect stand-in for Emulation Station. This means the Odin is a bit less friendly from a pick-up-and-play perspective, but it's also something that's largely unavoidable. Even on powerful devices with a Linux options like the Anbernic RG552, Emulation Station is reaching the limits of its user friendliness. Higher-end systems such as the Nintendo 64 or Dreamcast all have various quirks when launching their emulators through a frontend, and some cores have awkward rough spots when it comes to tasks like remapping controls. As emulation gets more advanced, it requires at least some amount of tinkering to do well. It will likely be a while until powerful retro handhelds have a console-like experience, but in the meantime AYN's provided a solid foundation for players to customize their handheld.
So What Can It Play?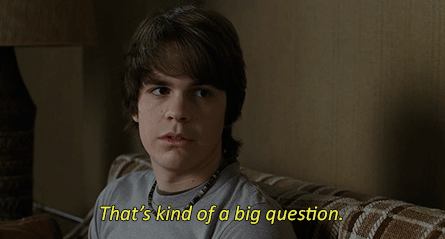 The Odin Base, Odin Pro, and Odin Lite are all unequivocally the most powerful retro handhelds we've ever reviewed. The PC-based handheld scene is starting to pop off, and we'll get to the Steam Deck eventually, but for right now the Odin is one of the most powerful ARM-based retro handhelds on the market. This is going to be our longest supported platforms section ever.
Fully Playable
Atari 2600, Atari 5600, Atari 7800
Nintendo Entertainment System
Super Nintendo Entertainment System
Nintendo Game Boy
Nintendo Game Boy Color
Nintendo Game Boy Advance
Nintendo Virtual Boy
Nintendo 64
Nintendo DS
Sega Master System
Sega Genesis / Mega Drive
Sega 32X
Sega CD
Sega Saturn
Sega Dreamcast
Neo Geo Pocket
Neo Geo Pocket Color
Sony PlayStation
Sony PlayStation Portable
Mostly Playable
Nintendo GameCube
Sony PlayStation 2
Somewhat Playable
Nintendo 3DS
Out of Reach
Nintendo Switch
As mentioned in the software section, most systems will require a dedicated emulator. The Android ecosystem has become incredibly mature in the last few years, providing solid emulation options for familiar platforms, and some exciting new emulators for cutting edge systems.
On the low end however, RetroArch remains the reigning champ. It uses an expandable "Cores" model to add new emulator options on the backend, while retaining a unified interface and experience. It can take a while to get used to RetroArch as a new user, but it's knowledge that will transfer between handhelds. Once you get familiar with the tool, you can start tinkering with interesting settings like scaling options, filters, and shaders. The Odin has more than enough power to run complicated options on relatively "high end" systems like the SNES. You can tweak to your heart's content, dabble in rewind or run-ahead options, and try out all those CRT shaders that less powerful handhelds could never manage.
On the Nintendo side of things, RetroArch is great for the Nintendo Entertainment System, the Super Nintendo Entertainment System, the Game Boy, the Game Boy Color, and Virtual Boy. On the Sega end of things, RetroArch is useful for the Master System (Mark III), the Genesis (Mega Drive), Sega CD, Sega 32X, and the Game Gear. Other early consoles and handhelds like the NEC TurboGrafx-16 (PC Engine), Bandai's WonderSwan and WonderSwan Color, as well as Neo Geo's Pocket and Pocket Color will also work well under RetroArch.
There's not much more to say about these lower-end systems, but before we move on completely from RetroArch, there's one specific core that deserves special mention. When emulating Sega Genesis games, the popular Genesis Plus GX core has a relatively new "Wide" variant. It became part of RetroArch early last year, and already has surprising amount of compatibility across the Genesis catalog. You may get slight visual artifacts depending on how wide you set the screen, but it can make good use of the Odin's widescreen depending on which game you're playing.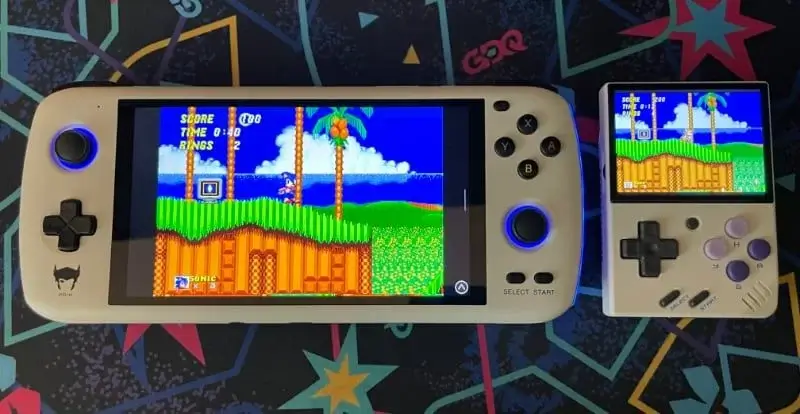 RetroArch has support for more advanced systems than the ones listed above, but there are often better options for things like the Sega Saturn, the Sony PlayStation, and the Nintendo 64. Many of these high-performance emulators are paid however, so feel free to try one of RetroArch's open source options before moving on to more proprietary pastures.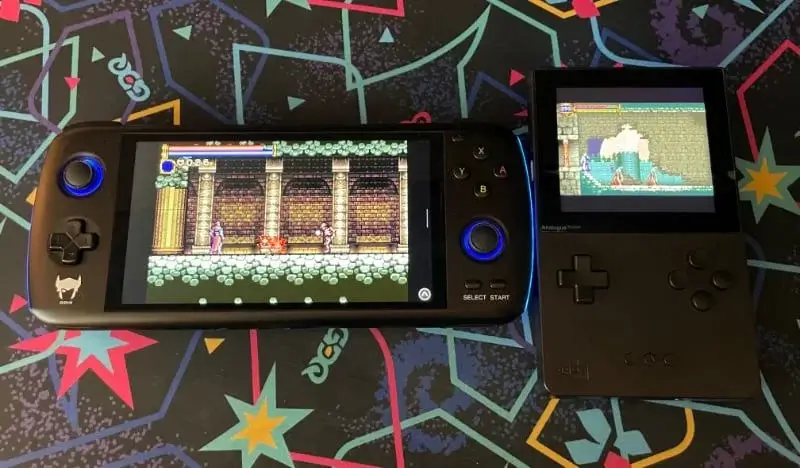 One of the first systems that generally drives users out of RetroArch is the Game Boy Advance. RetroArch's gpSP core works decently enough on lower-end systems, but on less powerful devices there's an argument to be made for jumping into standalone emulators like the Play Store's Pizza Boy application. These apps are generally geared towards smartphone users with a touchscreen display, but thankfully they can usually be tailored to retro handheld needs as well. Thankfully the Odin is powerful enough to run RetroArch's more powerful mGBA core, so you won't need to wander into paid emulator pastures just yet. In general, Game Boy Advance titles play well and look great on the Odin. Retro content with a widescreen aspect ratio is always a treat, and the GBA's 3:2 display looks great here.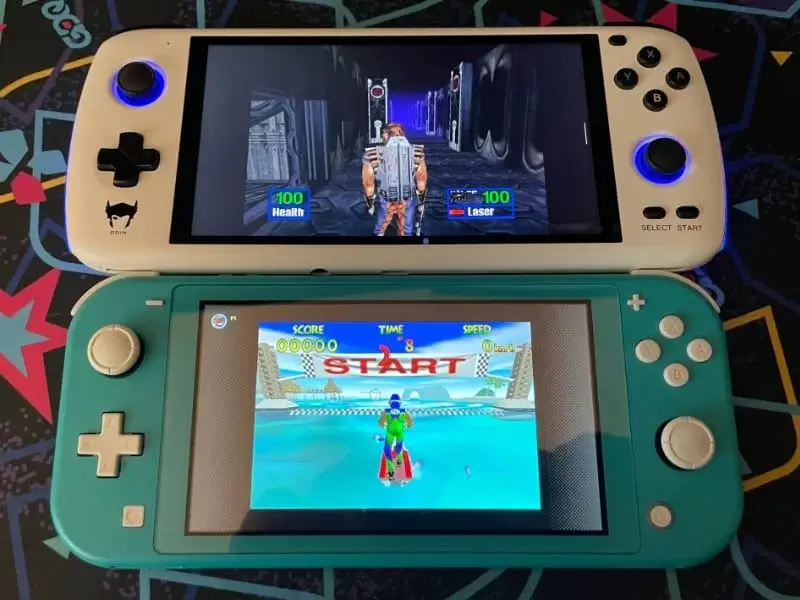 The Nintendo 64 is in a similar boat as the GBA. RetroArch has N64 cores, but the system is difficult enough to emulate that a stand-alone emulator is recommended when possible. Mupen64Plus FZ is the current recommended Nintendo 64 emulator, with both ad supported and paid options. Mupen64Plus FZ supports several different emulation "profiles" which may need to be adjusted depending on which title you're playing. This isn't anything Odin specific, the Nintendo 64 is just one of those infamously fickle systems to emulate.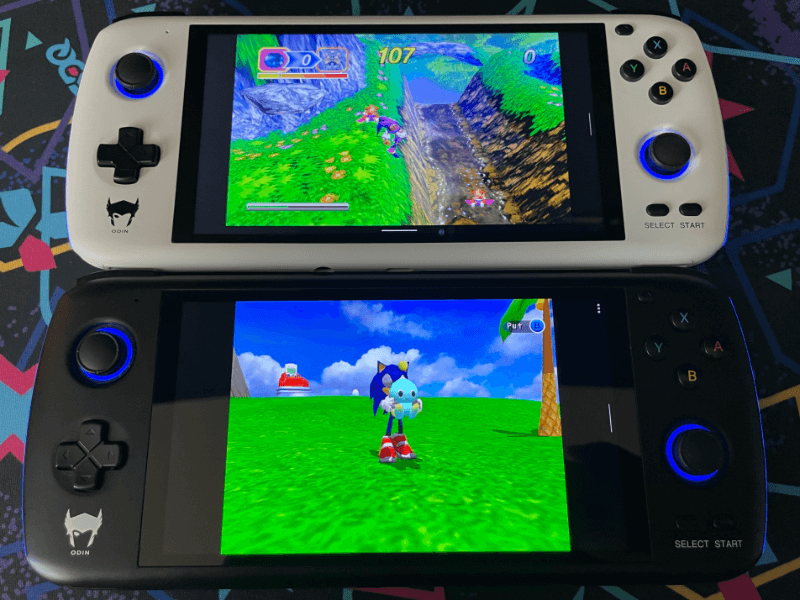 Sega's last two disc-based systems also have solid standalone options. Yaba Sanshiro 2 takes care of the Sega Saturn, while Redream handles things on the Dreamcast side. The Odin handles both of these systems well. We've long covered the counter-intuitive nature of the Dreamcast being easier to emulate than the Sega Saturn, but thankfully these devices are becoming powerful enough to trudge through any Saturn slowdowns.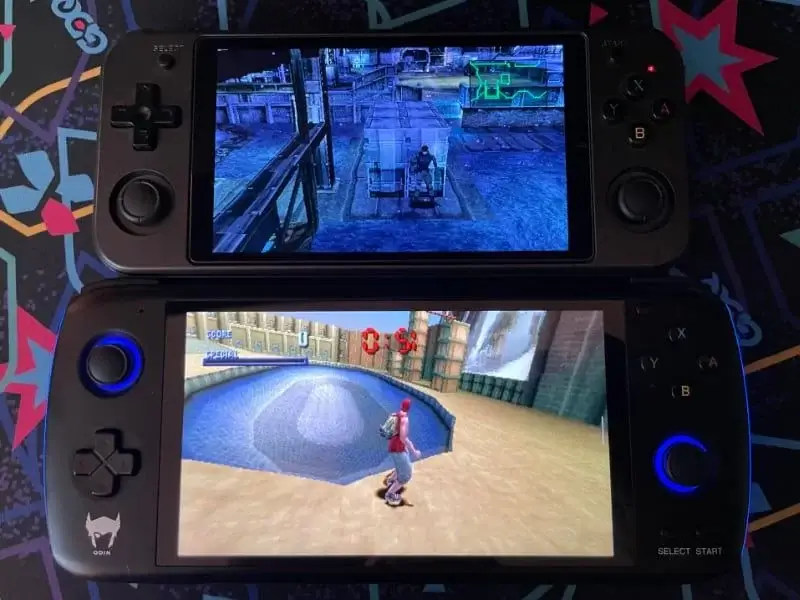 The PlayStation is where things start getting interesting. RetroArch's PlayStation support is excellent, but the open source DuckStation emulator is even better. This emulator has swept the mobile and desktop PlayStation emulation scene in the last few years, and comes with a plethora of customizations and tweaks. Depending on the title, the Odin is able to pull off some impressive upscaling, and even better, it can handle some rather stunning widescreen hacks. Duckstation offers one of the best Android emulator interfaces that we've seen, and provides more than enough options to get every game working to one's exacting specifications.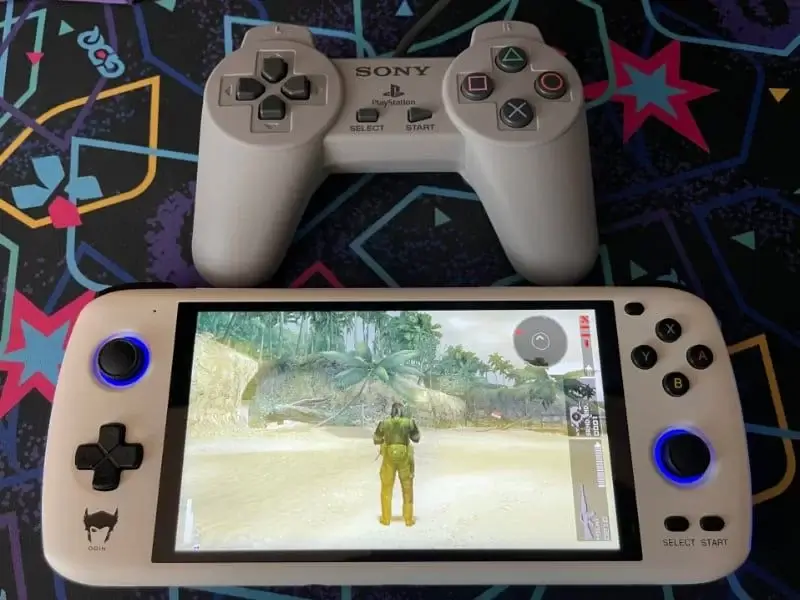 Of course, if you're looking for widescreen Sony content, you have to look no further than the Playstation Portable. Sony's first handheld had a 16:9 display which is perfectly suited for the Odin. This is a system which many lower-powered handhelds struggled with, that once again just works on either of the Odins. PSP games are an absolute treat on the Odin, and can usually be played at full speed even when upscaled two or three times.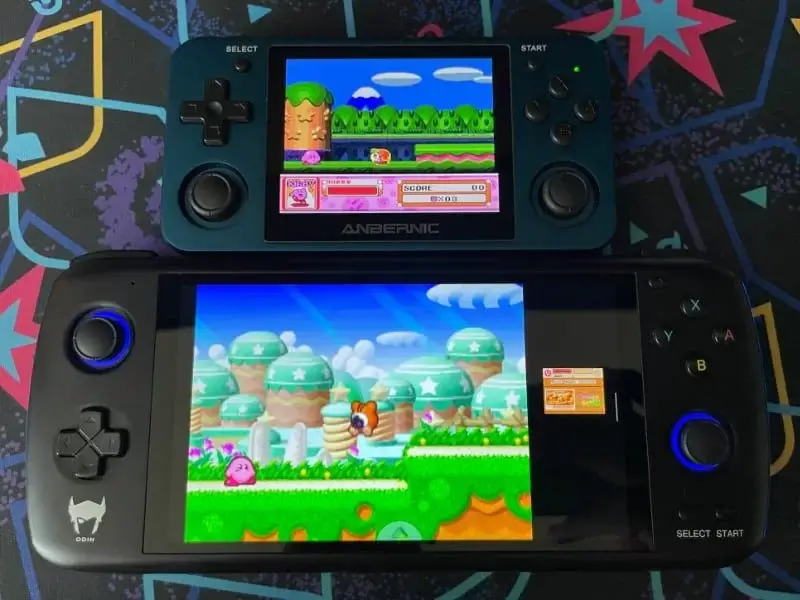 The paid Drastic emulator for Nintendo DS games also shines on the Odin. It typically deals with mixed performance on lower-end handhelds, but the biggest issue on the Odin is going to be the usual split-screen challenges. Some DS games work fine as a single-screen affair, others make more sense side by side, and some titles just aren't going to work in anything but a stacked configuration. Whatever the case is, performance isn't going to be the limiting factor here.
This is usually where other handhelds tap out. To be honest, it's remarkable that we're able to recreate these early 3D consoles on the go. The PlayStation, Nintendo 64, and Dreamcast all represent an amazing catalog of titles, and come on, the next generation of consoles is the Nintendo GameCube and the PlayStation 2. It's a completely new epoch of gaming. The leap from hundreds of polygons to thousands of polygons being emulated on their non-native platform is no small feat.
It's a feat which the Odin tackles head on.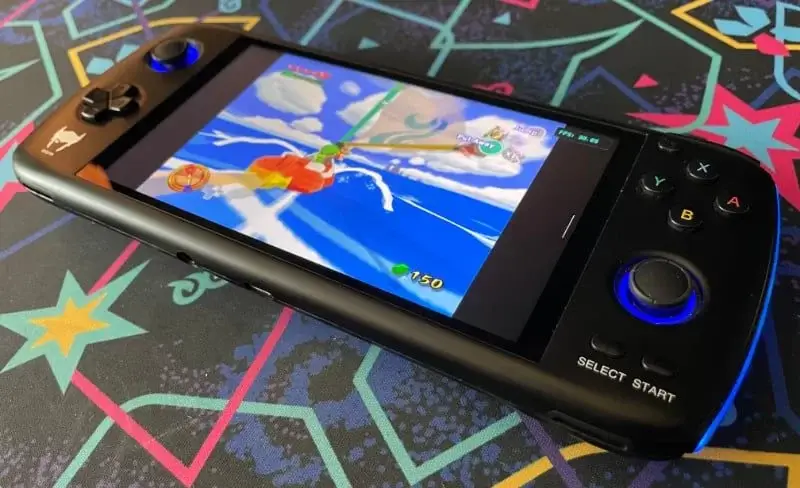 We've seen a few handhelds this year which have managed some amount of GameCube gameplay with the Dolphin emulator. The Smash Brothers community has really helped optimize this GameCube and Wii emulator, and there's a lot of neat tricks one can leverage to get it running on mid-tier hardware. Our write-ups of the Retroid Pocket 2+ and Anbernic RG552 discussed all sorts of neat internal resolution scaling options one could use to get The Legend of Zelda: The Wind Waker's simple cell-shaded graphics running on a portable handheld.
None of that is required here. The Odins are simply powerful enough to handle GameCube emulation. Games with modern 3D graphics and photorealistic textures like Metal Gear Solid: The Twin Snakes run well on the Odin. Even something like Super Mario Sunshine and its transparent water effects don't flummox the Odin.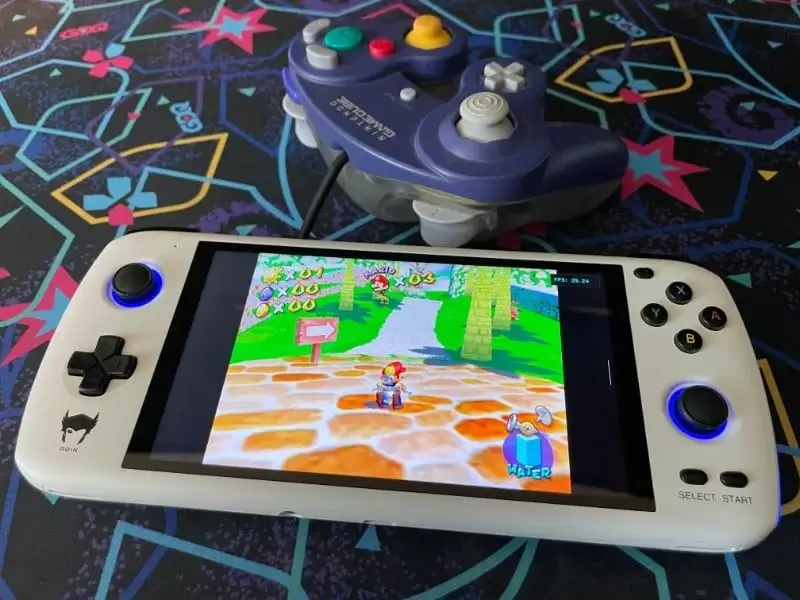 Not only that, but the Odin one-ups Nintendo's most recent Super Mario 3D All-Stars re-release. After all, the Odin has fully analogue triggers! Some of Super Mario Sunshine's more impressive moments was watching how the game's squirt gun would respond to various amount of trigger pressure.
The Odin feels truly purpose built for playing GameCube games. The handheld does have its limits, and some titles will degrade in performance. While a good deal of titles fit in the "Playable" camp, a few edge cases will struggle to run near full speed. The Odin can give you a good time with about two thirds of the GameCube's catalog. Wii emulation doesn't fare nearly as well on the Odin, but people have had luck with a few select titles. Depending on which game you're looking to play, you maybe be able to eek out a decent round of Mario Kart Wii.
Not to be left out, the Nintendo 3DS also becomes an option on on the Odin. You run into the same awkward screen positioning issues as the Nintendo DS, but the Citra emulator also has a much more difficult time tackling this particular handheld. The 3DS is counterintuitively a lot newer than the GameCube, and so some 3D heavy action titles will be out of the Odin's reach. Bravely Default works great for example, but Donkey Kong Country Returns 3D struggles.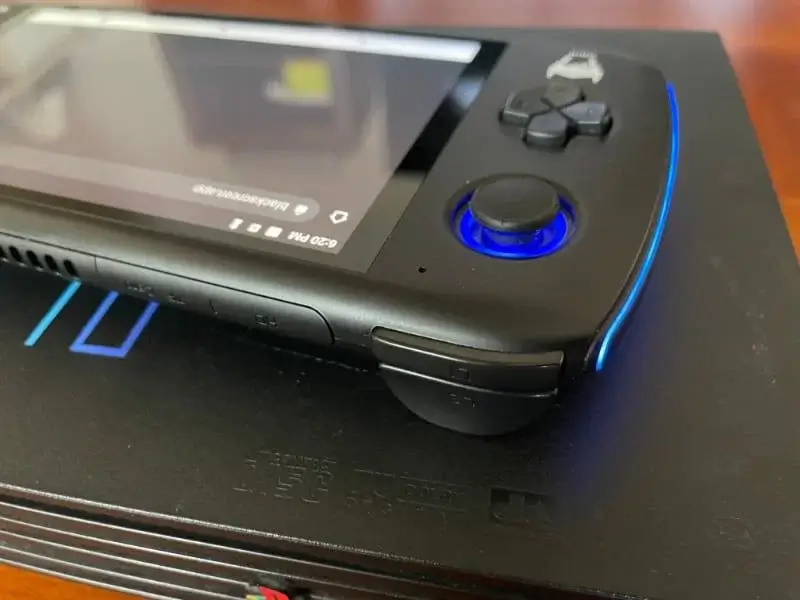 Finally, the Odin's real head-turning achievement is its support for the new AtherSX2 emulator. This PlayStation 2 emulator came out after the Odin's hardware was finalized, but thankfully both Odins fall within its minimum specs. PS2 emulation is new to Android, and the experience here will be a bit rockier, but its massive catalog contains a ton of games worth revisiting in a mobile context.
AtherSX2 on the Odin does a good job of running many of these games. It does have a lot of configuration options you'll need to tackle however. Some games like Final Fantasy X run with the stock settings, but Metal Gear Solid 2: Sons of Liberty will have you adjusting rendering modes, multiple underclocking configurations, and other obtuse settings. Once you put in the work though, you can get a surprising amount of performance out of this emulator.
Overall, about half of the PlayStation 2 catalog is somewhat playable on the Odin. It's an inexact science, and depends largely on how long you're willing to adjust settings, and what sort of graphical and performance issues you're willing to accept. These "next generation" games are impressive on a mobile context, and most people will probably be okay with the occasional 95% speed dip when entering a new section in MGS2. Even Dolphin had some unusual cloud textures during cutscenes on The Wind Waker.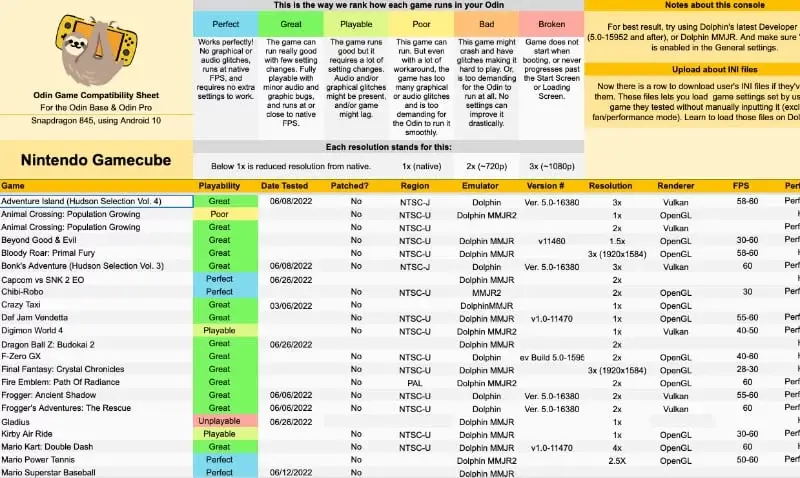 The ambiguous definition of "Playable" makes discussing the Odin's performance difficult. Thankfully, this is a retro handheld that the community has fully embraced, and there's a good amount of resources online showcasing a variety of games. In addition to the cornucopia of gameplay footage on YouTube, the community has come together to develop an Odin Base & Pro compatibility sheet, and an Odin Lite compatibility sheet. If you're dying to play a particular game on the go, these resources can give you a good idea what to expect. If a game you're interested in isn't on the sheet, maybe stop by our Discord and see if anyone else has tried it yet.
That's about it when it comes to emulation. Android has a new Skyline emulator for playing Nintendo Switch games on non-native hardware, but the project is still in its early days. People have had decent luck with 2D platforms such as Celeste and Sonic Mania, but we're a ways off from being able to play Breath of the Wild on a high-powered smartphone, let alone an Odin.
Of course, there's also the wide world of Android software. As mentioned earlier, AYN has included screen mapping button software so that you can take full advantage of games like Call of Duty: Mobile or Genshin Impact. There's also a good number of indie games with full controller support. Dead Cells is a delight on this handheld. Once you've factored in open source ports for PC titles such as Half-Life 1 or Morrowind, and you've got yourself a handheld with an astonishing breath of software.
If you're still itching for more, there's always game streaming. We were not able to test streaming extensively during this review, but users have had good luck with Microsoft's Xbox Cloud Gaming, as well as local streaming with tools such as Moonlight.
So Which Odin Should You Get?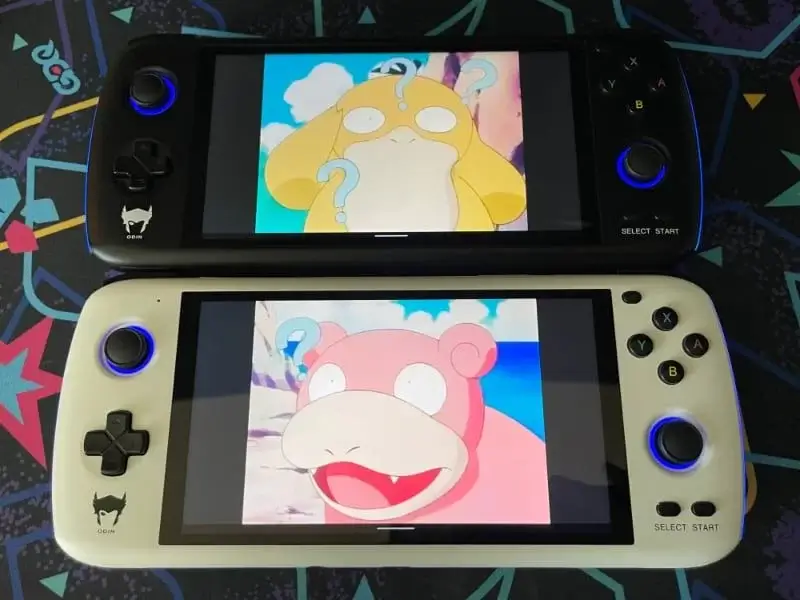 Given that the Odin comes in three different configurations, which one is right for you? That's a tricky question. Early on in the IndieGoGo campaign, there were some concerns that the Odin's Super Dock wouldn't be compatible with the Odin Lite. Thankfully the team was able to come up with some workarounds, so that's less of a determining factor, and- oh my gosh we haven't mentioned the dock yet.
The Dock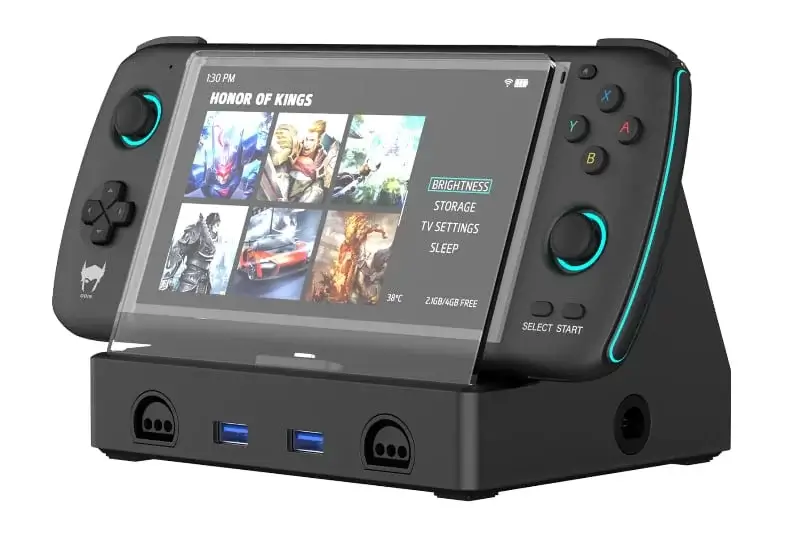 AYN has gone all out with the Odin. They clearly don't just want this to be another portable emulation handheld. They want it to be the portable emulation handheld. It's already taken a few design inspirations from the Nintendo Switch, so naturally a dock was an obvious next step.
The Odin's "Super Dock" does a bit more than just providing a signal to a TV. The Odin already has HDMI-out built into the handheld itself, so the dock needed to bring a bit more to the table. In addition to charging the handheld and providing an HDMI signal to a TV, it also provides five full size USB ports. Some of these are clearly designed for use with USB controllers, but it also works with other USB devices like thumb drives or flash card readers. One thing you won't need is a USB to ethernet adapter. The Super Dock has support for wired networking built right in.
In a nice hat tip to the Odin's emulation roots, the Super Dock is designed to be used with more than just USB controllers. It also has two N64 controller ports on the front, and two GameCube ports on the side. No matter which generation of Smash Brothers you prefer, the Super Dock is ready to host a few 1-on-1 showdowns.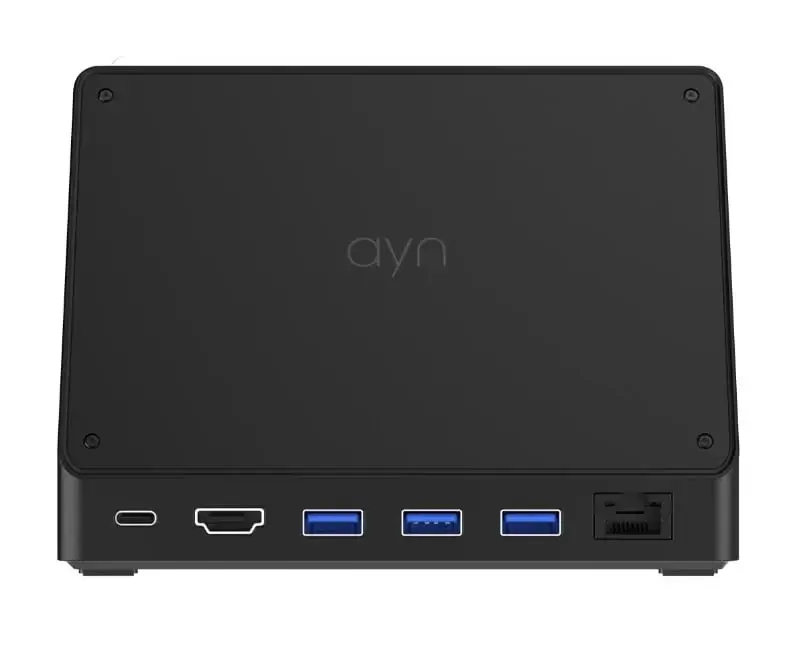 The last trick up the dock's sleeve is support for an embedded 2.5″ laptop-style hard drive or solid state drive. If you're the type of person who loves to horde image files of all your ripped CD and DVD based-games, the Super Dock can be a good compromise compared to buying an enormous Micro SD card.
The Super Dock is a nice option, but it may have needed a bit more time in the oven. A seperate HDMI-adapter is required for the Odin Lite due to some USB-C chipset issues, and our extended team generally found the dock to be unstable. If you couldn't tell from the stock photos, we unfortunately didn't have a Super Dock on hand to test during this review. Still, we've heard enough stories about flakey software behavior and general re-seating issues that make us believe this accessory is probably a pass for the time being. After all, you can still plug USB-C adapters and HDMI cables directly into the handheld itself.
Now then, where were we?
So Which Odin Should You Get?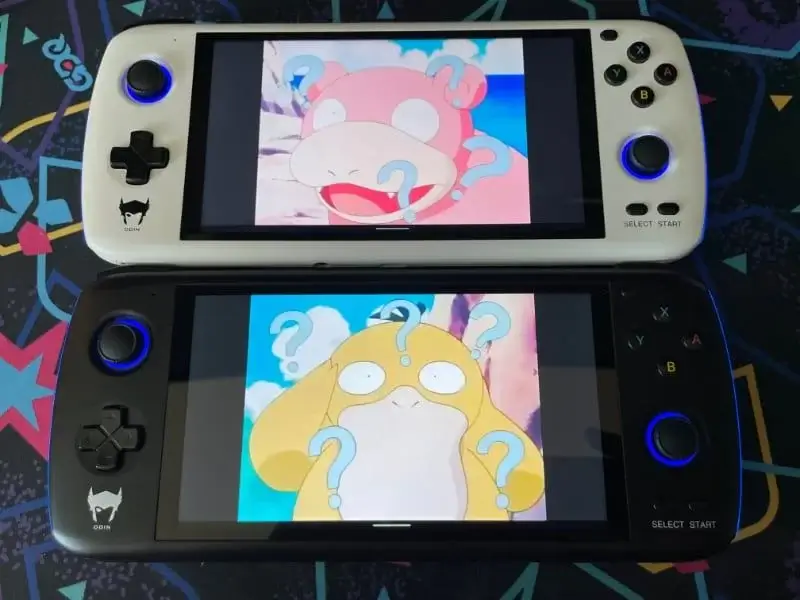 During the gameplay section, we intentionally didn't draw many direct comparisons between the Base, Pro, and Lite Odin. This review features an Odin Pro and an Odin Lite with a non-standard 8GB of RAM. The community's begun building crowdsourced compatibly spreadsheets, and there are YouTube channels dedicated to showcasing the performance of these handhelds. It's a bit of a cop out, but declaring one of these handhelds X% better than it's competitor is a bit outside of the scope of this review.
It's hard to say which handheld is better because they performed remarkably similar to one another. If you haven't guessed yet, the big test games for these handhelds was The Wind Waker, and Metal Gear Solid 2. We may have also done more than a bit of Sly Cooper dabbling. All of these games behaved equallywell on the Odin Pro and the Odin Lite.
Jumping ahead a few years in the PlayStation 2's lifespan, we kicked the tires on Metal Gear Solid 3 and Sly 3. Both of these games did… less than well. Metal Gear Solid 3 ran at full speed for the most part, but both the OpenGL and Vulcan modes failed to properly render Snake's camouflage. Sly 3 is a bit more ambitious than its first outing, and caused slowdown on both of the handhelds when a large amount of particle effects and transparencies were shown on screen.
In all of our testing, the Pro and Lite rose to the occasion and fell short in a similar manner. There's probably going to be some title they diverge on, but there are over 650+ titles for the GameCube, and the PlayStation 2 has a staggering 4,000+ games in its catalog. It's going take some time for the community to figure out, "Oh yeah, Battle for Bikini Bottom run better on the Pro." (Or maybe even the Lite. A few PS2 games we tested seemed to run marginally better on the Lite, but your milage may vary.) If there's a single title you're purchasing the Odin for, check some resources online. We don't want to lead you astray by making blatant statements about a superior option.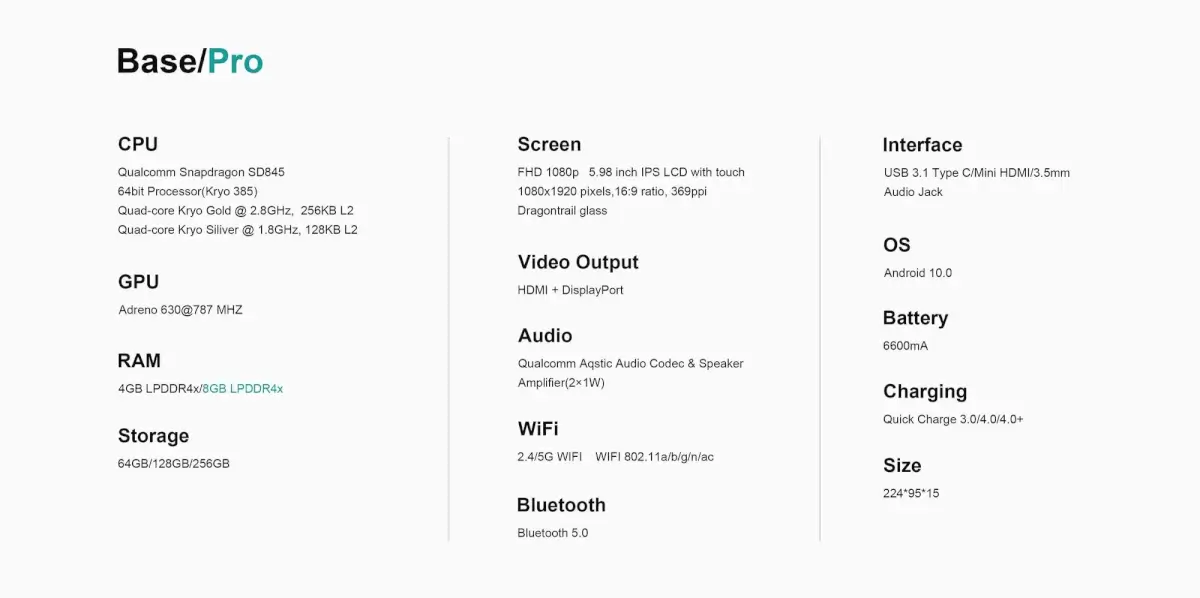 We did notice some slight battery life differences between the two Odin handhelds, but part of that may be due to a new screen that AYN started using around the time of the Lite's release. The new display is a bit brighter, and a bit more power hungry as a result. We'll see if that distinction continues once Odin Pros with the new display become more widely available.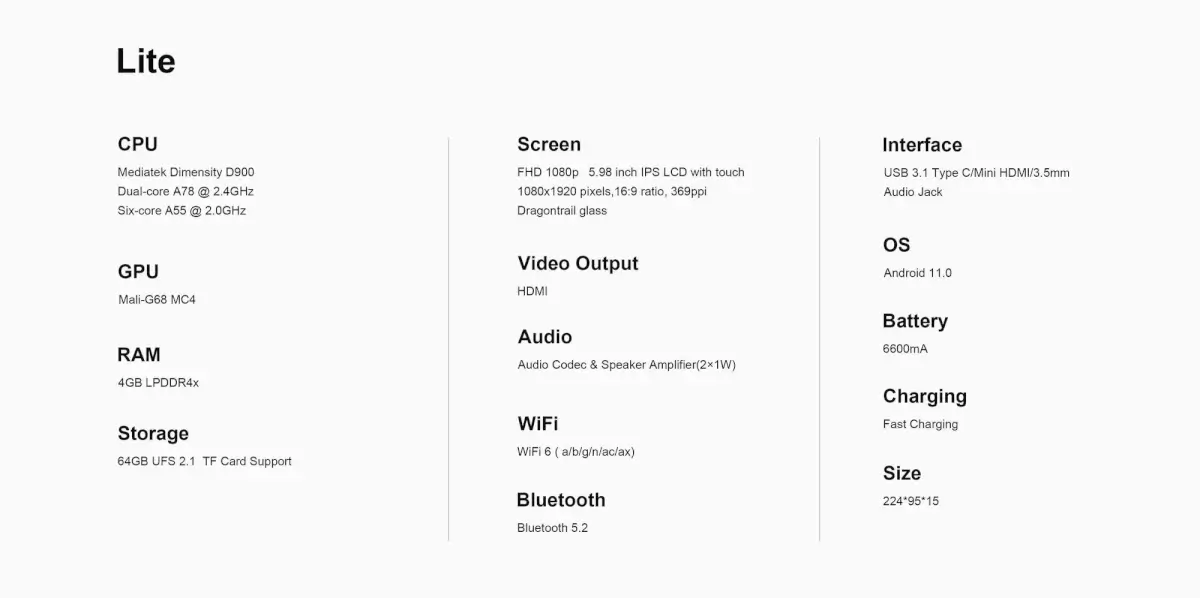 The price difference between an entry level Odin Lite and the Odin Base is $40 USD. It's honestly hard to say how much that means to you personally. It could be two months of allowance, or a fun night out at the local pub. At some point you've got to make that judgement call. Overall we found the Lite a remarkably capable device. It was able to keep up with the Pro in nearly every context, with the exception of the Citra 3DS emulator and the Skyline Switch emulator. These are both relatively new emulators, and there were a few titles that ran better on the Pro model. The best we can tell, it's largely due to the aforementioned Qualcomm optimizations we mentioned in the hardware section.
One large difference between the Pro and the Lite we haven't touched on is the Snapdragon 845's support for the ARM port of Windows 10. The D900 is a strictly Android-only processor. If you're the type of player who loves to endlessly tinker with their handhelds, the Snapdragon Odins do offer that additional option. If that's the case however, it's worth noting that the community has had much better luck with Windows on the 8 GB Pro models over the stock 4 GB Base model. The jump from a Lite to the Base is $40 USD, but the jump from a Base to Pro is another $48 USD. Folks have performed a few interesting proofs of concept with Windows 10 support, but it's still enough of a rough experience that we've only included it as a footnote here.
If dropping an extra hundred dollars isn't a significant ding in your personal finances, then by all means pursue your dreams and chase specs to your heart's content. For most players however, the Odin Lite may be the better bang for one's buck.
Odin. Huh. Yeah. What Is It Good For?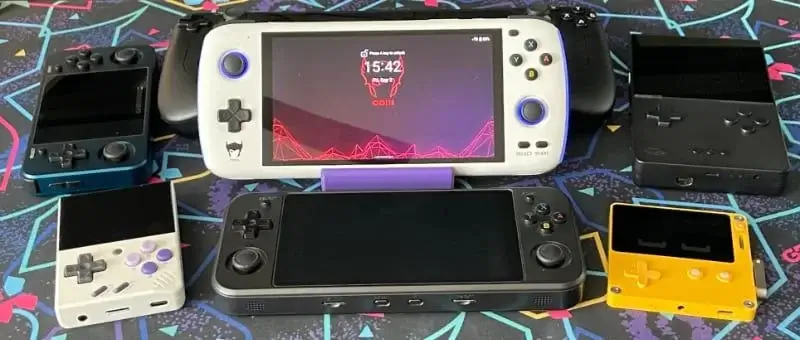 In retro handheld circles, there's this mythical idea of The One Handheld. A gadget so perfect in its construction and so capable in its specs that it can serve as your single source of portable emulation. The general consensus is that we're still waiting for such a mythical device to emerge.
The Odin had a chance to be that gadget however! Sure, it's 6″ screen is a little big as far as retro handhelds go, but as we've discussed, it's more than capable in the performance department. It can handle everything from the NES to the GameCube!
…but you might not actually want to play such a wide array of systems on this handheld. The Odin has some interesting ergonomics at play. Left analog stick placement has long been a discussion in not just retro handheld spaces, but in the larger gaming world overall. Sony's held fast to lower-stick placement, while Microsoft's long been in favor of upper-stick placement. We've had some good examples of both styles in the retro handheld world. The Retroid Pocket 2+ and the Anbernic RG351mp have both shown that you can make handhelds that offer both options, and work well for both 2D and 3D games. They may favor one configuration, but generally don't lead to too many sore thumbs if you have to reach down to the other input.
The Odin is a bit more opinionated than those rounded rectangle handhelds. It's contoured body lets you know the second you pick it up that they've put the analog stick on top, and they expect you to use it.
You can slide your hand down to use the Odin's d-pad as your main input if you'd like, but it's a very unusual d-pad from a retro gameplay perspective. It's "clicky", and has a pronounced pivot point to it. We were still able to tackle the Sega Genesis' Zelda-knockoff Crusader of Centy on the Odin, but it would have been a more enjoyable experience on just about any other handheld in RH HQ. The four face buttons on the Odin are of the mushy membrane variety, but they also have an unusual amount of travel to them. They're fine inputs, but something about their sizing and spacing just doesn't feel very "retro".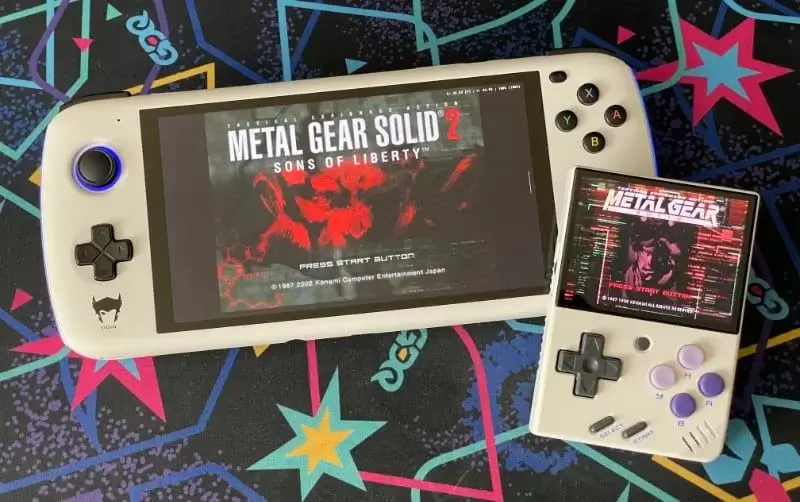 In our last review of the Miyoo Mini, we mused a bit about the validity of "Companion Devices". At times, the Odin feels like half of an equation. It's the best high end, analog-forward, 3D gaming handheld on the market. But there's a lot of solid 2D handheld options out there, and if you've gotten bit by the handheld collecting bug, it's doubtful that the Odin suddenly going to obsolete all of your other handhelds. It may become the centerpiece of your collection, but there's still something to be said for keeping a device like the Miyoo Mini or the RG351v laying around.
The Odin's focus on high-end specs also opens it up to a few interesting comparisons. The handheld leverages the best and brightest of 2018 smartphone tech, but, well, it's 2022, and there's a strong chance that you've got a more recent phone sitting in your pocket. We haven't gotten around to reviewing a telescoping smartphone controller just yet, but they're certainly an option if your main goal is, "Playing Resident Evil 4 on the bus."
The Odin offers a more sturdy gaming experience than smartphone controllers, and you don't run the risk of draining your personal phone's battery in the first few hours of the day. Still, if you're on the fence about dabbling in the high end of emulation, it's about a $80 USD investment to give one of these controllers a try. (Although iPhone owners will have to jump through more than a few hoops for this option.)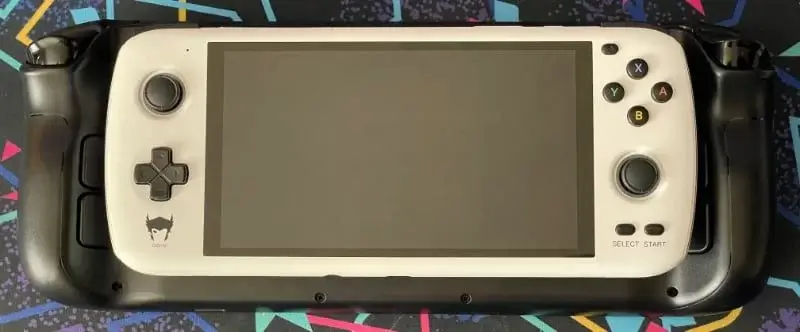 If performance is really what you're chasing, it's hard to ignore the PC-based handhelds that have burst onto the scene this year. Valve's Steam Deck has made a case for the category, and everyone's trying to get in on the action. Existing PC handheld manufacturers like AYA and GPD have all announced or shipped new offerings, and even the traditional ARM-based handheld manufacturers are getting in on the action. Anbernic's started shipping their new Intel-powered Win600 handheld, and AYN themselves have opened preorders for multiple PC-based handhelds. The Loki Zero, Loki Mini, Loki Mini Pro, Loki, and Loki Max all have a similar physical appearance to the Odin, with a range of processor options for every price range.
This is a relatively new space however, and it'll be interesting to see how these handhelds play out. Most shipping PC handhelds typically have some asterisk applied to them. Valve has long lead times, AYA's offerings have historically been expensive, and battery life will always be a concern. It's tough to call these handhelds direct Odin competitors just yet.
The Odin Lite is $230 USD after shipping. Even if you use the Odin Pro as your baseline, it's still only $320 USD after shipping. A few handhelds have entered the sub-$400 space, but for the most part they're hovering closer towards $500. Even Valve's $400 Steam Deck configuration is a bit of a trap with its paltry 64GB of internal storage space.
If you're really after perfect portable GameCube and PlayStation 2 compatibility, the jump up to some of the ≈$500 USD handhelds might makes sense for you. We'll see what happens in the long run, but for now the Odin still has a comfortable niche for the time being.
Conclusion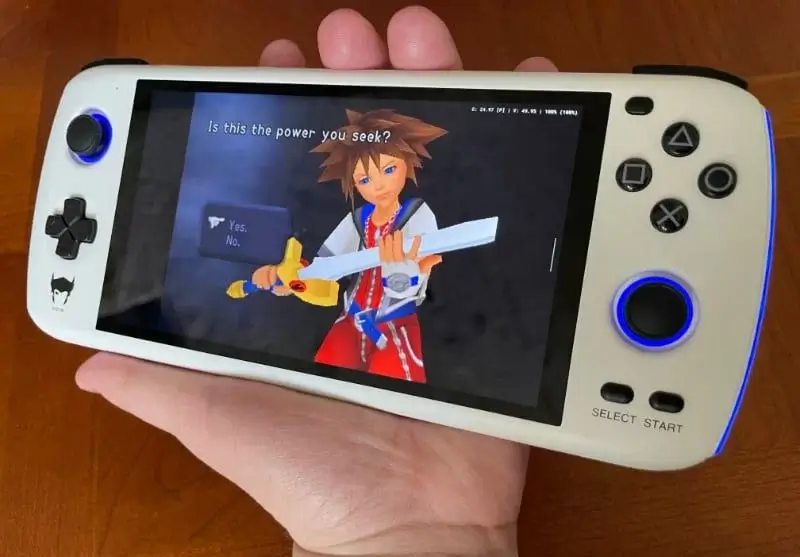 There's a lot to talk about when it comes to the Odin. It's a complicated device, it can do a ton of new things, and there's multiple hardware configurations to chose from. Don't let the last thousand words of "Which should I buy?" and "Who's it for?" dissuade you: The Odin is a rock solid large-screen Android handheld.
If the Odin is right for you, then you've probably spent the last few months trying to figure out how to get your hands on one. This handheld went through a lengthy IndieGoGo preorder period, and the Lite model has only just started rolling out as of the time of writing. As is the case with a lot of technology in 2022, there's a big difference between someone recommending you a gadget, and actually being able to go out and purchase it.
The Pro's been in our hands for a while now, but we wanted to wait until the Lite landed before publishing our full review. We expected a much harsher contrast between the two devices, with an overall narrative of the Odin Pro being a capable but expensive handheld, and the Odin Lite being a device designed for games a bit more advanced than it could take on.
We've never been more happy to be wrong. The Odin Lite has exceeded expectations, and honestly warmed us up more to the Pro in general. Both of these handhelds are great, and while we would probably recommend the Lite to most users, it's nice that there's an option that's really pushing the limits of what Android handhelds can do.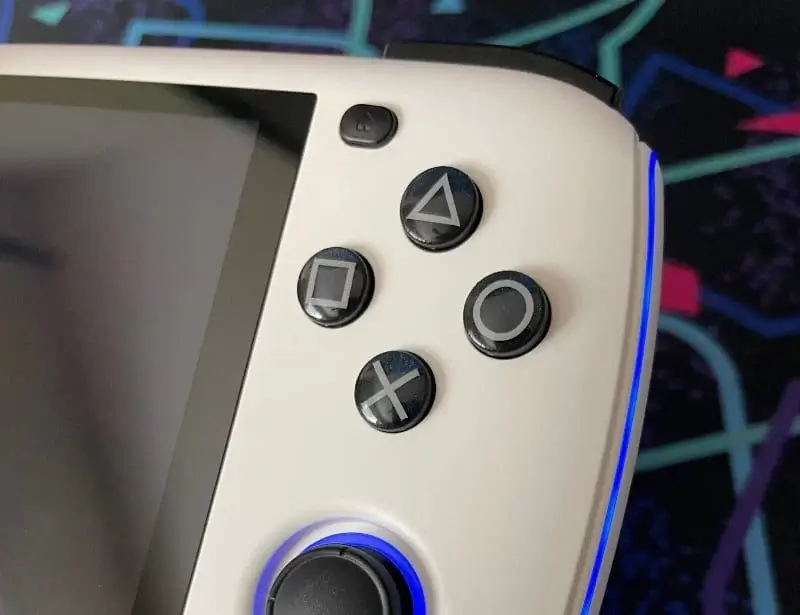 Like with the Miyoo Mini, it's clear when the community begins to rally around a device. It would be hard not to notice the hype around this handheld, but we're pleased to see some third party customizations hitting the market. As we were wrapping up this review, SakuraRetroModding reached out to us with some samples of their new Odin button replacements. They're a great way of adding a bit of personality and flair to the Odin, particularly since the black and white options make such a great blank canvas to start from. The Odin is a bit trickier to open up than the Miyoo Mini, as Thor can atesst to, but we've been enjoying these glossy buttons in the brief time we've had them installed. They're a bit more shallow than the stock buttons, and fix some of the spacing issues we mentioned earlier. In addition to these aftermarket buttons, we're already seeing a good amount of community designed stands, grips, and other 3D printed accessories.
We look at a decent number of devices here at Retro Handhelds, and it's always obvious when one clicks. During our testing of the Odins, we beat Metal Gear Solid 2, tackled the first four dungeons of The Wind Waker, defeated the first two bosses in Sly Cooper, and got absolutely sucked into Star Wars: Shadows of the Empire. This is the type of handheld where you can say, "I better test a few random Nintendo 64 games", and accidentally lose an evening to Dash Rendar's exploits.
So the quest to find the one handheld to rule them all continues, but in the meantime, the Odin is an exceptional Android handheld for any experience with a focus on analog-stick gameplay.
Delicious:
Record breaking GameCube and PlayStation 2 performance on an ARM handheld.
Stupendous analog trigger support.
A solid Android image with over-the-air updates.
Suspicious:
Long lead times and ambiguous shipping dates.
A d-pad poorly suited to 8-bit and 16-bit retro gaming.
The usual manual Android device setup.
Conclusion:
AYN's Odin lives up to the hype, and the Lite is a remarkably great value.
*The Odin Pro and Odin Lite featured in this review were purchased by the reviewer. The custom buttons were provided by SakuraRetroModding for evaluation purposes.