At first glance, the Anbernic RG552 appears to be yet another entry in the company's long running RG351 line. Anbernic has gotten a lot of milage out of the RG351 hardware platform and its RK3326 system on a chip. They've used it to create 3.5″ handhelds with horizontal displays, vertical displays, and most recently a metal enclosed 4:3 display. Naturally it would make sense to follow in the footsteps of Powkiddy, repackage the RG351 hardware, and create a 5″ handheld like the RGB10 Max.
That's not what's going on here. The RG552 may look like your standard RG351 device, but it has all new internals under the hood. Anbernic's decided to leverage the more powerful RK3399 chip for this particular outing, and has brought along some exciting new gaming potential with it. Not only that, but the RG552 is a dual boot device. RG351 fans can continue to stick with a familiar Linux interface, while bleeding edge players can explore the latest Android has to offer.
The real star here becomes apparent the moment you turn on the device however. Anbernic swung for the fences with a 5.36″ 1920 x 1152 touchscreen display, and they've successfully knocked it out of the park. Everything from the oldest monochrome handhelds up to the latest 3D consoles look stunning on this display. Anbernic's gone with an atypical 5:3 aspect ratio display here, but as we'll discuss, it makes for some impressive integer scaling with minimal black borders.
Of course, the kicker here is that the Anbernic RG552 will set potential owners back an eyebrow-raising $227 USD (with Prime shipping on Amazon) or cheaper on their Aliexpress store. The future is here, and it comes with a hefty price tag. The RG552 doesn't have the fastest processor around, and it costs more than twice of some of its contemporaries. Let's take a look and see if a nice display and familiar controls make Anbernic's entry into the next generation worth it.
The Hardware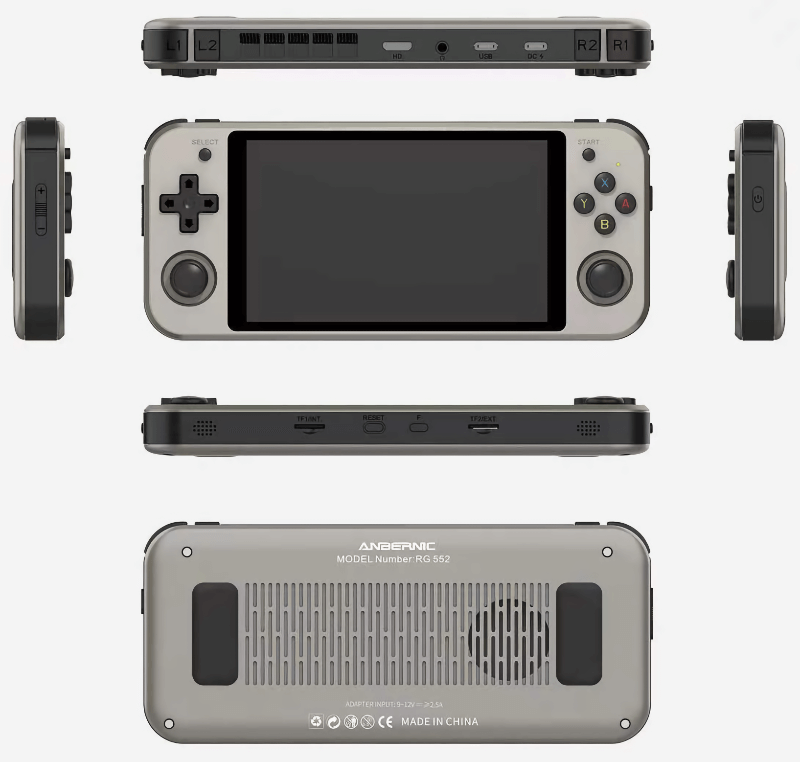 The heart of the Anbernic RG552 is a RockChip RK3399 system on a chip. It features a six core processor, with two of its cores clocked at 1.8 GHz, and the rest at 1.4 GHz. It's GPU is a Mali-T860 MP4 running at 600 MHz. This is a significant step above the RK3326's quad core 1.3-1.5 GHz processor used in Anbernic's RG351 line. The RG552 is also faster than the Retroid Pocket 2's similarly-spec'd MediaTek MT6580A quad core 1.5 GHz processor.
Notably however, the RG552 is already slower than some of the recently-released or upcoming retro handhelds. The Retroid Pocket 2+'s UNISOC Tiger T310 features a quad core 1.8-2.0 GHz processor, and likewise the Powkiddy X18S features a UNISOC Tiger T618 processor with an eight core 1.8-2.0 GHz processor. It can hold its own with these handhelds for certain use cases, but there are several more high performance handhelds on the horizon. The Odin and Odin Lite's Qualcomm Snapdragon 845 and MediaTek Dimensity 900 both feature eight core processors that can reach speeds of at least 2.4 GHz. Retro handhelds borrowing processors from Android smartphones appears to be a trend, with the KT R1 looking leveraging either the Snapdragon 845 or UNISOC T618, and the Miyoo P60 looking to leverage a capable MediaTek Helio P60 processor. Anbernic released the RG552 early on in this next generation of retro handhelds, but it's already clear that it won't be winning any benchmarking tests a few months from now.
Raw processor horsepower aside, the RG552 has some respectable specs behind it. It has 4 GB of RAM, which hasn't yet become standard on retro handhelds. All of your menus and interfaces should remain nice and snappy as you navigate through the device.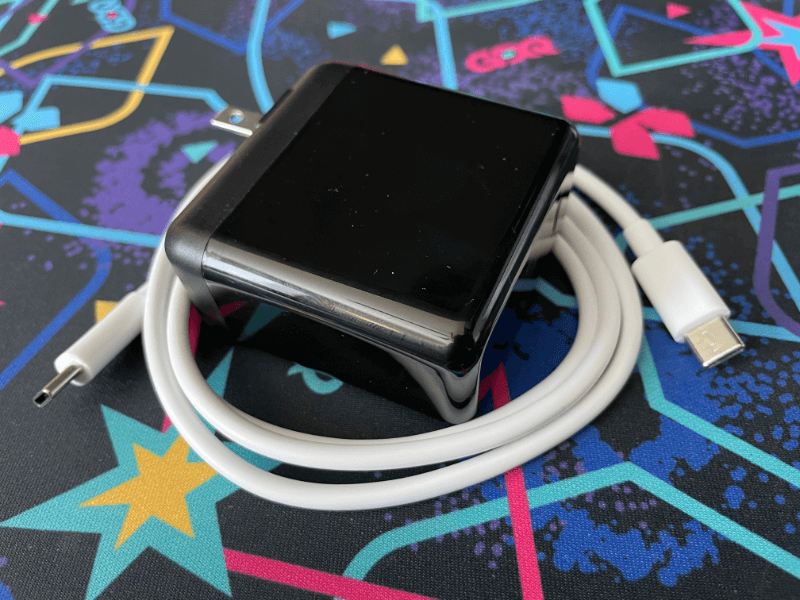 The handheld has two 3200 mAh batteries, for a combined total charge of 6400 mAh. In addition to offering a higher capacity, this pairing together of batteries allows the RG552 to offer USB-C PD fast charging. Previous retro handhelds generally had a USB-C port on the device, but with basic USB2 internal electronics. This meant that devices like the RG351p and the RP2 could only charge over a USB-C to USB-A (AKA the standard rectangular USB plug) cable with basic 5v chargers. The RG552 should be able to charge with the majority of USB-C chargers in your house. So far we've been able to confirm that USB-C to USB-C cables work with 20w USB-C PD chargers, Anbernic's included 30w USB-C charger, and even a beefier 65w laptop charger. The only power source that gave us trouble during testing was the Switch's USB-C wall charger, but Nintendo's USB-C implementations have been notoriously finicky. It's worth highlighting that the RG552 comes with a 30w USB-C fast charging power brick. Not only do they support fast charging for it, but they provide a way for you to do it out of the box.
Unfortunately, you're probably going to need the fast charger. Even with all the extra battery capacity, the RK3399 is a hungry processor. Depending on which game you're playing, the RG552 can get around 3-5 hours of battery life. Marathon 3D game sessions may leave you closer to 2 hours in battery life, which is a bit disappointing for a handheld.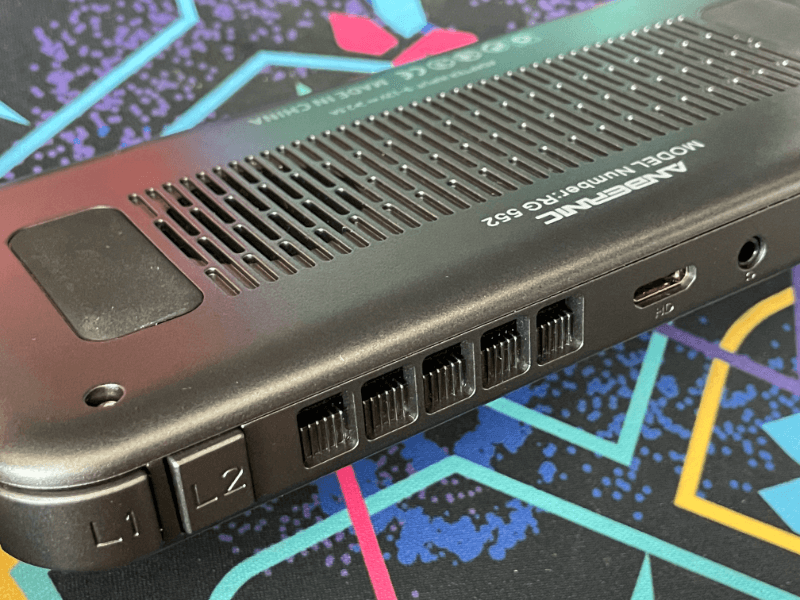 Speaking of power needs, the RG552 is one of the first handhelds in recent memory to feature an active heatsink. The RG552 has a very Switch-like vent at the top of the handheld with a fan that will kick on whenever the device is under an extended load. People's tolerance for fan noise from their handheld will vary, but it's relatively unobtrusive. If you're playing the handheld with it's sound on and in a room with any level of background noise, it's basically a non-issue. If you play games in quieter settings however, it could be frustrating to have the fan kick on any time you're dealing with 3D games. There's a small intake fan on the back as well, but it's not too much of a nuisance. Even though it's towards one side of the device, you typically barely notice the small inward breeze it creates.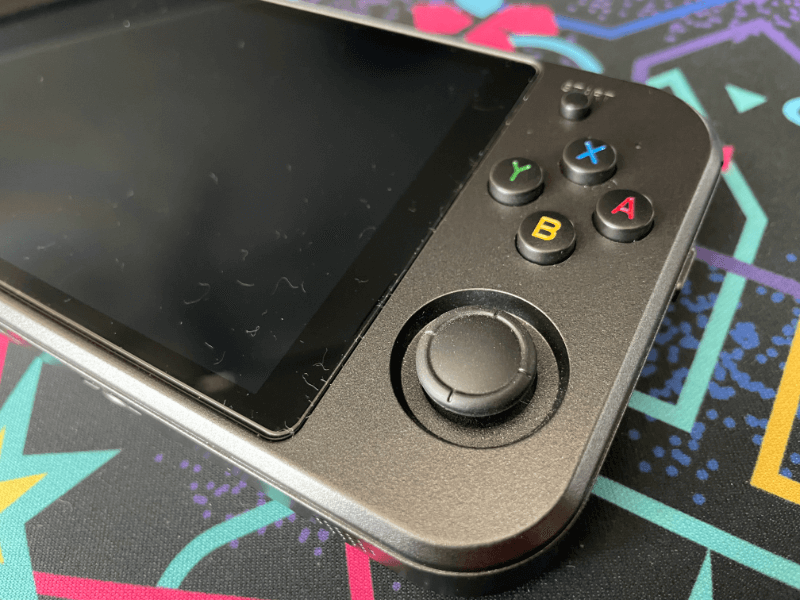 The RG552 is a continuation of Anbernic's house style when it comes to handheld design. It inherits many of the traits found in the RG350, RG351p, and RG351mp. This includes a d-pad, the standard face button diamond, small start and select buttons at the top of the device, and a pair of bottom-aligned analog sticks.
The analogue sticks on the RG552 are similar in design to the Nintendo Switch, and feature R3/L3 support. Their PlayStation-style stick placement made sense on 2D-focused handhelds like the RG351p, but it's becoming more a matter of preference as these retro handhelds become more competent with 3D gaming.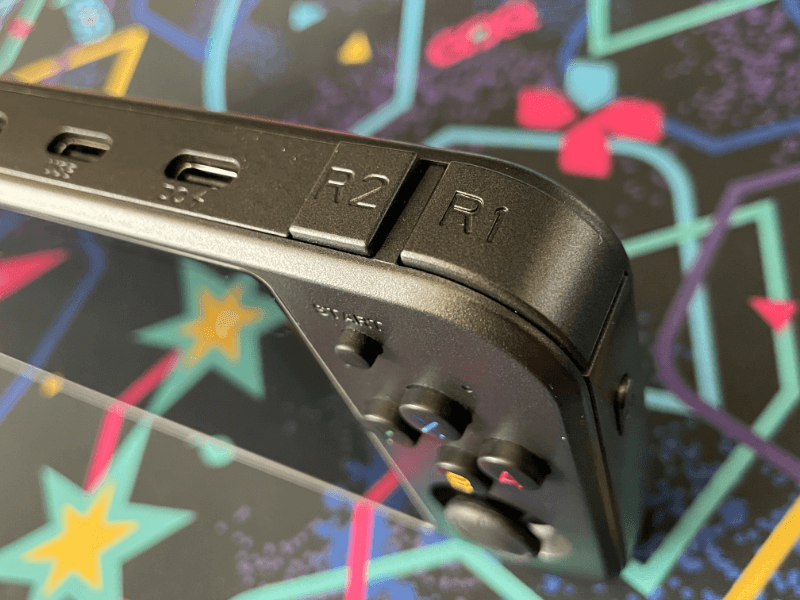 Anbernic's decided to stick with their horizontal approach to shoulder buttons on the RG552. This places R1 and L1 around the side of the device, with R2 and L2 placed further up on the top of the handheld. This design worked well on previous generations of handhelds where platforms like the Super Nintendo and Game Boy Advance were the primary focus of emulation, but the choice is beginning to show it's age now that handhelds can emulate more than just PlayStation 1 games. With improved Nintendo 64 support, and the potential for some GameCube titles, having "stacked" shoulder buttons would have been a welcome design change. As it stands, titles that expect you to use dual analogue sticks as well as all four shoulder buttons handle a bit clumsily on the RG552. Depending on your hand size and grip, it can be difficult to reach everything at once. Games like Half-Life 1 that worked well on the RG351p are that much more awkward on the RG552 due to the handheld's increased size, and the increased space between controls.
Thankfully, the rest of the inputs on the RG552 continue Anbernic's long streak of high quality handhelds with excellent control feel. As with our RG351p review, it can be difficult to properly convey just how out of the park Anbernic continues to hit it with their controller inputs. The d-pad has just the right amount of mushiness, it can properly hit corners when you need it to, and the buttons have the perfect amount of responsiveness. For players who grew up on an SNES Controller, the RG552 should feel right at home. If you're playing older 2D systems, the analog stick placement also helps emphasize the retro game feel to this handheld.
In terms of system buttons, the RG552 has a Power button, a Reset button, Vol+/Vol- buttons, and a Function button. It's a tiny detail, but the power button seems to rest just a bit further outside of the handheld than any of the other buttons on the device, and the volume rocker wiggles slightly in its cutout hole. In my experience, none of these small detractors cause you to accidentally press the button, but it's a noteworthy aspect of an otherwise high quality device.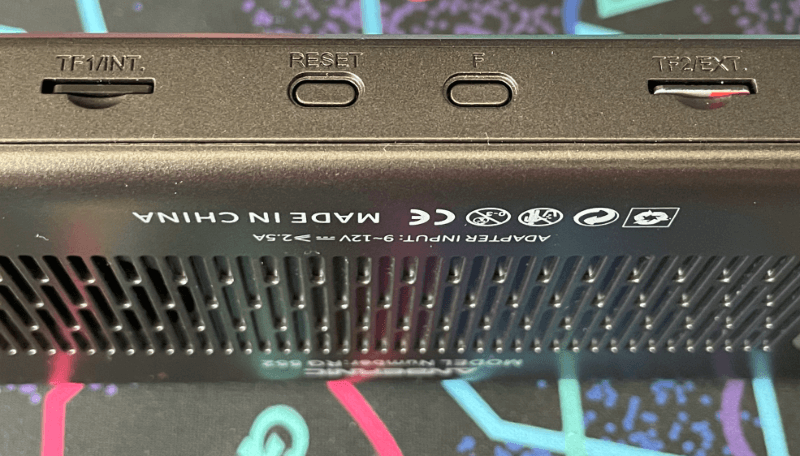 We'll talk more about the RG552's software offerings in a bit, but on the Android side of things, the function button serves as  the Android OS's "Home" button. There's not a dedicated Back button on the RG552 for Android, so users of that OS will need to swipe up from the bottom of the screen and press the Back icon if they need to perform that particular action.
On the Linux side of things, the Function button is used for various system hotkeys. This behaves similarly to the Function button in the front center of the RG351v, but the placement on the RG552 makes it somewhat awkward to use. It's mounted on the underside of the device, but Anbernic's set it as half of the button combination for most RetroArch actions. Where RG351p and RG351mp users might be familiar with pressing Select+X or Select+R to do things like open the RetroArch menu or save a quick save state, the RG552 expects you to press Function+B or Function+R. This requires you to take your entire left hand off of the device, and it's a bit of clunkiness that really should have come up in testing.
Furthermore, the Function key is right next to the Reset key. The buttons look and feel identical, and most owners of the RG552 has a story about how they accidentally reset the device while attempting to perform some sort of shortcut. Thankfully there's already some community images out there which revert RetroArch's hotkeys to use the Select button, but it's a bad sign when a fix to a handheld's button placement is to ignore the button entirely.
In terms of inputs, the RG552 continues Anbernic's trend of including a charging port and a USB-C OTG port. This is particularly handy here, since as we discussed earlier, you'll probably be taking advantage of the RG552's fast charging while using the device.
There are once again two MicroSD card slots on the RG552. The first is used for the Linux OS, and the second is a game storage card that can be used by either operating system. To store the Android operating system, the RG552 also has 64 GB of internal eMMC storage.

HDMI video out finally makes its triumphant return to Anbernic handhelds with the RG552. After sitting out on the sidelines for the RK3326 generation, you can once again plug your handheld into a Mini HDMI port and view it on an external display. (Or capture its video output via a capture card for all you creative types out there.)
Unfortunately, the potential for big screen play is significantly hampered by a lack of Bluetooth on the RG552. The handheld's wireless capabilities are perhaps its largest disappointment. In addition to its lack of Bluetooth, the RG552 only has 2.4 GHz WiFi. The RG552's formfactor make it a natural client for wireless game streaming, but the 2.4 GHz wireless speeds stop this from being a satisfying experience. There have been some reports of Moonlight streaming working alright over some home networks, but platforms like Stadia will most likely remain out of the RG552's grasp.
Rounding out its hardware capabilities, the RG552 has a pair of bottom facing speakers and a 3.5mm headphone jack. The speakers sound crisp and clear, and like Anbernic's previous handhelds, your hands generally don't muffle their output. There's a small microphone built into the handheld, just in case you want the authentic blowing-into-your-DS gaming experience. The RG552 also supports video games with rumble support. In a first for retro handhelds, the device actually has dual rumble motors mounted on both sides of the device. Unfortunately these motors are tiny cell phone style vibration motors. They buzz loudly and disproportionally for as much feedback as they produce.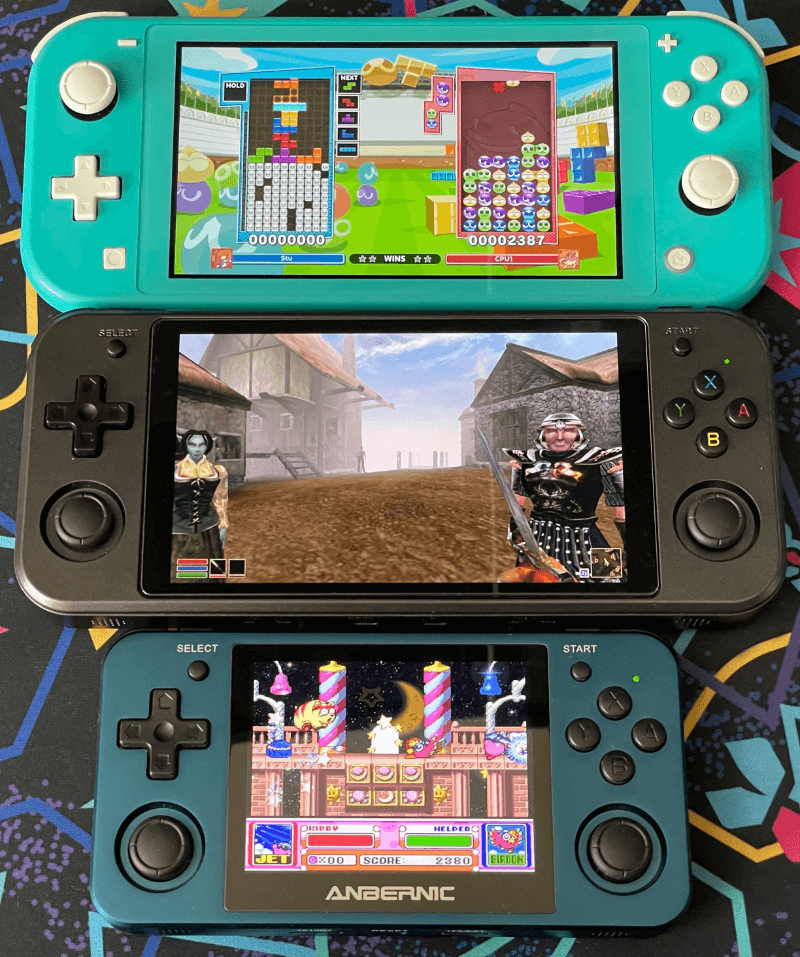 Size wise, the RG552 is 198.1mm x 85.6mm. This is just shy of the Switch Lite's 208mm x 91mm. The two devices look roughly the same size when placed next to each other, with one notable exception. The Switch Lite is 14mm thick, with a 28.4mm thick hump at the top for its stacked shoulder buttons. The RG552 is 20mm thick all the way through. A 20mm thickness isn't the end of the world, and should feel at home for anyone who's used the 17mm or 18mm thickness of the Retroid Pocket 2 or RG351mp. The RG552's 355g weight however it's a notable bump from previous handhelds. Even the infamously-hefty all-metal RG351mp and its 271g pale in comparison. Thankfully the weight's well distributed throughout the RG552, and it doesn't feel too onerous to play depending on your posture.
It does however help give the impression that the RG552 is a handheld that's about to burst at its seams. Everything about the device is a step up from the previous generation. There's a new processor, a new fan, an extra rumble, bigger batteries, and design choices that strain the ergonomics of the device. It's a chonker of a handheld, but it's got the build quality to back it up. The RG552 has a plastic-body construction, but it feels sturdy without any noticeable flex to it. You can feel a denseness to its construction. Despite its relatively lower performance and occasional design quirk, the RG552 manages to avoid feeling clunky, and threads the needle into "built like a tank" territory. This is in no small part due to the handheld's amazing screen.
Screen Time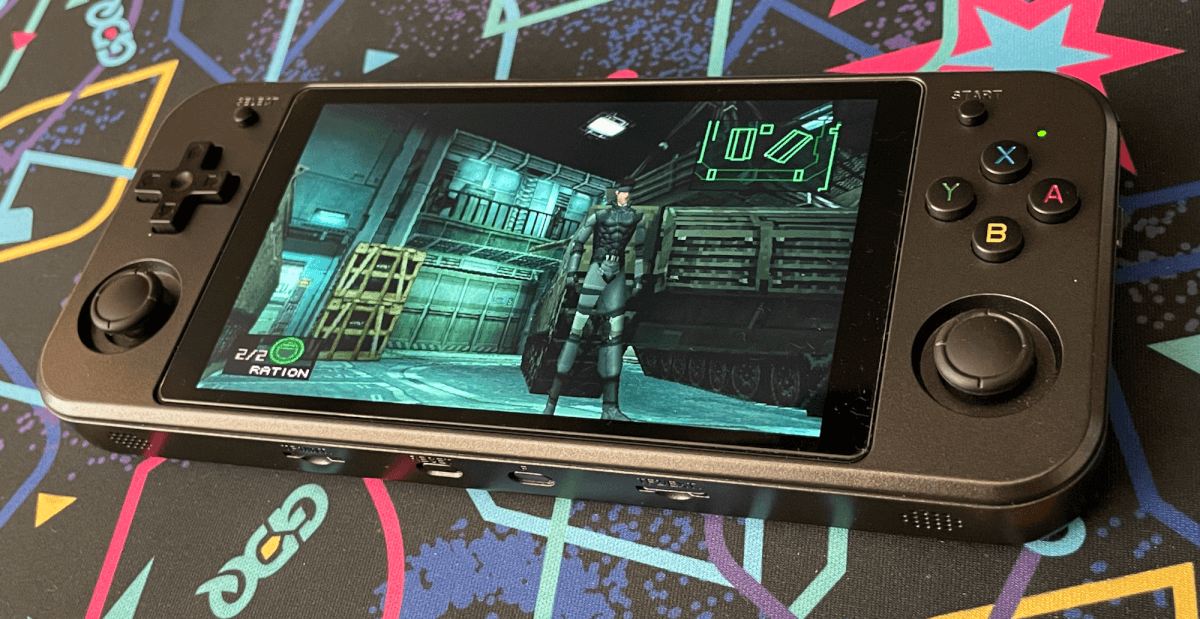 The centerpiece of the RG552 is its 5.36″ IPS touchscreen. This bright display is visually stunning, and does a good job showing of games from a variety of platforms. The colors are well presented here, and it has impressive black levels. While this is certainly not exclusive to the RG552, it's nice to see Android-based handhelds shipping which touch support. Android menus are much more pleasant to navigate when you can actually swipe, touch, and drag across the display.
It feels reminiscent of a smartphone display in both terms of size and shape, but Anbernic's once again gone and chosen a slightly unusual aspect ratio for this screen. Unlike the RG351p's diminutive 3:2 display however, the RG552's 5:3 screen is much easier to work with. In fact, it may already be safe to say that the RG552's display will be a high watermark for widescreen handhelds for quite some time.
When it comes to retro handheld emulation, 4:3 displays continue to be a popular choice in the community. Home console games supported 4:3 screens up until the Xbox 360 and PlayStation 3 era, meaning that even the newer handhelds capable of playing the Nintendo GameCube and PlayStation 2 are still producing square images (with the exception of certain widescreen hacks). There have been a few wider-screen handhelds like the 3:2 GBA and 16:9 PSP however, and many modern Android games take advantage of wider displays.
The jury's still out on which aspect ratio is best for retro gaming. 4:3 fans appreciate the lack of black bars on the majority of systems they play, but the outliers can be awkward experiences. Handhelds like the Powkiddy RGB 10 Max and the upcoming AYN Odin have opted for a familiar 16:9 aspect ratio, and the KT R1 is rumored to continue experimenting with a 3:2 screen. The RG552's 5:3 1920 x 1152 screen doesn't seem all that different from the popular 16:9 1920 x 1080 resolution, but those extra 72 pixels make all the difference when it comes to integer scaling.
Modern screens have hundreds more pixels than the original displays that handhelds and consoles targeted. Some amount of stretching needs to be performed to the image, and it can produce a variety of artifacts depending on which resolutions you're dealing with. "Integer Scaling" refers to stretching an image to whole increments of numbers. 2x and 3x scaling typically looks better than say, 2.3x scaling. When you increase an image's size at non-standard amounts, the software is going to have to chose to double some pixels, while disregarding others. Integer scaling is a straightforward way to preserve as much picture clarity as possible.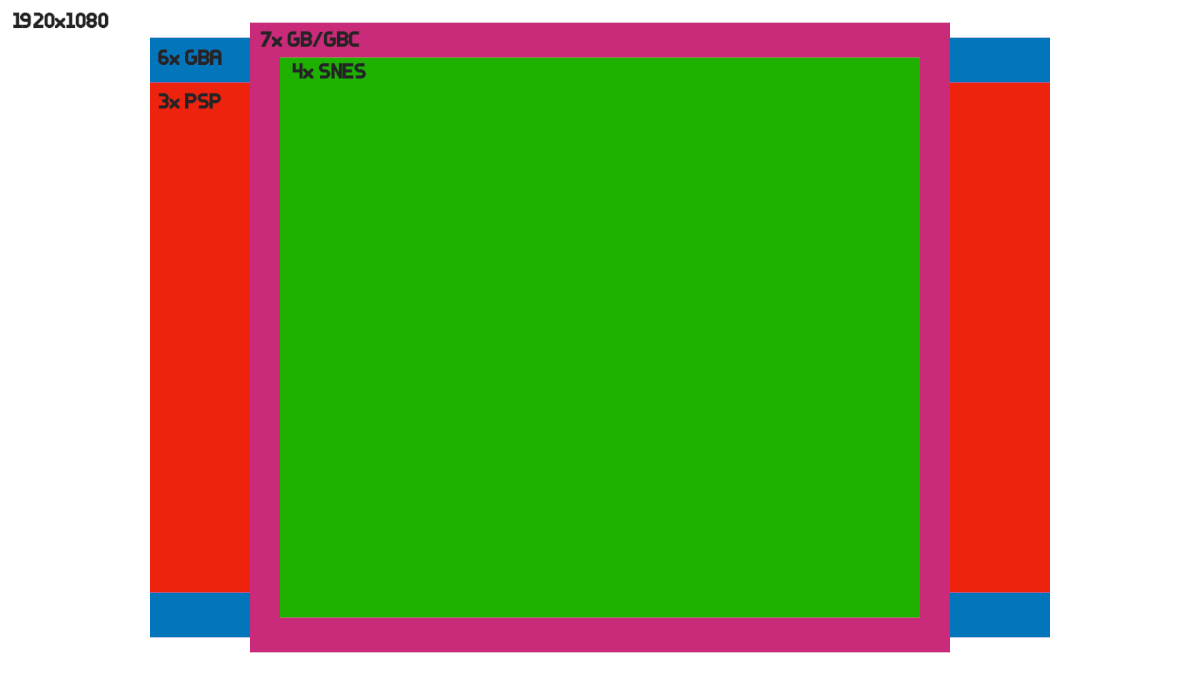 Screens with a 16:9 1920 x 1080 resolution can integer scale can do 4x SNES scaling, 7x Game Boy scaling, 6x Game Boy Advance scaling, and 3x PlayStation Portable scaling. (The PSP had an unusual 480 × 272 resolution. You can technically do 4x PSP scaling on 1080p displays if you're willing to crop the top and bottom four rows of pixels.)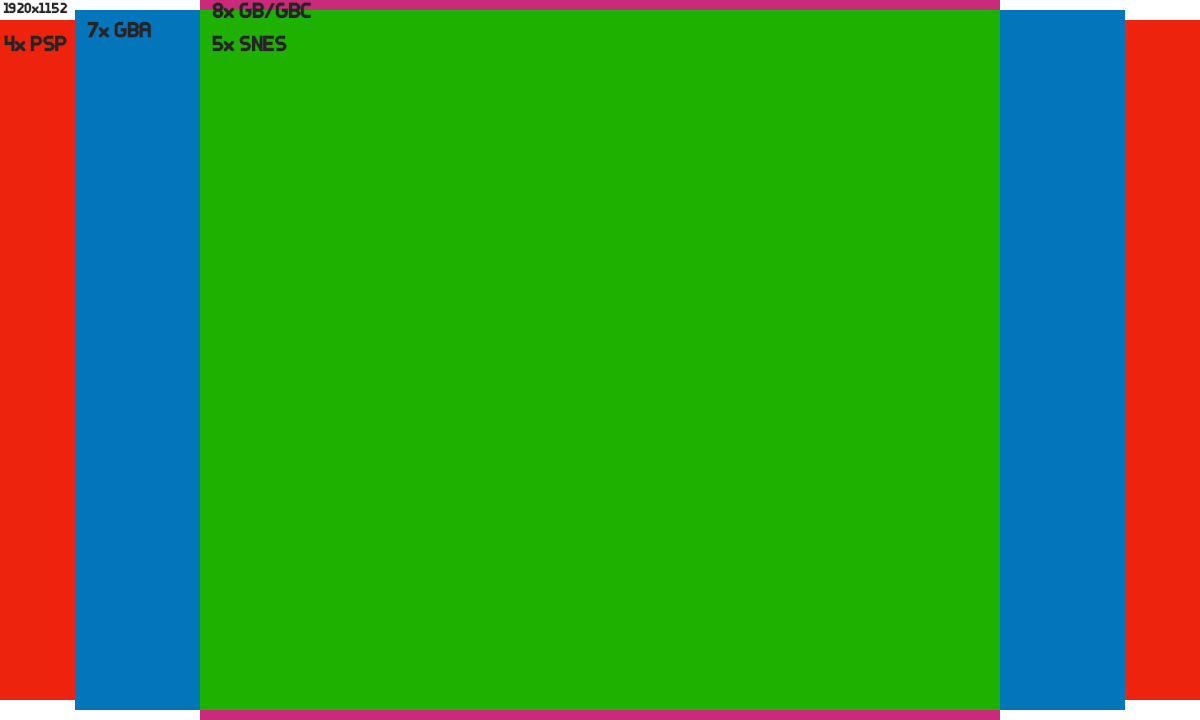 Screens with a 5:3 1920 x 1152 display on the other hand can do 5x SNES scaling, 8x Game Boy scaling, 7x Game Boy Advance scaling, and 4x Playstation Portable scaling. Those 72 extra pixels allow you to get nearly an extra integer scale out of most platforms you'd be emulating on the RG552.
Getting the perfect image out of an emulator is a rabbit hole that you can fall down for ages. We try not to be pixel scaling purists here at Retro Handhelds, and have definitely taken advantage of stretching on some previous devices. As you can see from the diagram above however, the RG552 makes it easy to get those high-quality nitpicky enthusiast images with little in the way of black bars. The most reported comment of new RG552 owners online is, "This thing's going to be my new dedicated GBA handheld."
Of course, you're welcome to just stretch your images out as well. We're not here to judge. Like Anbernic's other recent handhelds, the RG552 has an OCA laminated screen. This process bonds the LCD panel to the screen, and minimizes the "gap" between the screen and the display that you may have seen on older handhelds. Now that touchscreens are becoming common on retro handhelds, so are fingerprints on the touchscreens of retro handhelds. It might not be a bad idea to keep a microfiber cloth around if you like gaming on a pristine display.
Firmware Options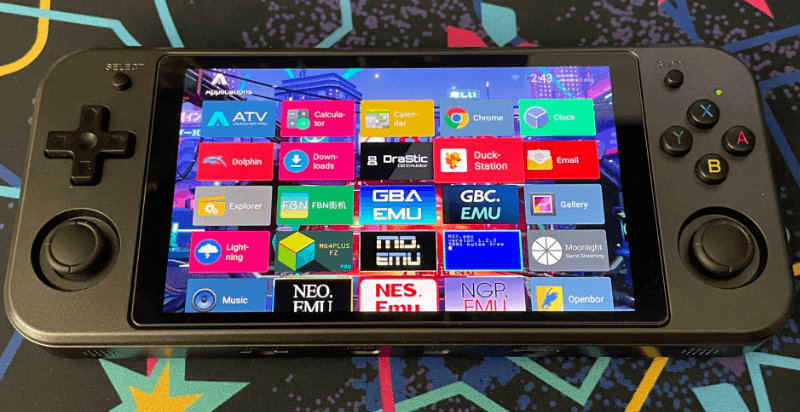 Anbernic has decided to go forward with the unique option of making the RG552 a dual boot device. By default, the RG552 comes with Android 7.1 installed on its internal storage, and a copy of Batocera Linux installed on an included 16 GB MicroSD card. For those of you that aren't familiar with it, Batocera is a Linux-based operating system with an emphasis on gaming and emulation. It has a very similar experience to Anbernic's RG351 devices, and uses the same Emulation Station frontend as those previous handhelds.
Unfortunately, you can definitely get the feeling that Anbernic rushed both of these operating systems out the door. They both suffered relatively major issues at launch which have thankfully since been resolved. On the Batocera image, there was a significant audio delay causing sound effects to trigger half a second late. Over on the Android OS, the RG552 shipped without access to Google's Play Store. Thankfully the audio delay has been brought down to manageable levels, and Play Store access has been restored. Still, it's unfortunate to need a software update right out of the box.
Overall both of these systems are fine. They get the job done and let you get on with playing your games. There is some room for improvement however, and right now the retro handheld scene is mostly waiting to see what the developer community will do. The RK3399 is an attractive development platform despite its lower specs. In fact, it's the existing community support and documentation that allowed Anbernic to essentially throw existing RK3399 Android and Batocera images onto the handheld with little tweaking on their part. There's already been noted developer interest from the 351Elec team in the RG552, and Android developers have been exploring porting some flavor the Android-based Linage OS to the handheld.
You generally shouldn't buy a handheld based on your future hopes for it, but the RG552 certainly has room to grow. Its largest issue right now is that its Android operating system is stuck at version 7.1. This prevents the RG552 from running newer Android applications, including the AtherSX2 PlayStation 2 emulator. The RG552's hardware is pretty borderline in its chances of being able to play lower-tier PlayStation 2 titles, but right now players can't even kick the tires and see which games would work. A newer Lineage build would allow RG552 owners to run some more recent software from the Android Play Store.
As it stands now, the Android 7.1 image is still a great jumping off point for 3D gaming and Android apps. It comes preloaded with gamepad-friendly tile-based ATV launcher. The handheld comes preloaded with a multitude of emulators, including the questionable decision of including several paid emulators such as the Drastic DS emulator. There isn't a frontend installed by default, but users can install Pegasus, Dig, RESET, or any other Android frontend.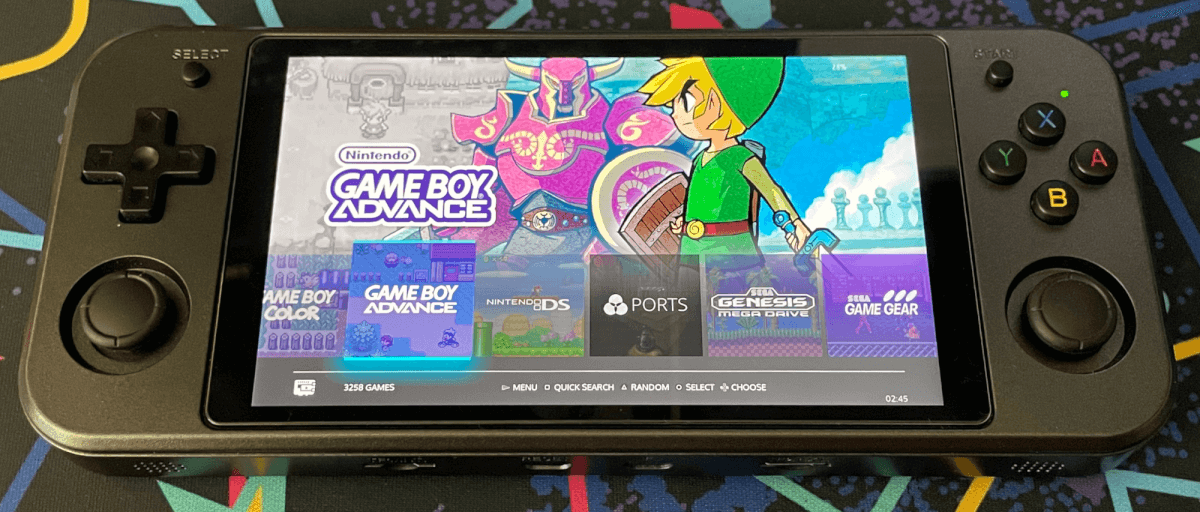 Meanwhile, the Linux OS is perfect for 2D gaming. It technically has 3D emulators installed in it, but you'll get better performance for systems such as the Nintendo 64 when running Android. We'll touch on it a bit more in the performance section of this review. Now that the sound issue has been fixed, Batocera provides an incredibly user-friendly way of organizing and launching games. It's Emulation Station frontend automatically detects game files that you've dragged-and-dropped onto the second MicroSD card. Once your games are in place, Batocera features built-in scraping for downloading metadata, imagery, and videos for your menus.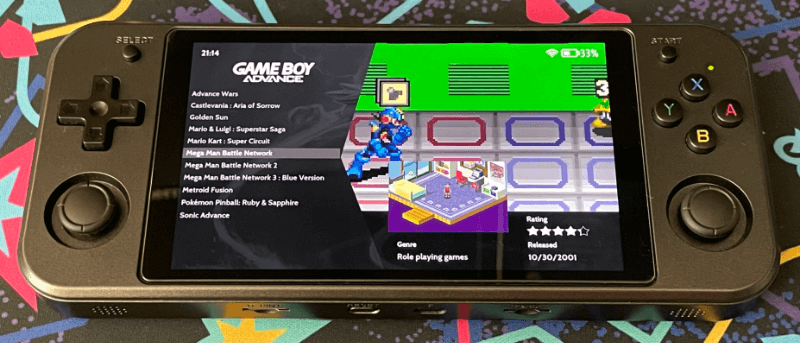 During the writing of this review, the 351Elec team has released a beta of "351Elec xRG552". It brings some notable improvements to the Linux side of things, such as the ability to suspend the handheld while playing a game. The team's already gotten some Linux ports working through Port Master, so there's some exciting opportunities for Linux-specific game ports that pure Android handhelds wouldn't be able to take advantage of. 351Elec is installed through the standard MicroSD card flashing process, and would take the place of the Batocera card on your handheld.
Speaking of booting into different operating systems, it's worth noting how changing the OS on the RG552 works. By default, the RG552 boots into the Android operating system when there's nothing inserted into the first MicroSD card slot. If you insert the 16 GB Linux MicroSD card into that slot before booting up the RG552, it will launch into Batocera instead. There's no key combination or switch to specify which operating system you would like to use, so you'll need to fumble around with the MicroSD card a bit depending on which operating system you'd like to use. Thankfully, you can insert the Linux MicroSD card after Android has finished booting without causing any problems. If you'd like to make sure you don't lose the Linux MicroSD card, it's usually just a matter of ejecting it before you turn the device on, waiting for Android to boot, and then plugging it back in.
Just make sure you don't accidentally eject the MicroSD card and fire it halfway across the room like a certain Retro-Handhelds.com reviewer. We swear the TF1 slot seems extra spring loaded this time around.
So What Can It Play?
Fully Playable
Atari 2600, Atari 5600, Atari 7800
Nintendo Entertainment System
Super Nintendo Entertainment System
Nintendo Game Boy
Nintendo Game Boy Color
Nintendo Game Boy Advance
Nintendo Virtual Boy
Sega Master System
Sega Genesis / Mega Drive
Sega 32X
Sega CD
Neo Geo Pocket
Neo Geo Pocket Color
Sony Playstation
Mostly Playable
Nintendo 64
Nintendo DS
Sega Saturn
Sega Dreamcast
Sony PSP
Barely Passable
GameCube
Requires Newer Android Version
PlayStation 2
Out of Reach
Nintendo 3DS
Would you look at that, we're finally seeing some movement on the Playable Systems table! This section has remained firm with the previous generation of retro handhelds. Devices could formerly play solid PlayStation 1, somewhat playable Nintendo 64, and the Sega Saturn remained a pipe dream. Now that devices are shipping with some extra horsepower, we're seeing a lot more potential out of the next generation of handhelds.
To start things off, the older 2D platforms naturally run well on the RG552. Consoles and handhelds like the NES, SNES, Genesis, 32X, Sega CD, Game Boy, Game Boy Color, and Game Boy Advance all run well on Anbernic's latest device. The RG552 is powerful enough to run a solid collection of shaders during these games, as well as offer functionality like fast forward and rewind. When it comes to which operating system makes the most sense to play these games, both are suitable for these older platforms. The Linux based operating systems provide a pleasant frontend for browsing large collections, and primarily leverage RetroArch cores to run the games. On the Android side there's a grab bag of included emulators or Play Store applications which can run these titles, as well as the Android version of RetroArch. As discussed in the screen section, the RG552's excellent 5:3 screen really makes some of these older platforms shine. It's hard to beat quickly booting into the Linux OS, navigating through some well designed menus, and immediately jumping into a game.
The PlayStation 1 is also a platform which fared well on older devices. There are some excellent RetroArch cores on the Linux firmwares for players who are more comfortable with Emulation Station. Where the PlayStation 1 really shines on the RG552 however is using the Android-based DuckStation emulator. DuckStation provides an impressive array of options that weren't possible on older handhelds. In addition to neat tricks like widescreen hacks, DuckStation has some impressive resolution scaling options. While some of the most intense PlayStation games will require a 1x resolution, many games can be run with a 2x resolution.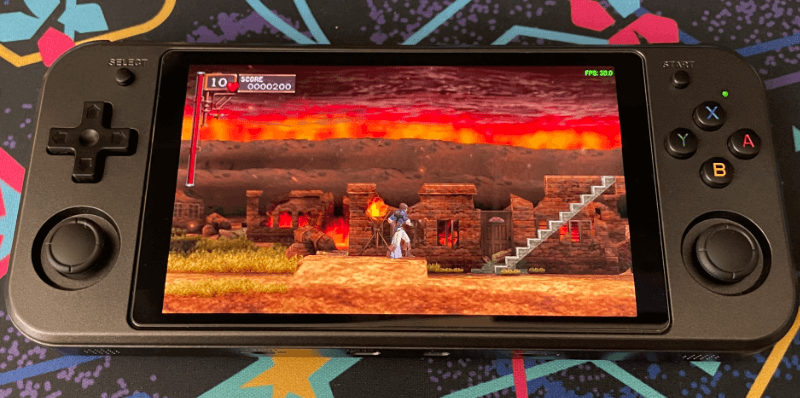 Sticking with Sony for a moment, PlayStation Portable titles also look great on the RG552. Sony's original handheld was famous for bringing widescreen gaming to the masses, and not a pixel is wasted displaying them here. This is the first console where you really start to notice the performance differences between Linux and Android. Android emulators generally have a bit more optimization under the hood, and so most 3D systems will run a smidge better on the Android side of things. Both Linux and Android leverage the PPSSPP emulator, which offers a bevy of scaling and frameskip options. Unfortunately you may need those frameskip options when it comes to certain titles. The limits of the RK3399 already start to show through here, with some of the more advanced PSP games beginning to tax the system to its limit. God of War once again remains just at the cusp of the feasible. Thankfully however, the RK3399 is still a step up from the RK3326, so people who have been in the retro handheld scene for a bit will still have some new titles to look forward to.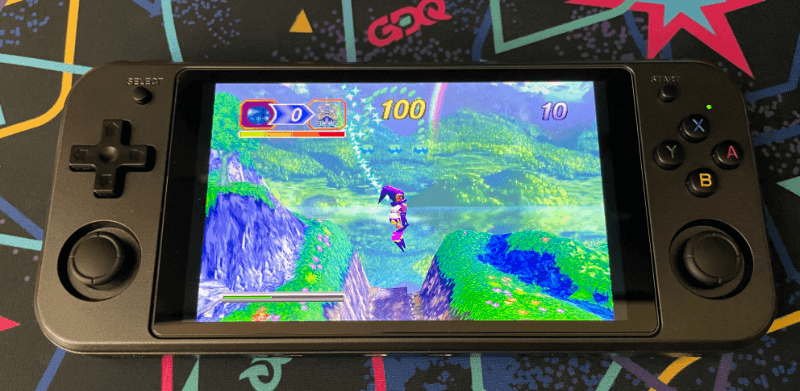 If new titles don't excite you, how about an entirely new console? The oft-maligned Sega Saturn finally makes an appearance on a portable emulation handheld. The RG552 finally allows retro handheld enthusiasts to enjoy most of this famously difficult to emulate multi-CPU console while on the go. NiGHTS Into Dreams aficionados will be delighted by the Android OS's Yaba Sanshiro emulator, but unfortunately Daytona USA fans may be left wanting. We've firmly entered, "Most of the platform with a few high end exceptions" territory with these last stretch of platforms.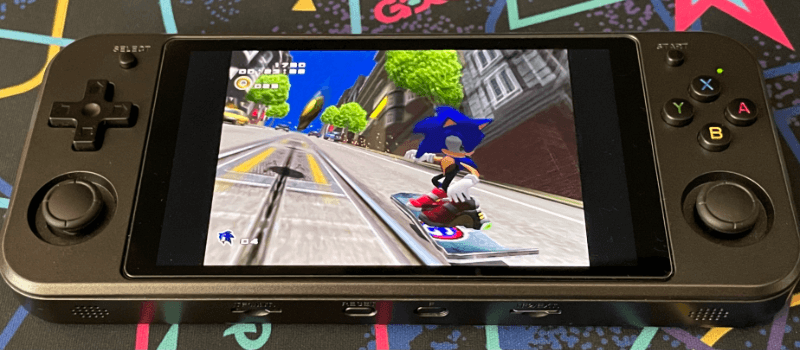 It's always been a little counter-intuitive how the Sega Dreamcast is easier to emulate than the Sega Saturn. Previous generation of handhelds could do a passable rendition of many Dreamcast titles, and the RG552 helps fill out most of the rest of the console. Games which previously had some stutters, visual glitches, or other issues fare much better on the RG552. Anecdotally, the Sonic Adventures have gone from neat proofs of concept to enjoyable play sessions with this latest bump in horsepower. The RG552's selection of Dreamcast emulators has also improved. In addition to the Reicast and Flycast emulators, players can now take advantage of the capable Redream Android emulator.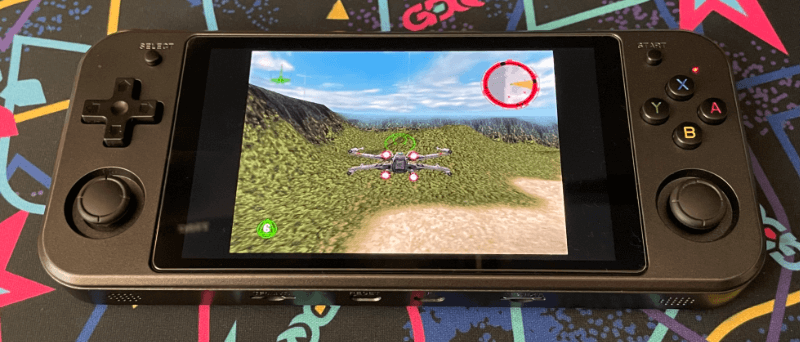 The system benefiting the most from the RG552's increased performance has got to be the Nintendo 64. Nintendo's first foray into 3D has always been an awkward affair when it comes to emulation, and it was mostly a bonus when previous handhelds could eke out a game of Mario 64, Banjo-Kazooie, or a stuttery Ocarina of Time. Booting up Mupen64 Plus FZ on Android will now offer RG552 owners a much fuller collection of playable N64 titles. There may still be the need for fiddling with the correct profiles and settings, but high performance fan favorites such as Perfect Dark, Conker's Bad Fur Day, Star Wars: Rogue Squadron, and Banjo-Tooie are now playable while on the go.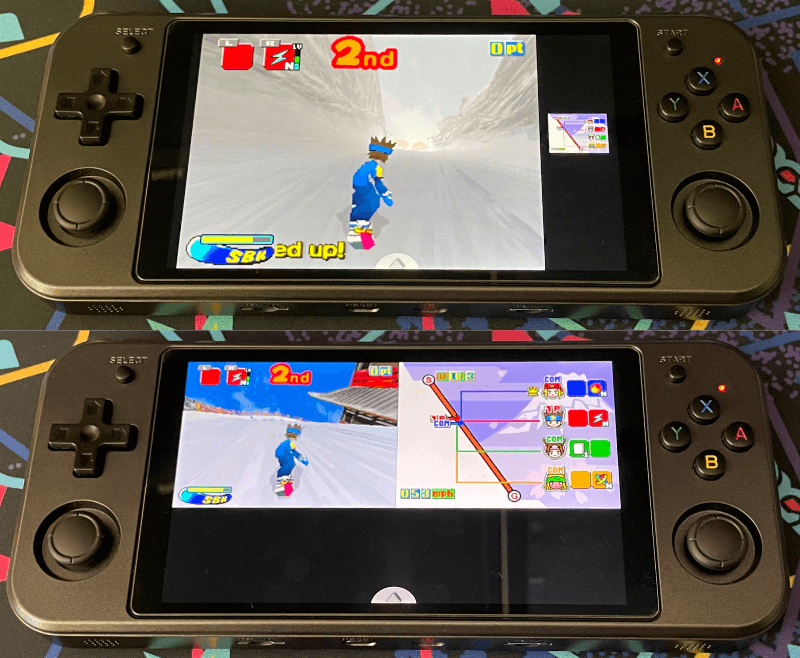 The Nintendo DS makes a strong showing on the RG552. Not only does it have the space to display two separate screens at once, but it has a touch screen to actually take advantage of the onscreen menus found in most of the platform's games. The Drastic Android emulator offers several different screen configurations, letting you give each screen an equal amount of space, or letting you stretch out and emphasis a game's primary screen. You'll still run into the occasional game such as Trauma Center which isn't exactly fun to manage with a large fat finger, but the RG552 can handle a surprising amount of its library when it comes to the actual performance level of the games.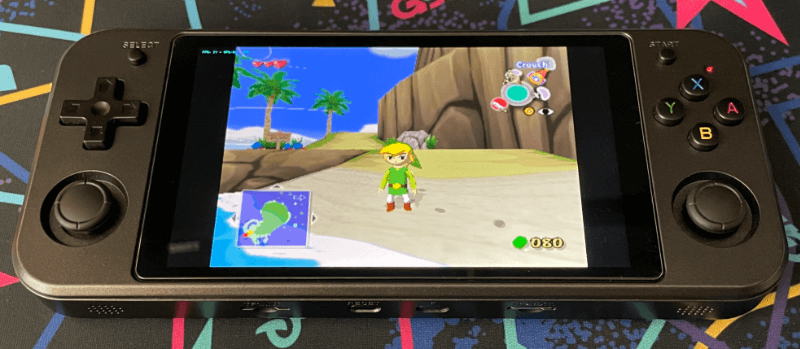 So, that just leaves us with the Nintendo GameCube. For as long as the AYN Odin has been teasing the next generation of handhelds, the GameCube has been the retro handheld's scene white whale of functionality. Players have high hopes for the next batch of devices, and unfortunately the RG552 is likely to leave them disappointed in that regard.
The Nintendo GameCube and Nintendo Wii have a shared architectures that lend them to be emulated well. Furthermore, there's several high profile Nintendo games fans have been eager to revisit (AKA Super Smash Brothers), so the Dolphin emulator has been polished to a mirror shine. It has a competent Android port, which means these Android-based retro handhelds are beginning to see rumblings of GameCube support.
Reality is a bit less rosy. The latest crop of retro handhelds can perform some GameCube emulation, but they've got a few tricks up their sleeves to make it happen. The most common technique to get GameCube running on these these borderline handhelds perform is adjusting the internal resolution of the Nintendo GameCube. The console is usually working hard to push 640 x 528 pixels. If you instead tell the console to take it easy and only render a 0.5x resolution of 320 x 264 pixels, the emulator doesn't necessarily have to work as hard. This can get a passable framerate on certain titles.
Like the spotty history of the N64 before it, the catalogue of GameCube games one can play on the RG552 is so small these titles should be considered "bonus" games. The Legend of Zelda: The Wind Waker is one of the less demanding titles on the platform (thanks to some particularly well-aged cell shading), and it runs at about 75-85% of full speed in large outdoor island spaces. The game picks up the pace and runs at 100% when you're in smaller indoor spaces, but it's still overall a very borderline experience.
There's been a lot of discussion of what constitutes "Playable" with the release of this handheld and the new Retroid Pocket 2+. If audio stutters are a no-go for you, then GameCube on the RG552 is going to be a non-starter. If you can put up with the occasional hiccup, you might have a great decent time with this device. During the review of this device, it was honestly difficult to not to be engrossed with the Wind Waker. By the time Link landed on Dragon Roost Island, it was hard to remember that this was supposed to be a device test and not an extended play session. But that's not going to be everyone's experience, and GameCube performance is so spotty that it certainly shouldn't be a selling point of the RG552.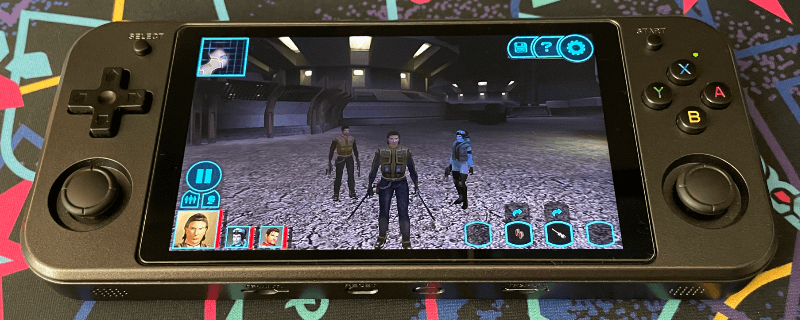 Outside of emulation, there's a world of Android games which are newly playable on the RG552. Games which previously struggled on the Retroid Pocket 2 or 351Droid run surprisingly well on the RG552. The Android Play Store has a long history of games supporting both touchscreen and gamepad controls, making Play Store games and ports like Star Wars: Knights of the Old Republic an absolute delight. There's also some interesting PC ports to explore on the Android side of things, such as the OpenMorrowind engine reimplementation of The Elder Scrolls III.
Detailing which games do or don't work on this handheld is outside of the scope of this review, but thankfully the Retro Handhelds community has a crowdsourced Google spreadsheets keeping track of RG552 Game Compatibility & Settings. It's still very much a work in progress, but it may be able to answer some of your burning questions around GameCube and Android game support.
Let's Talk Price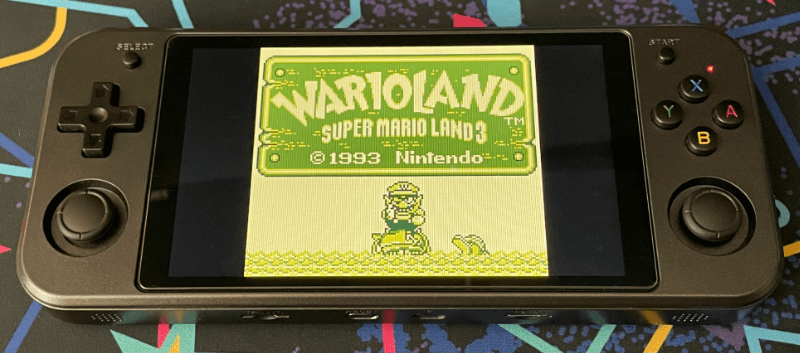 Buzz for the next generation of retro handhelds started with the lead up to the IndieGoGo campaign for AYN's Odin handheld. Originally teased as the "199 Handheld", the company sought to draw a line in the sand by announcing that their handheld would launch for around $199 USD. Things got a little complicated in the end, with the super early bird pricing for the Odin Lite launching for $165, the Odin Base for $210, and the Odin Pro for $260. The standard post-campaign pricing for these units is $200, $240, and $290 respectively. It should also be noted that these prices don't reflect the $30 USD cost of the campaign's only shipping option. Regardless, all of the Odin models feature capable smartphone-style processors, and have teased enticing GameCube and PS2 performance for around $200-$300 USD.
More recently, Retroid has announced and begun shipping an upgraded version of their Retroid Pocket 2 handheld. We've got a review of the Retroid Pocket 2+ forthcoming, but the headlining number here is that the RP2+ is going to cost the same $99 USD (+ $12 USD shipping) that the original RP2 sold for. This is in addition to the $65 PCB upgrade kit option that Retroid announced for existing RP2 owners. This new handheld reuses the case and many of the came components as the original RP2, but it's notable in that the UNISOC Tiger T310 processor outperforms the RG552.
So needless to say, it was eyebrow raising when Anbernic announced that the RG552 would retail for $227 USD. Speculation was rampant as to what Anbernic's newest handheld would cost, but few people assumed it would be priced toe to toe up against the Odin Lite's D900 processor. Most expectations for the device where somewhere within the range of $175 USD.
It's not quite clear what's going on here. The RK3399 is a new chip for Anbernic, so most likely the company is trying to recoup some of the lengthy development time they had transitioning away from the RK3326. The RG552, RP2+, and Powkiddy x18s all shipped around the same time, so there may have seen some hope to capitalize on the buzz around more capable handhelds.
This isn't the first handheld we've seen recently with an eyebrow raising price. The new Android-based 20:9 GPD XP handheld-phone hybrid device ships for around $325. Devices are getting more complex and expensive to manufacture. The retro handheld scene is still a relatively niche space, and we're not likely to see iPhone-style price restructuring suddenly pushing RK3326 devices out of the $99 spot with newer more capable handhelds sliding into their space.
Based on some previous reporting and podcast appearances, it's pertinent that Retroid and AYN have both taken a price-conscious approach to their handhelds, attempting to maximize marketshare with a low price point. The Retroid Pocket 2 was an (apparently successful) experiment in low coat retro gaming hardware, and the whole point of the Odin Lite model was to respond to AYN's assumption that GPD would attempt to undercut them with the XP.
That undercutting clearly didn't pan out, but it will be curious to see how other handheld manufacturers price their devices in the future. We've already started to see the upward trend a bit, with Powkiddy selling the powerful-but-flawed x18s for around $175 USD. It's difficult to say in a few months whether the RG552 will simply be one of the more expensive options, or if it will remain a notable outlier in price.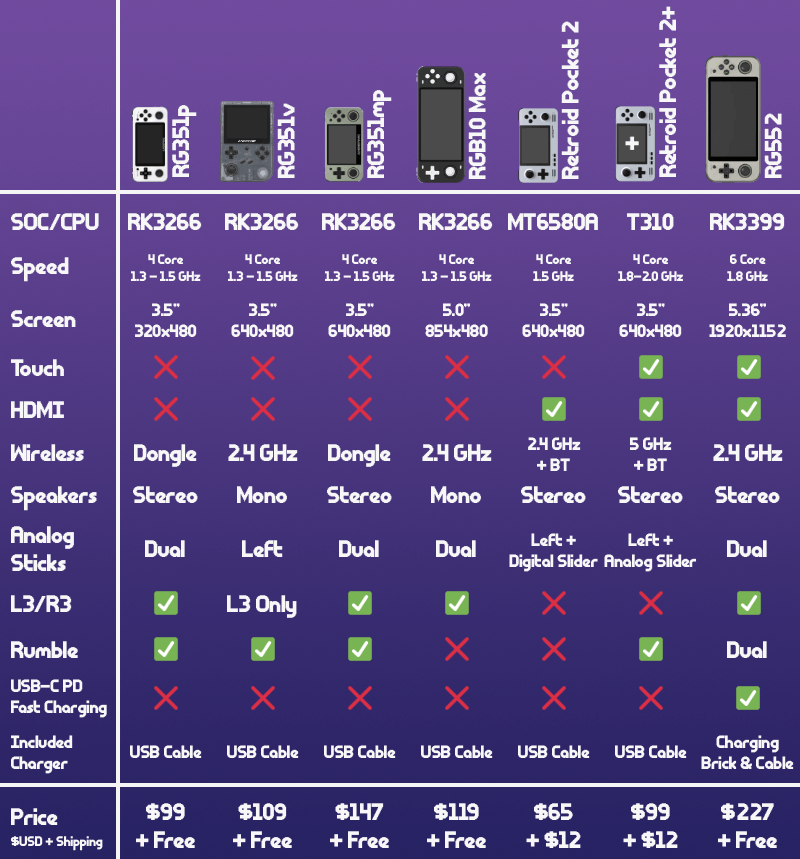 While the RG552 does have a hefty price tag, outside of its lacking wireless capabilities, it should be pointed out that Anbernic didn't cut many other corners with this handheld. The previous generation was characterized by handhelds that all had some random character flaw to them. The RG351p had an odd screen resolution. The RG351v lacked dual analog sticks. The RG351mp needs to use a dongle for wifi. The RGB10 Max only supports mono sound. The Retroid Pockets sticks and sliders don't have L3 and R3 support. The RG552 appears to have heard all of this feedback, and even has gone out of its way to support new functionality like USB-C PD.
The reason the RG552's lack of 5.0 GHz wireless is so disappointing is that, in the absence of good horsepower, the handheld was a natural fit for game streaming with platforms such as Stadia or GamePass. Rumor has it that Anbernic was attempting to include a more robust wireless card on the RG552, but there was some difficulty getting the drivers to work on both operating systems, and it was scrapped in favor of a more compatible, but lower spec card.
We'll see how the RG552 performs in the long run. It could get blown out of the water by more performant GameCube-capable handhelds, or remain too high priced to get broad appeal. While not within everyone's budget, the RG552 is still likely to find a home within a certain subset of players. Be they fans of Anbernic's build quality, users looking for a classic Linux experience, or just someone interested in a big screen.
Conclusion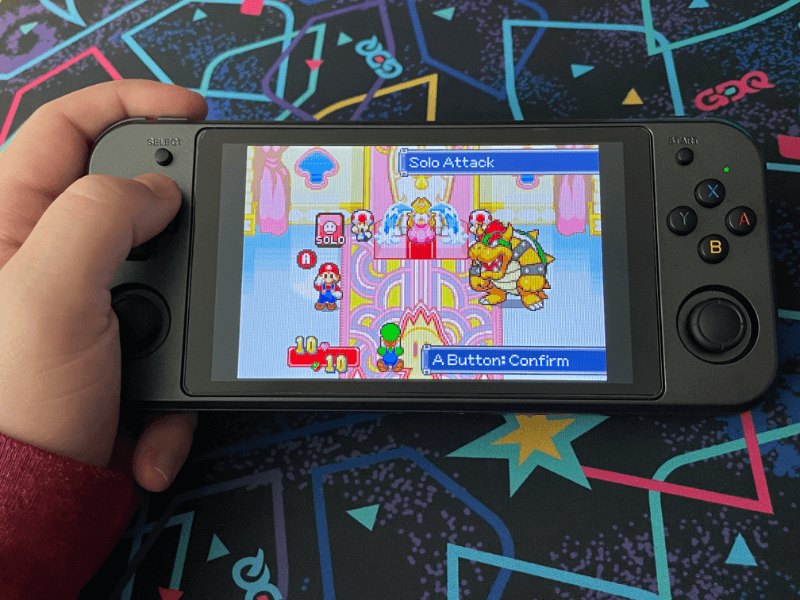 This review's been in the oven for a while. Despite attempting to justify this handheld's price a bit in the previous section, there's a very large Retroid Pocket 2+ shaped elephant in the room. We wanted to make sure we had both devices on hand during the review process, and believe it or not, the RP2+'s extra 0.2 GHz of processing power make a surprising amount of difference. Even without active cooling, the RP2+ manages to play Wind Waker without the occasional audio stuttering the RG552 has to put up with. There's a much larger swath of passable GameCube games available to the Retroid Pocket 2+, and fewer holes in the libraries of previous platforms.
So why does this device have such a vocal minority of fans?
Well, to start with there's probably the sunk cost fallacy. But more so than that, the RG552 feels like a culmination of what the retro handheld scene had been building towards throughout 2020 and 2021. Anbernic notably never put out a direct large-screen competitor to Powkiddy's RGB10 Max. This handheld puts the RGB 10 Max to shame. It's got a higher resolution, nicer feeling buttons, supports more games and platforms, and as an added bonus it gets around that whole endless Android vs. Linux debate. Had this handheld been released in the spring or summer of 2021, it would have set the scene on fire regardless of its cost.
For anyone who's been satisfied with a single Retroid Pocket 2 or RG351v for the last few years, the RG552 is an absurd upgrade proposition. But for people who got bit by the collecting bug and are currently sitting on a desk full of handhelds, it's hard to deny that there's not something going on with the RG552. From the first moment you boot up the device, its screen will immediately set this handheld apart from everything else you own. Even after you've been playing it for a few hours, Anbernic's latest device scratches that itch that lets you know you're dealing with a difference in kind over the previous generation.
The RG552 takes the lessons learned from the last generation, and actually fulfills some of the hopes you probably had for your first retro handheld. It has the formfactor and horsepower to use Android for more than just launching RetroArch and Mupen64, and finally lets you start exploring some of what the Play Store has to offer. It might not be pushing through the GameCube threshold just yet, but there's enough going on with widescreen hacks and new emulators to leave tinkerers busy for days. Those holes in the N64's library has been filled in, and all those hopeful porting experiments people did during the early days of the Retroid Pocket 2 and RG351 are actually starting to come to fruition.
Sadly, Anbernic's RG552 is about 5% too slow to do some of the more ambitious tasks it wants to take on. It's impressive fan kicks in not to give you some astonishing next-gen performance, but to make sure your N64 games don't stutter. It's hard to say yet if Linux support will keep this device relevant compared to more powerful Android handhelds in the long run. It really is an impressive piece of hardware, it's just awkwardly priced and poorly timed. Anbernic has yet again put out a flawed handheld that has its fans saying, "Yeah, but have you seen now nice Game Boy Advance games look on it?" And hey, maybe that's enough for some people.
Delicious:
The 5:3 screen sets a new high bar for retro handheld displays.
Built like a tank.
Finally can play some new systems.
Anbernic's usual high quality controls.
Dual operating systems allows you to choose a more plug and play or power user experience.
Suspicious:
Poor price to performance.
Heavy as a tank.
Already underpowered compared to its contemporaries.
Unclear future prospects.
Conclusion:
Expensive for what you get, and not without missteps, but still a solid high quality design which will speak to some people.
*The RG552 featured in this review was purchased by the reviewer.