(This review has been written and provided by Rocketman824)
Picture it: Wherever you live, June 2020. A hot new item is fresh off the assembly lines and people are taking notice. It is small yet powerful, heavy yet comfortable, horizontal yet…not vertical. Anbernic has just put out the 280m, and it looks a lot like their trademark systems, just a tad smaller; think 350m minus the right stick. The little Linux based handheld shows up and finds a niche in the market thanks to its high build quality, great size, unique button layout, and a killer color combo accompanied by silver and black options. Flash forward to 2023. Anbernic has put out MANY devices in the almost three years since the 280m debuted; the handheld market is dripping with options to the point of overflowing the bathtub. Retroid has put out the king of affordable-but-capable handhelds in the form of the RP3/3+. Where does this leave our hefty handheld hero? In the dust? Well, let me tell you now that even in this day and age this noteworthy device remains just that: Worthy of noting. Thanks to custom firmware, ports, and community love, the 280m continues to be a device worth owning. So sit back, relax, do some reading, and let me tell you about some of the good – and the bad – that this Anbernic installment has to offer.
Hardware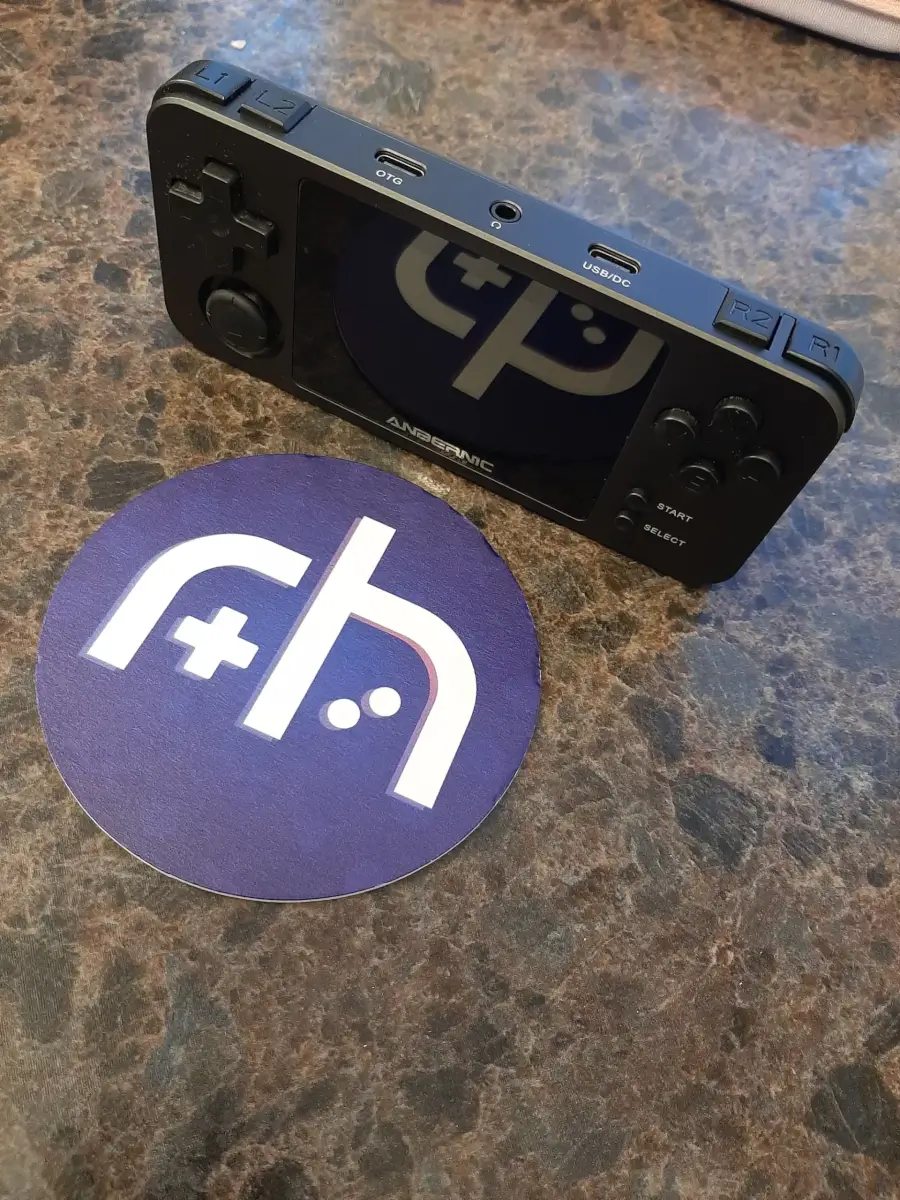 The size and weight of the 280m are at the heart of the charm it possesses. Coming in at 204 grams, it certainly is a bit heavy for its size. However the added weight is not completely unwelcome as it aids in keeping the device from feeling too small, and the aluminum provides a high quality feel. A plastic variant would have been nice but hey, the company just…did not do that (unless you count the 280v, but that is a whole different form factor.) The body lends itself well to pockets: 136mm wide, 61mm tall and 18mm thick with rounded edges and a recessed analog stick. The button layout is that of a typical D-pad centric device, with the four face buttons on the right, Start/Select below them, and the analog stick below the directional pad on the left. The bottom houses the dual SD card slots, the right side a volume rocker, the left the Power/Function button. Atop it lie the in-line R1/R2 and L1/L2 shoulder buttons, an OTG port, a 3.5mm headphone jack, and of course the DC port for USB-C charging.  Overall an acceptable layout keeping the device sleek and pocketable, but the in-line shoulder buttons are not something I am interested in. Thankfully, you will not really NEED to use all of them very often. On the backside of the device are the staples of Anbernic products: branding in the middle with rubber pads straddling either side; nothing unique or interesting there. The exterior package of the 280m is a pleasing one, but I haven't told you about the screen yet, so don't get too worked up.
The Screen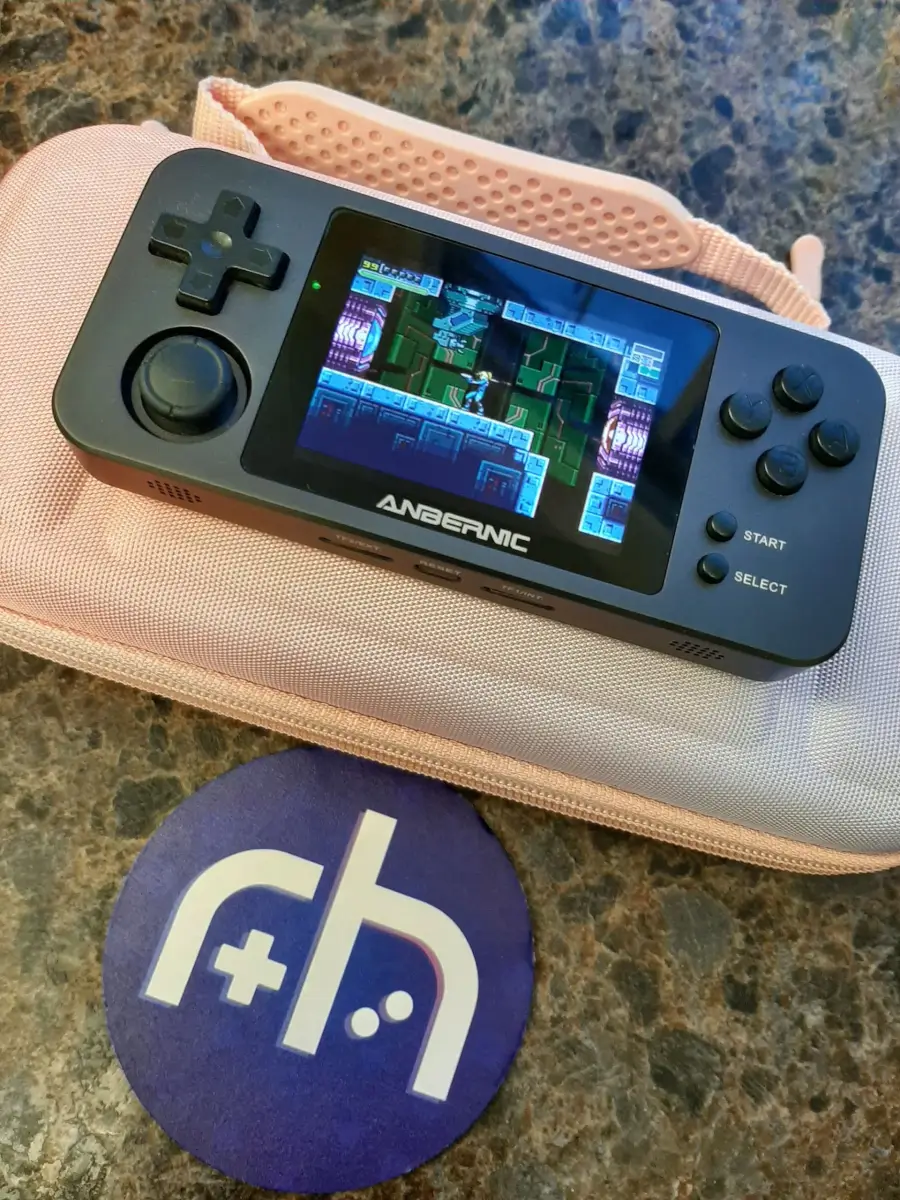 What would a device be without a screen? Well, less useful that's for sure. A good screen can catapult a handheld that is 'just ok' to 'a bit more than ok' if it's nice enough. And of course, size matters too. Nobody wants to squint to see the tiny thing. On that note, I will say the 2.8inch 320×240 IPS display on the 280m is not the largest out there, or frankly the prettiest. However, I myself give a screen a bit more leeway than some folks, and because of that I do not really find too many faults with this one. It fits the device well and has a good-size viewing area despite the considerable bezels and the dreaded logo glaring from the bottom. To my eyes the colors pop and the lines look crisp, the scaling looks acceptable on most systems, and I notice no tearing or lack of saturation. Screen assessment: Passable.
The Buttons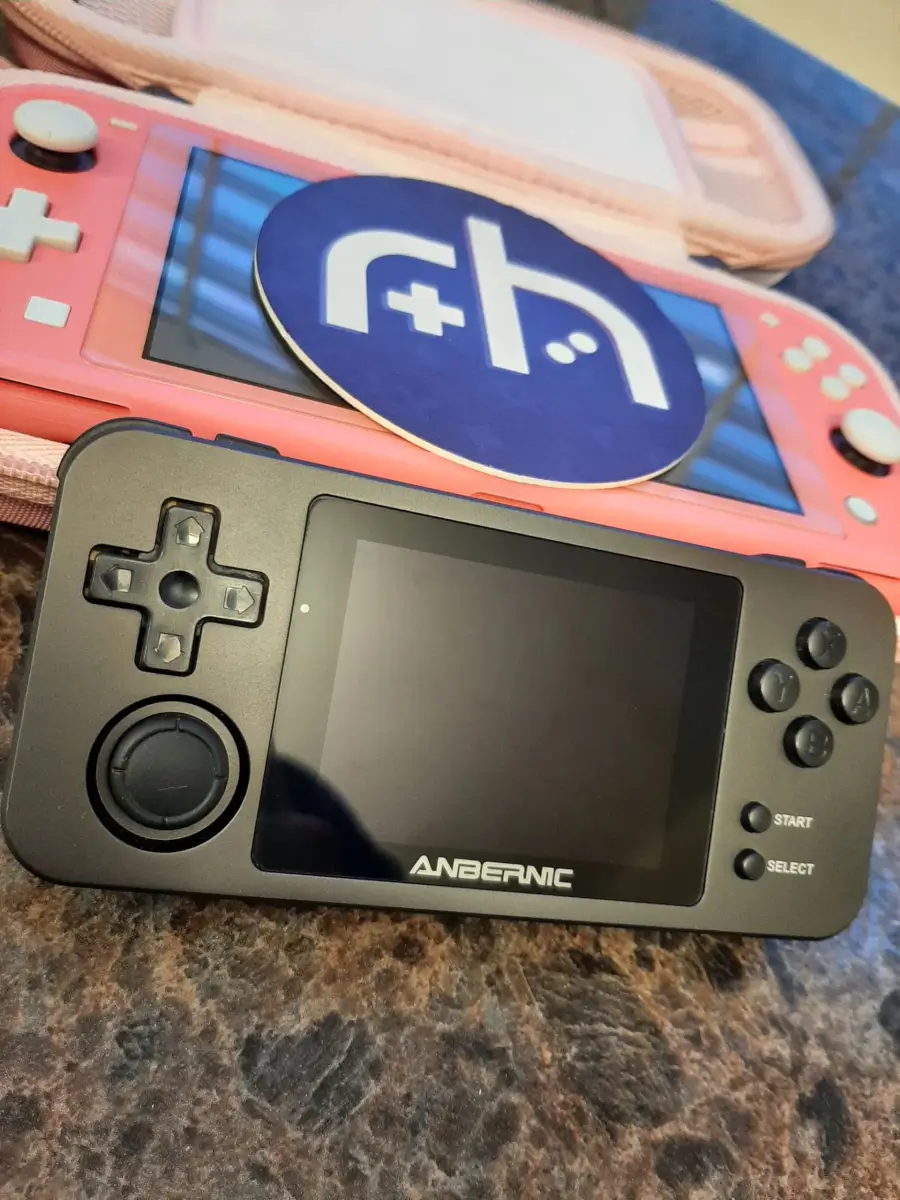 Off the top I will say that the D-pad and buttons on the 280m are some of my favorite in a handheld. To me, this is where the device really shines (not just because it's metal; it's actually quite matte.) If you are familiar with Anbernic, this should come as no shock. They are well-known for their high quality buttons and input-feel, and the 280m is no exception. Their sizes are perfect and they fit very well in the space on the face. The D-pad is responsive and mushy; the buttons are satisfying and seldom misfire. Even the analog stick is fair and works well on the PS1 games you can play. The shoulder buttons are clicky but work well regardless of their non-stacked placement. Start and Select sort of 'pop' when you push them, as does the Power button on the side, but their snapping back into place is nothing to get too upset about. Buttons assessment: My favorite part of the handheld, big thumbs up, cowabunga dude.
The Internals
"Tell us 'bout them guts!" I hear you all yelling. My contradictory nature makes me want to yell back "No!" but since this is a formal setting, I will oblige. So inside this little candy bar is a motherboard, some screws and some wires and whatnot. There. Hilarious jokes aside, the 280m sports a dual core J4770 1.0 GHz processor, 512mb of DDR2 RAM, and a 2,500mah built-in battery (that holds quite a solid charge if I do say so myself,) and 16gb of storage. The storage can easily be expanded thanks to the SD card slots, allowing for an additional 256 GB, which is perfect if you have WAY too many games to put on the 280m. With PS1 being the cap for playable games, storage should not be an issue if you were to throw a 128gb card in there or even just 64gb if you don't plan on playing a ton of PS1 games. Performance on games below GBA is excellent, and GBA itself runs well from what I have noticed. Fast-forward and other options that Retroarch offers also work well on the lower-tier systems. PS1 games run surprisingly well though I mainly stuck to THPS, I admit. In tandem with the usable analog stick, this is a pretty solid device to run PS1 games on. Internals assessment: Very Miyoo-Mini-esque, which is a good thing.
Software
Stock OS's…OSes? Stock operating systems on Anbernic devices are where the brand really lets down the customers. Their included SD cards often come with a bunch of junk games in different languages that all add up to just clogging the device up with nonsense. The firmware is often jumbled and again in different languages. What's my suggestion? Skip the stock OS altogether on the 280m, and jump straight to something like AdamImage. This runs Linux and runs it well when given a firmware upgrade that will make you feel like a million dollars if a million dollars enjoyed playing old video games on a new handheld. They offer many QoL improvements, custom images and box art, customizable menus, and great in-game features like shaders and fast-forward. Performance for systems may also improve, in case you needed another reason to ditch the Anbernic firmware. Overall the software experience is vastly improved by the community when it comes to this device; without them we would be stuck using something that would honestly bring my feeling about this device down a few notches…maybe TOO many notches. Do yourself a favor and research the CFW options before buying the device to see if they will be something you are interested in installing and using. If you have no want-to when it comes to things like that, I might honestly say to look toward a company with a better stock firmware experience. Software assessment: Stock OS is a pass, CFW kicks a**.
What It Can Play
Fully Playable
Atari 2600, Atari 5600, Atari 7800
Nintendo Entertainment System
Super Nintendo Entertainment System
Nintendo Game Boy
Nintendo Game Boy Color
Nintendo Game Boy Advance
Nintendo Virtual Boy
Sega Master System
Sega Genesis / Mega Drive
Sega 32X
Sega CD
Neo Geo Pocket
Neo Geo Pocket Color
Mostly Playable
Sony Playstation
Not A Chance
Nintendo 64
Nintendo DS
Sega Saturn
Sega Dreamcast
Game Testing
The 280m can play games from systems all the way up to the PS1 (you've heard that before, I'm sure) and the experience is…pleasing, mainly. Firing up a GBC game like Dragon Warrior Monsters brings a solid amount of joy thanks to the relatively square screen and the ability to adjust many video settings. The games from the NES-GBC era run great, as should be expected. A GBA game like Kirby: Nightmare in Dreamland looks pretty good on the screen, albeit a bit small, and the game itself runs with no noticeable slowdown or stuttering. Overall the experience with it was pleasant. Personally I use the 280m for PS1 games quite often thanks to the very usable left analog stick. And, luckily, PS1 games run well. THPS2 looks surprisingly solid on the little screen, and the flow of the game is never interrupted by any sort of issues. Tougher PS1 games may very well stutter and chug, however, so if you are buying this sucker with the intent of having 100% perfect Ps1 emulation, maybe rethink your options. If your gaming needs stay below Ps1 entirely, this little guy will get the job done for sure.
Where to Buy
In Summary
Things I Find Delicious:
Ÿ     Horizontal alternative to something like the Miyoo Mini with similar performance.
Ÿ     Custom firmware is nearly perfected, providing a great user experience.
Ÿ     The buttons make me bite my lower lip seductively.
Ÿ     Metal is metal, man!
Things I Find Suspicious:
Ÿ     Stock OS is unfortunate.
Ÿ     Price is a bit high compared to similar-aged products (still $80 on the official site.)
Ÿ     Only a few color options with one clearly being a bit more exciting than the other two, and it costs an extra $5!
Ÿ     The weight is considerable and may deter people such as myself who prefer lighter plastic devices.
Ÿ     No Wi-Fi or Bluetooth, which is not a huge deal, but it's worth mentioning.
Final Thoughts
I will come right out and say that I am not a big Anbernic fan in general mainly due to their high prices and their obsession with metal devices. While their button quality is second to none, that is really the only thing I see that they do best. That being said, even in 2023 the 280m is something worth owning. It happens to be my only metal device, but thanks to the smaller size it actually feels pretty good in the hands or a pocket. The size is just right for a horizontal handheld with the screen fitting so nicely in the center. Loaded up with custom firmware and PS1 and below games, this thing is something you would be happy to have around for pick-up-and-play sessions. If you could get a used 280m for around $60 or less, snag it up. It's still one of my favorite devices to rock out some retro gaming and the only Anbernic device I can say that I love.
(This review has been written and provided by Rocketman824)