As we enter the waning months of 2021, Anbernic unexpectedly decided to release one more RG351 handheld. This probably won't be the last RK3326 devices that we see, but it will most likely be one of the last high profile devices to launch before the new generation of Android-based handhelds burst onto the scene later this year and early next year. Fittingly, the RG351mp represents a sort of "Greatest Hits" device, taking everything they learned from their previous handhelds and combining it into one attractive offering.
As outlined in our preview reviews, Anbernic was beginning to establish a naming scheme with their devices. The RG351p was Anbernic's horizontal plastic device, the RG351m was Anbernic's horizontal metal device, and the RG351v was Anbernic's vertical handheld. The RG351mp muddies the waters a bit here. In fan communities online (such as our very own Retro Handhelds Discord server), the RG351p and RG351m were generally grouped together since they had identical hardware. It's worth noting that the RG351mp is the "Metal Pro", and is a different device from the RG351p/m or RG351m/p you may see referenced on older pages.
The RG351mp starts with the solid RK3326 foundation laid out with the RG351p handheld. The RG351p was well regarded for its balance of performance, cost, and portability, but it had a GBA-oriented 3:2 aspect ratio screen which didn't sit well with some enthusiasts. The RG351m introduced a metal-body offering to the RG351p, giving the handheld an unmatched level of fit and finished. Finally, the RG351v brought a classic console-oriented 4:3 screen to the party. The RG351mp combines these all together, offering a standout RK3326 experience with a metal enclosure and a 4:3 screen.
The Anbernic RG351mp can be found on Anbernic's official Aliexpress store for around $140 USD. It's also available on Amazon with Prime shipping through a variety of 3rd party sellers, who are currently marking up its price to approximately $170 USD.
The Hardware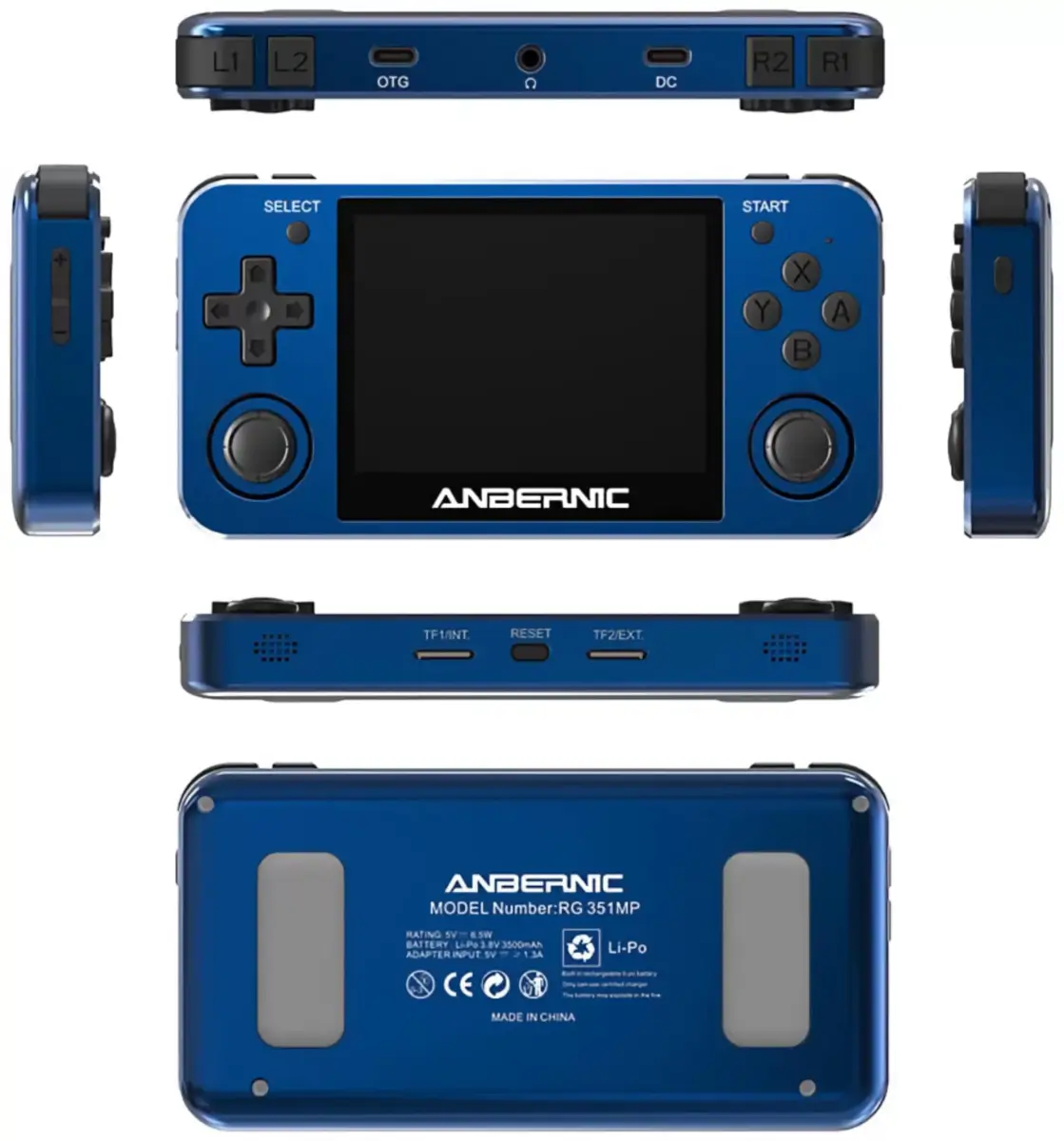 As one of the last hurrahs of the RockChip RK3326, the RG351mp has mostly familiar specs, with just one or two new tricks up its sleeves. It has the standard 1.3-1.5 GHz quad core Cortex-A35 processor, a 650 MHz Mali-G31 MP2 GPU, and 1GB of RAM. It's performance is generally the same as its predecessor handhelds, as is its port offerings.
The RG351mp shares the dual USB-C setup as the rest of the RG351 line. One of these ports is used for charging, while the other supports the use of USB-C OTG dongles, such as the included WiFi dongle. It can also be used for mice or keyboards if you'd like to take 351Droid for a spin.
From a storage perspective, it has the same dual MicroSD card setup as the RG351v. Users can store their firmware files and game files all on a single MicroSD card, or they can use the first MicroSD card for their firmware files, and dedicate the second slot to game files. Both methods are equally valid for this device.
The sound options are a mixture of the RG351p and RG351v. Thankfully we're back to a pair of stereo speakers, mounted neatly on the bottom of the device where one's hands don't adversely effect the sound. The audio came through crisp and clear on our device, without any issues when it came to blaring music or trying to keep things nice and quiet. Unfortunately the RG351mp reprises the RG351v's dedicated Vol+/Vol- buttons. There's no fun throwback volume wheel like on the RG51p, but at little detail is far from a dealbreaker. As usual, there's also a 3.5mm headphone jack for more discrete gaming.
The actual controls themselves are thankfully very familiar. Anbernic's made a name for having some of the best feeling inputs in the retro handheld scene. The d-pads are responsive and provide good diagonals, and the face buttons themselves have a very Nintendo feel to them. They both utilize an SNES controller-style membrane for a "mushy" feel, rather than a "clicky" microswitch style as seen on devices such as the original Retroid Pocket 2.
For the shoulder buttons, we're once again back to a side-by-side approach. Anbernic has used this style of shoulder button for a few devices now, and it largely works. The L1 and R1 buttons curl around the side, and are easy to reflexively hit when playing a SNES or GBA game. The L2 and R2 buttons are further in on the device, and require you to use the tip of your index finger to hit. This setup rarely causes any misfires, but it isn't as elegant as the stacked shoulder button setup we've seen on the Retroid Pocket 2 and some of the upcoming Android handhelds.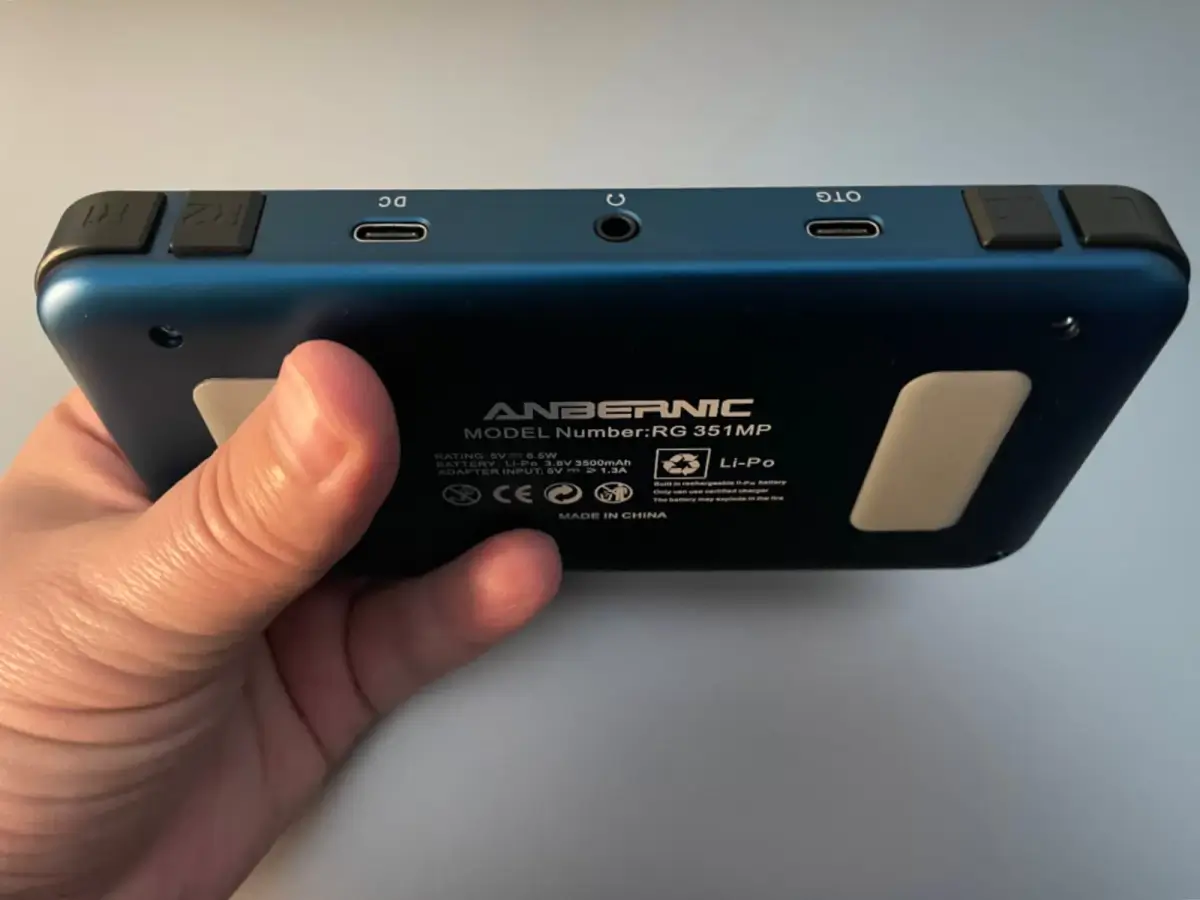 The analog sticks are unchanged from previous RG351 handhelds. They're responsive, slightly recessed, and have L3/R3 support. Ape Escape fans rest assured, it's a joy on this device. The choice of having the d-pad located above the left analog stick can be a bit controversial, but the RG351mp fares best when emulating 16-bit and PlayStation 1 games. The modern Xbox-style control scheme will be welcome on some of the next-generation devices, but for now the more SNES-style controls are an appreciated focus.
The RG351mp does have one small but nice upgrade to its controls. On the RG351p, the RG351m, and the RG351v, Anbernic was using a USB-based control board to handle button presses. This board would take a few seconds to wake up from sleep, and so those handhelds would feel slightly unresponsive when you first woke them up. The RG351mp uses direct GPIO inputs for the controls, so they wake up immediately when you come out of sleep mode. It's a very small touch, but it's nice to see that Anbernic wasn't resting on their laurels.
The real pride and joy of the RG351mp is once again its gorgeous 4:3 screen. This 3.5″ screen is the same one featured on the RG351v, and it really makes this handheld shine. It offers up deep blacks, a warm color balance, and won't have black bars for most of the titles you'll be playing. This display alone sold quite a few RG351v handhelds, and Anbernic was clearly listening to the players who wished that the screen was available in a smaller horizontal handheld. The screen is once again OCA laminated (resulting in a smaller "gap" between the glass and the display itself), and has a familiar 640 x 480 resolution.
Rounding out the specs, we're back down to the 3500 mAh battery that is standard on most 3.5″ handhelds. This should net you about 5-6 hours of playtime on a single charge. As with most of these devices, the battery indicator within the firmware itself isn't always the most accurate indicator, so your milage may vary.
Heavy Metal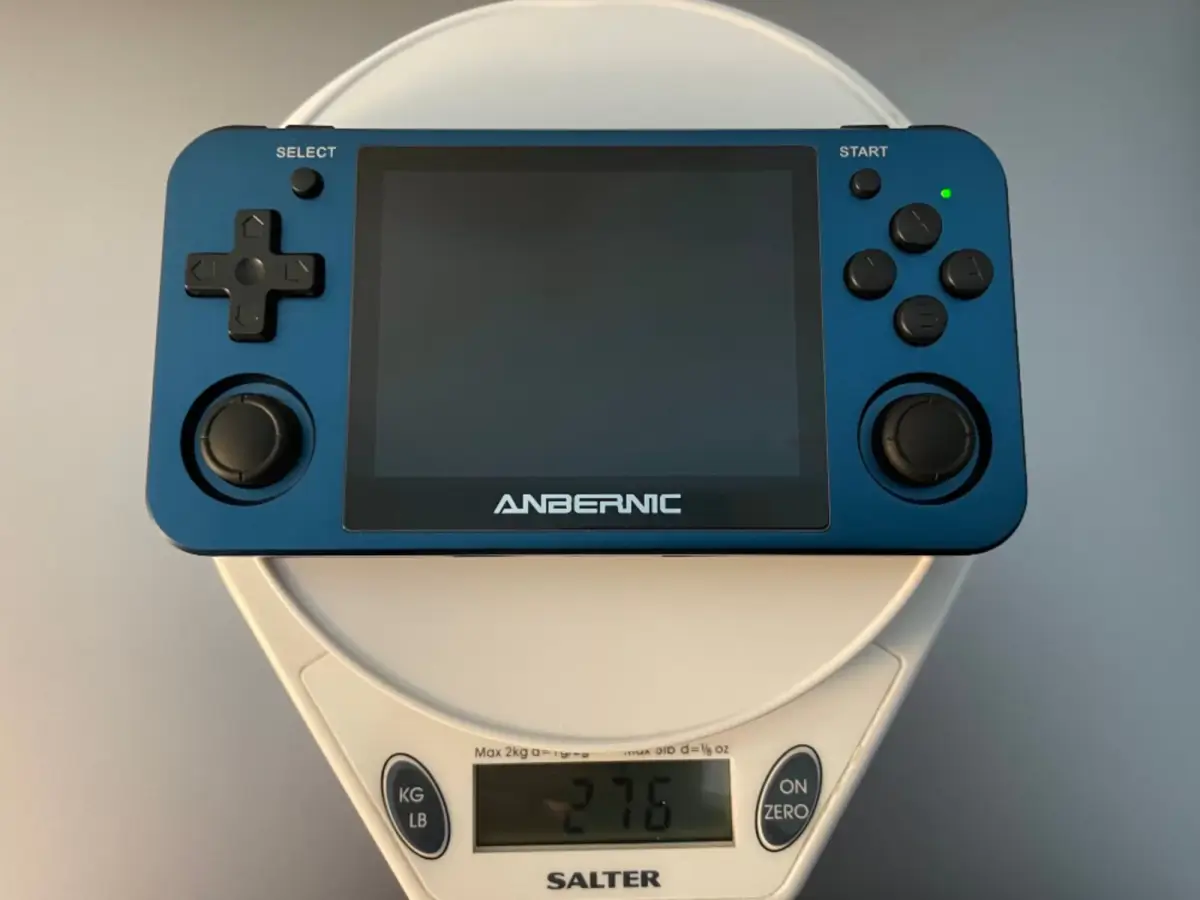 At 145 mm x 73 mm x 18 mm, the RG351mp is nearly the same size as its previous generation cohort, the RG350m. When looking at its contemporaries, the RG351mp is only a smidge taller and slightly narrower than the 151.5 mm x 70 mm x 18 mm RG351p and RG351m. The big difference here is that the RG351mp isn't offered in both a plastic and metal edition. The solid aluminum enclosure is the only option here.
This has a few immediate implications. First of all, metal enclosures wreak havoc on wireless signals. Because of this, the RG351mp chose to forego built in WiFi and instead uses a USB dongle for its wireless activities. The previous metal RG351m incorporated a few plastic panels into its design so that it could still have onboard WiFi, but Anbernic decided to prioritize a fully metal body in these case. Unlike some of their other WiFi-less handhelds, the RG351mp lacks empty USB headers on its circuit board, so it's unlikely that any aftermarket DIY mods will appear to try and add built in WiFi. Even if you could, the signal is likely to be terrible.
For most players, this will thankfully be more of an issue on paper than in practice. The vast majority of RG351 owners simply use internet connectivity to scrape game box art, download Ports, and to wirelessly move files around. Plugging in a dongle isn't an egregious extra step, and it's not likely to be something you do every day after you've gotten your handheld set up.
For a different subset of players, lack of onboard WiFi is a bit more frustrating. The popular RetroAchivements system requires an active internet connection, and taking advantage of streaming gaming platforms such as Moonlight is more frustrating when you need to constantly have an inelegant dongle sticking out of your device. Not being able to get achievements while playing retro games is not the end of the world for most players, and unfortunately the RG351mp's streaming experience will vary depending on your PC setup and network connections. The lack of WiFi is mostly an irritant in that it takes away from the RG351mp's role as a "Greatest Hits" definitive RK3326 experience.
The larger concern is simply how heavy a full metal enclosure can be. The RG351p weighs 189 grams, and the larger Game Boy-inspired RG351v weighs 230 grams. Anbernic's metal handhelds weigh a sturdy 271 grams. Interestingly enough, the RG351m and RG351mp weigh the same amount despite their slightly different shape. The extra 40-80 grams doesn't make the RG351mp egregiously heavy, but it is a noticeable increase in weight.
Reviewers occasionally complain about tired hands or sore wrists after playing on a metal handheld for several hours. I found this to be the case as well, but it's really only noticeable during the most extended 2-3 hour play sessions. It can be a bit difficult to express whether or not this will be an issue for the average player, but your gut instinct will probably have a decent idea if a heavy handheld would impact your enjoyment. If you're the type of person props their arms up against a table or uses armrests when playing games, the RG351mp will most likely be fine for you. If you lay back and play with a device held up over your head, it may be in your best interest to consider some lighter alternatives.
On the plus side, the RG351mp feels incredible to hold. The craftsmanship on it is unmatched compared to any non-metal handheld. The RG351p is a solid piece of plastic construction with build quality up there with Nintendo and Sony, but the RG351mp is simply in a whole different category. It shares a construction more in line with Apple's MacBook Pro line of laptops than something like the Switch or Vita. Like a MacBook, the RG351mp is a single piece of solid aluminum, with a metal lid on the back to provide access to the internal components. Once the lid is screwed into place, the two sit flush with one another, providing a near seamless experience with zero flexing or creaking.
When walking around the house with it, the mind doesn't categorize it as just another handhelds. It immediately becomes the oh-jeez-don't-drop-it metal widget. It's solid enough that if you dropped it on some particularly cheap Ikea furniture, the tabletop may be more likely to walk away with a dent than the handheld.
It's likely that you probably don't own anything quite like the RG351mp. The RG351m had a similar metal construction to the RG351mp, but that premium enclosure came at a cost that was hard to justify for players who weren't diehard Game Boy Advance fans. The after-market metal case options from retailers such as My Retro Game Case have similar 3:2 or 16:9 limitations. For a lot of people, shelling out the extra money for a metal case is the sort of thing they're only going to do once.
If you get bit by the retro handheld collector's bug, Anbernic's made a strong argument here that the RG351mp deserves a spot as your metal handheld of choice. Unless ubiquitous WiFi connectivity is a priority for you, the RG351mp has the best screen, a familiar size, wonderful controls, and solid performance. It's an indulgence to be sure, but it's a fun conversation starter available in a matte black, a tasteful mint green, and a striking ocean blue.
So What Can It Play?
Fully Playable
Atari 2600, Atari 5600, Atari 7800
Nintendo Entertainment System
Super Nintendo Entertainment System
Nintendo Game Boy
Nintendo Game Boy Color
Nintendo Game Boy Advance
Nintendo Virtual Boy
Sega Master System
Sega Genesis / Mega Drive
Sega 32X
Sega CD
Neo Geo Pocket
Neo Geo Pocket Color
Sony Playstation
Somewhat Playable
Nintendo 64
Nintendo DS
Sega Dreamcast
Sony PSP
Not A Chance
Sega Saturn
Nintendo 3DS
GameCube, PS2, Other Next-Gen Consoles
If this post were a video review, this is the moment I'd need to bust out a gimmick to keep the viewer's attention. As much as I'd like to copy and paste the performance section from our RG351p or RG351v reviews, there's a chance this post could be your first review on Retro Handhelds. If so, welcome, otherwise for the sake of your own entertainment, please picture me reciting the RG351mp's emulation capabilities in a silly costume, a single breath, or something otherwise as engaging.
For over a year now, the RK3326 has been the dominant processor in the retro handheld scene. Even competing handhelds such as the Retroid Pocket 2 have roughly equal emulation capabilities. It handles 8-bit and 16-bit emulation flawlessly. Early consoles and handhelds such as the NES and Game Boy run without any issues. Even 16-bit consoles with known trouble spots run without any problems. SNES games with expansion chips such as Super Mario RPG or Yoshi's Island run just as well as they did on your 90s CRT.
The RG351mp has the same screen as the RG351v, so it has the same advantages as that handheld when emulating games which originally premiered on a 4:3 home console. Black bars are a persistent issue in the modern emulation scene, and the RG351mp manages to avoid them on many of the systems you'll most likely be indulging in. NES, SNES, N64, Genesis, PlayStation look bright and vivid on the RG351mp's display. Classic Game Boy and Game Boy Color titles aren't much worse off. Their 10:9 aspect ratio scene thankfully produces minimal black bars on the RG351mp, to the point where many players play the handheld with its image slightly stretched out.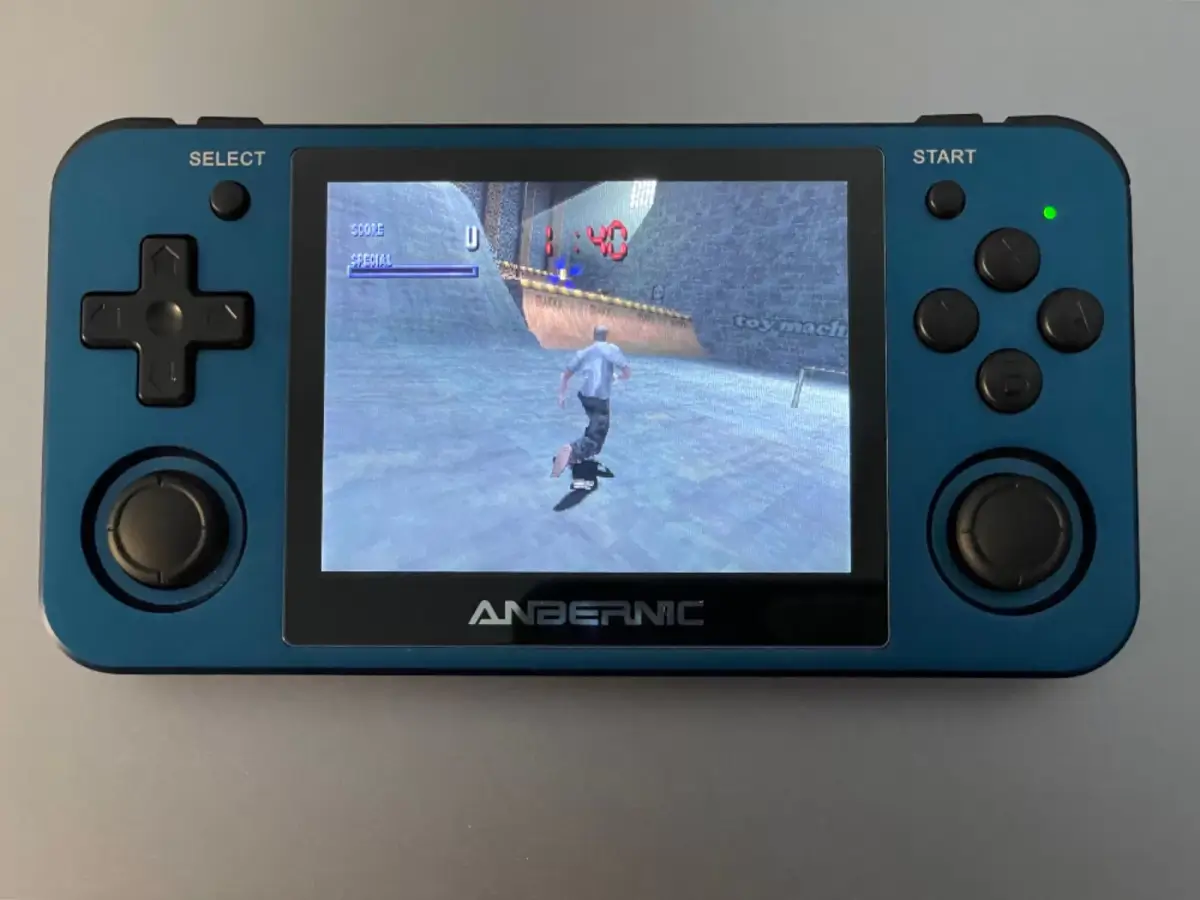 Emulation performance gets a bit dicer with modern systems, but the PlayStation 1 comes out looking like a champ. It has near full compatibility, without any of the usual trouble spots that more low-power devices may run into. The RG351mp's display is well suited for PSX games, and it's rumble and well-positioned analog sticks make everything from Ape Escape to Tony Hawk's Pro Skater a pure delight.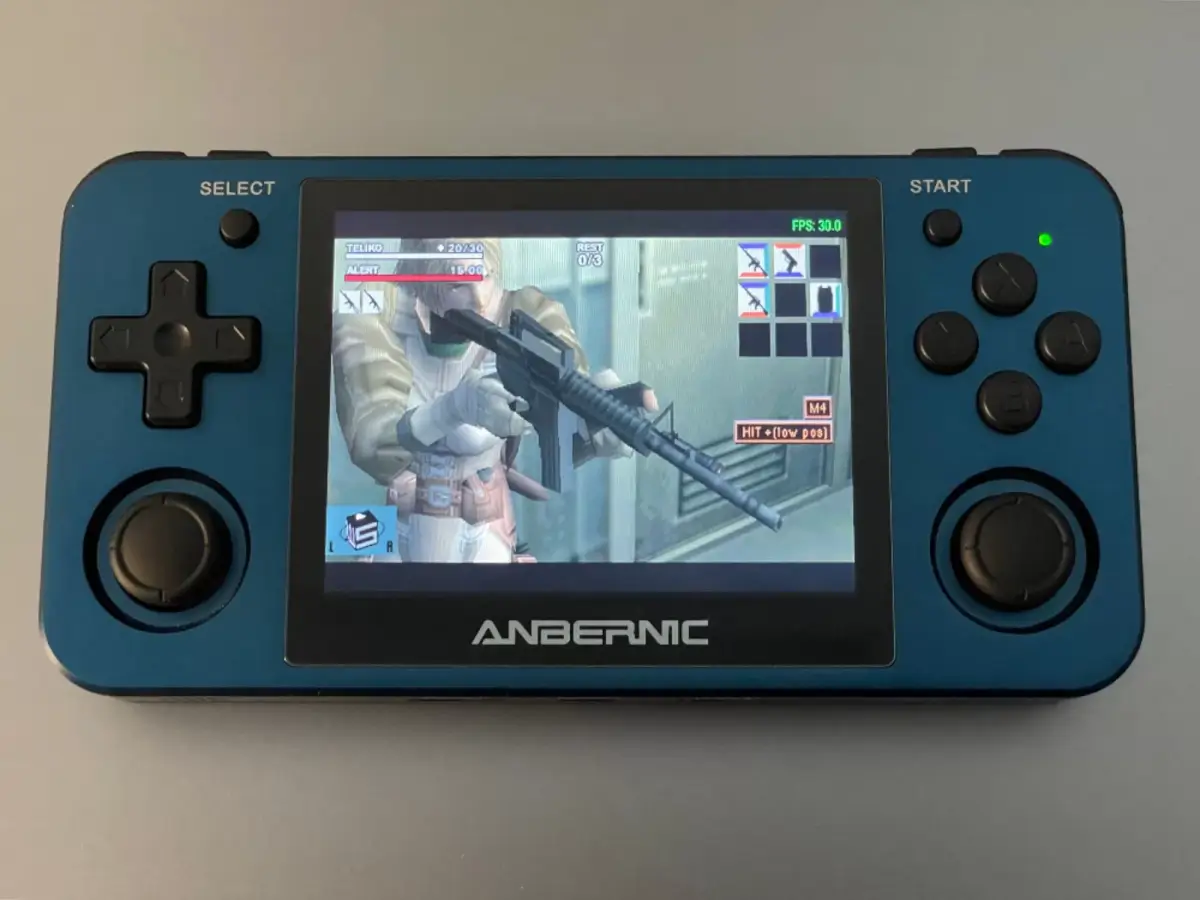 It's newer portable brethren does not fare as well. The PlayStation Portable is notoriously power hungry when it comes to emulation, and so the RG351mp will struggle on more high performance games such as God of War. On top of that, it's 16:9 screen is a poor fit for the RG351mp's 4:3 display. It's got the biggest black bars of the bunch. The RG351p or the Powkiddy RGB10 Max may be better options for PSP emulation with their 3:2 and 16:9 screens, but honestly, PSP and PS Vita hardware is still abundant if that's your focus.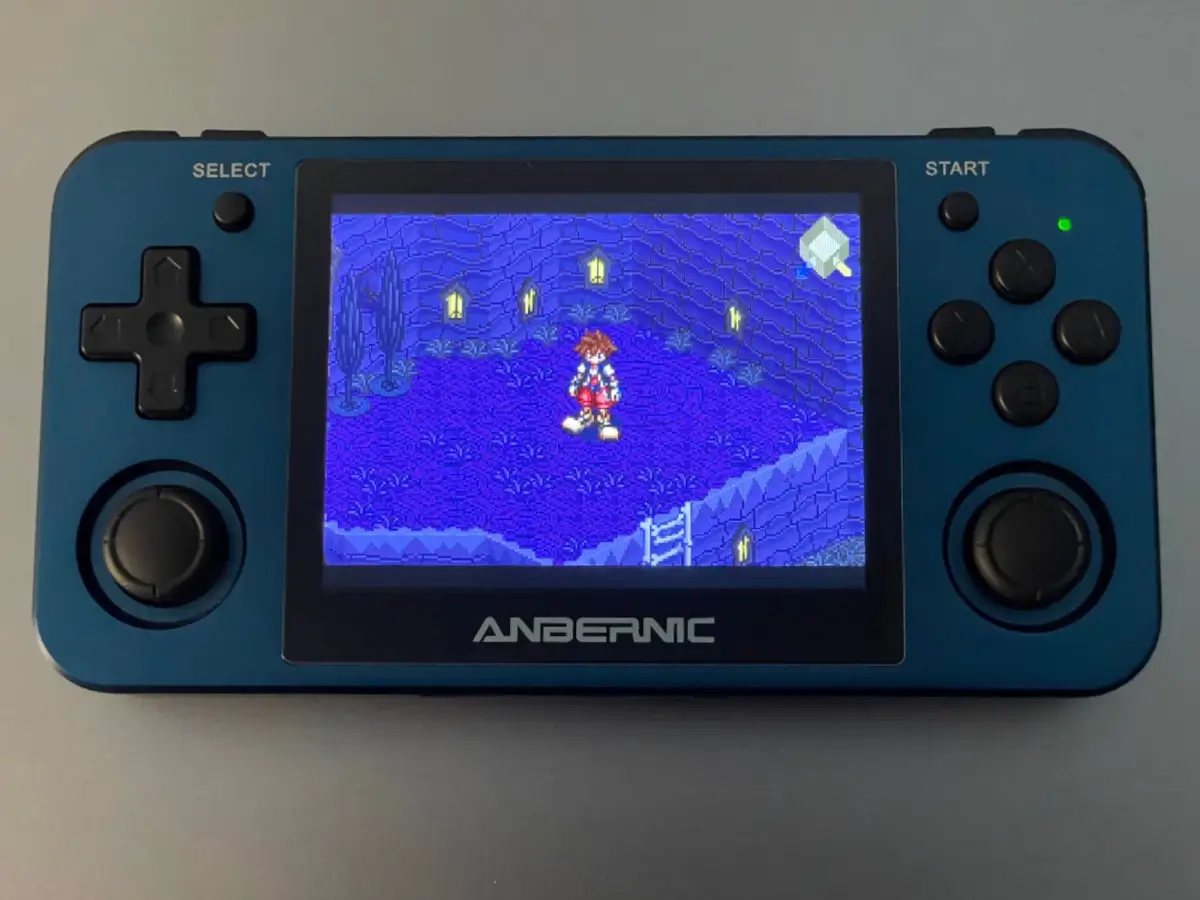 Speaking of 3:2 screens, the Game Boy Advance runs well on the RG351mp. It's no replacement for the perfectly pixel doubled RG351p, but the RG351mp can handle the occasional GBA game with minimal pixel squishing. For potential buyers waffling between the two devices, it's really a matter of priorities. They both run the same games, so are you looking to tackle some of those GBA backlog games, or are you more likely to spend dozens of hours catching up on PSX RPGs?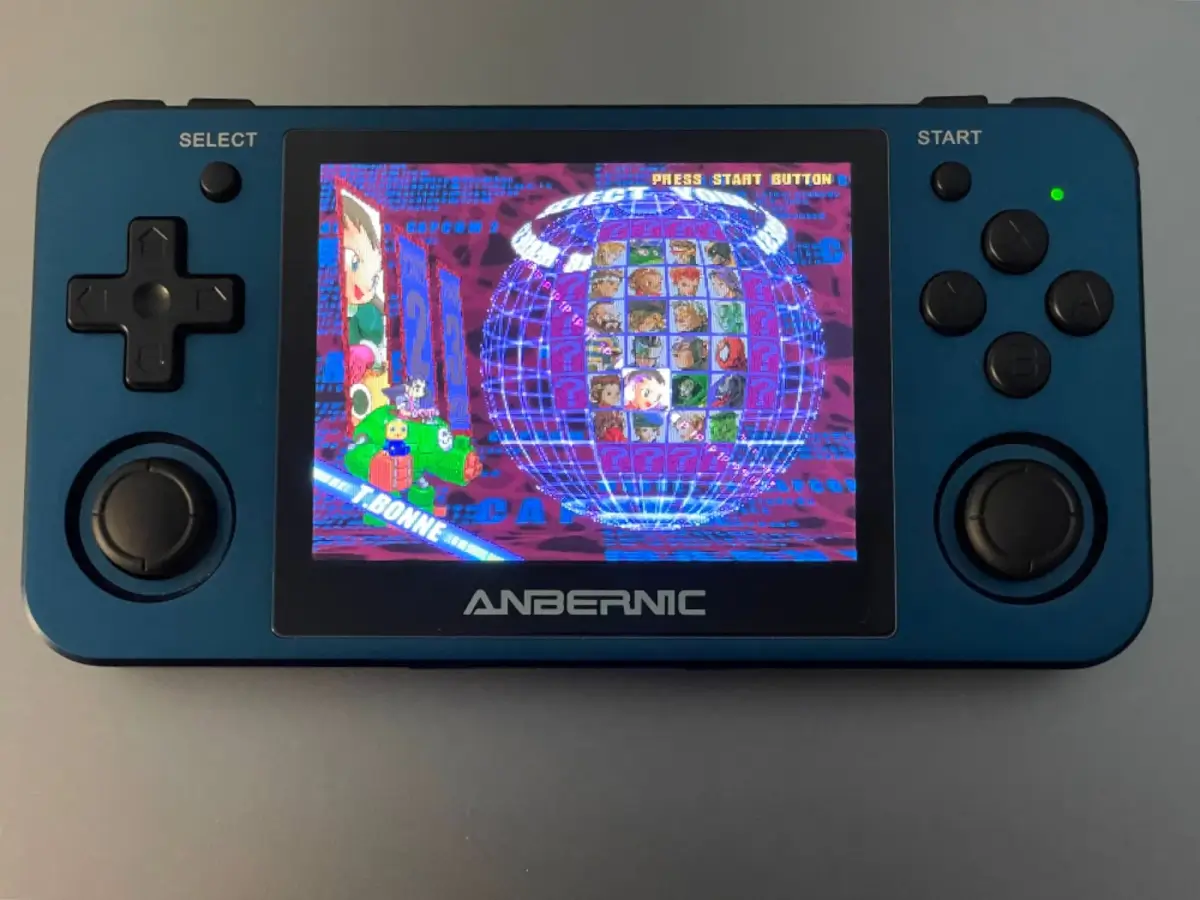 On the Sega side of things, as mentioned earlier, all their earlier consoles and handhelds run wonderfully. Interestingly enough, the Sega Saturn has abysmal performance on the RG351mp and other devices of its ilk. Sega went with an unusual multi-CPU architecture for the console, and given its niche legacy, there haven't been many community efforts around optimizing its emulations. The Dreamcast counterintuitively fares much better. Its catalog is a bit hit or miss. Power Stone and Jet Set Radio run well, but Crazy Taxi is a stuttering mess. Your milage may vary, but unfortunately the Sonics Adventure are just shy of being smooth enough to play.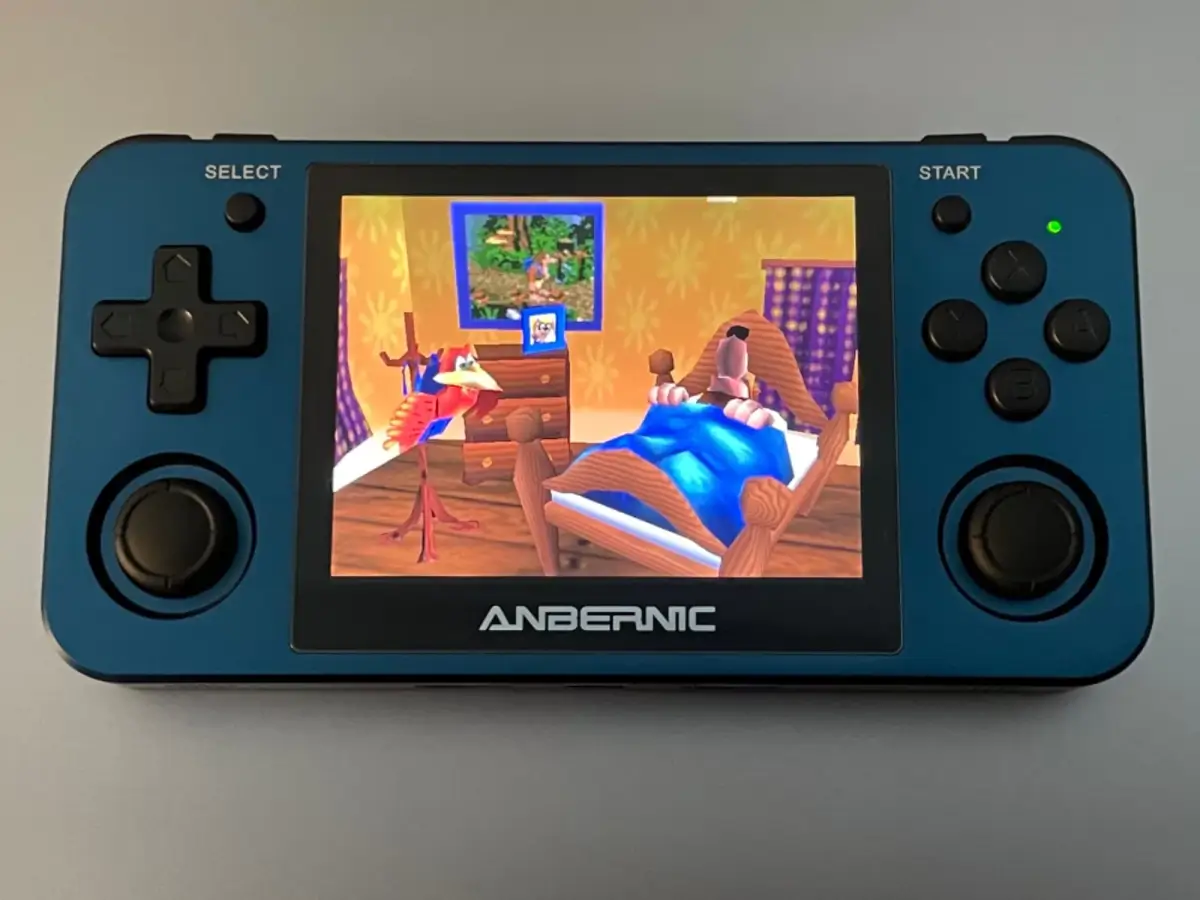 Nintendo's 3D outing isn't as notoriously hard as the Saturn to emulate, but it has a reputation for being the problem child when compared to the Dreamcast or PlayStation. The Nintendo 64's earlier titles are playable on the RG351mp, and the community's done good work expanding its compatibility deeper into its catalog. Conker's Bad Fur Day and Perfect Dark may be out of reach for now, but it does a bang up job of delivering a portable Banjo-Kazooie experience.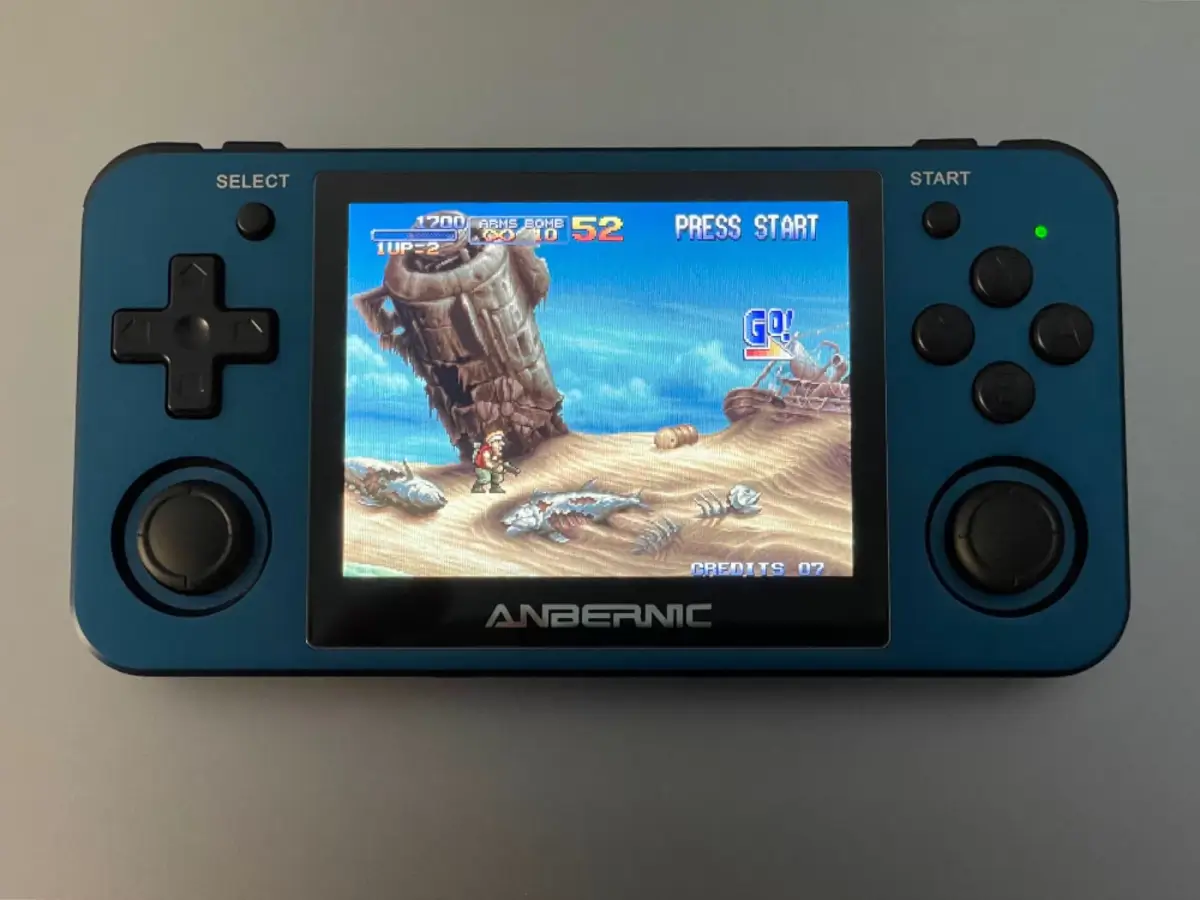 It's more difficult to nail down MAME compatibility on the RG351mp. Arcade titles do not have many natural cutoff points, but it runs many 90s arcade systems like the Neo Geo and CP System II well. As well as their original release at least. Metal Slug is a delight on the RG351mp, slowdowns and all.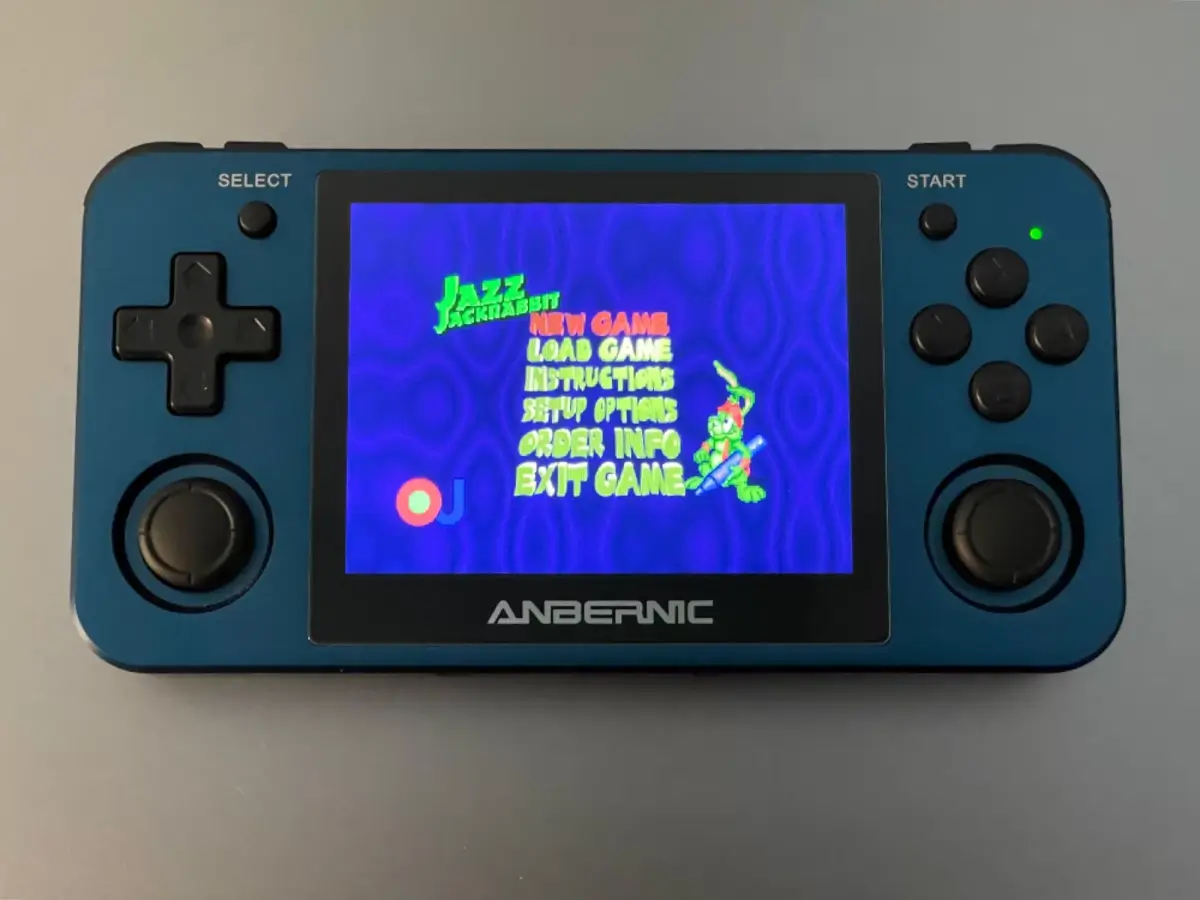 The RG351mp is also able to take advantage of a growing number of "Ports" titles. The handheld is Linux based, and there's a surprising number of games which have some sort of Linux compatibility. Be it native Linux ports, recompilations of one-off Raspberry Pi releases, or open source game engine reimplementations, there's a plethora of head turning games that run natively on this little gadget.
These Ports can be legitimate Linux releases such as Undertale, Shovel Knight, or the recently ported Freedom Planet. There's a good number of indie games as well, like Spelunky, Cave Story, or the fan work Sonic Robo Blast 2. We're back to twin sticks with the RG351mp, which means we're once again able to take advantage of FPS engines ranging from Doom, Quake, Duke Nukem, and even the original Half-Life.
The Ports library is still relatively small, and it's no replacement for Play Store access on Android devices, but it's a nice bonus for RG351mp owners. Ports usually involve copying over a launcher script and game asset files from your PC, but there's a community installer app called PortMaster which helps streamline the process.
Firmware Options
The RG351mp is a relatively new device, but thankfully it's able to tap into the existing ecosystem of community firmwares. As of this review, all of the major firmwares have at least a beta version of an RG351mp-compatible firmware image. These custom firmwares all offer an experience that's similar to the stock EmuElec experience, but has been more refined and optimized for retro handhelds. They all use the same Emulation Station frontend, and rely primarily on RetroArch and its various emulation cores.
351Elec is the more beginner-friendly firmware for the RG351mp. It comes preconfigured with smart defaults for each system. Once you get it installed on your SD card, all you need to do is move your game files over and you're good to go. The 351Elec team has done a good job of moving some of RetroArch's more complicated and hidden settings into Emulation Station's menus.
On the flip side, ArkOS gives players a nice blank slate to customize their experience to their heart's content. This particular custom firmware comes with a few more Ports preinstalled, and has a reputation for being where more bleeding-edge code is tested. It's useful for people who really like to squeeze every ounce of performance out of their device. Additionally, The Retro Arena also recently put out a custom firmware for the RG351mp which has a similar philosophy and performance to ArkOS.
We're happy to announce that 351Droid is also available for the RG351mp. Instead of running Linux, 351Droid introduces the LineageOS Android distribution to the RG351mp. It's still in its early stages, and you'll need a USB-C OTG adapter with a mouse and keyboard for some of tasks, but the dev team continues to iterate and improve on this unique firmware offering.
For a full overview of these firmwares, we recommend taking a look at the Retro Game Corps video embedded above.
Conclusion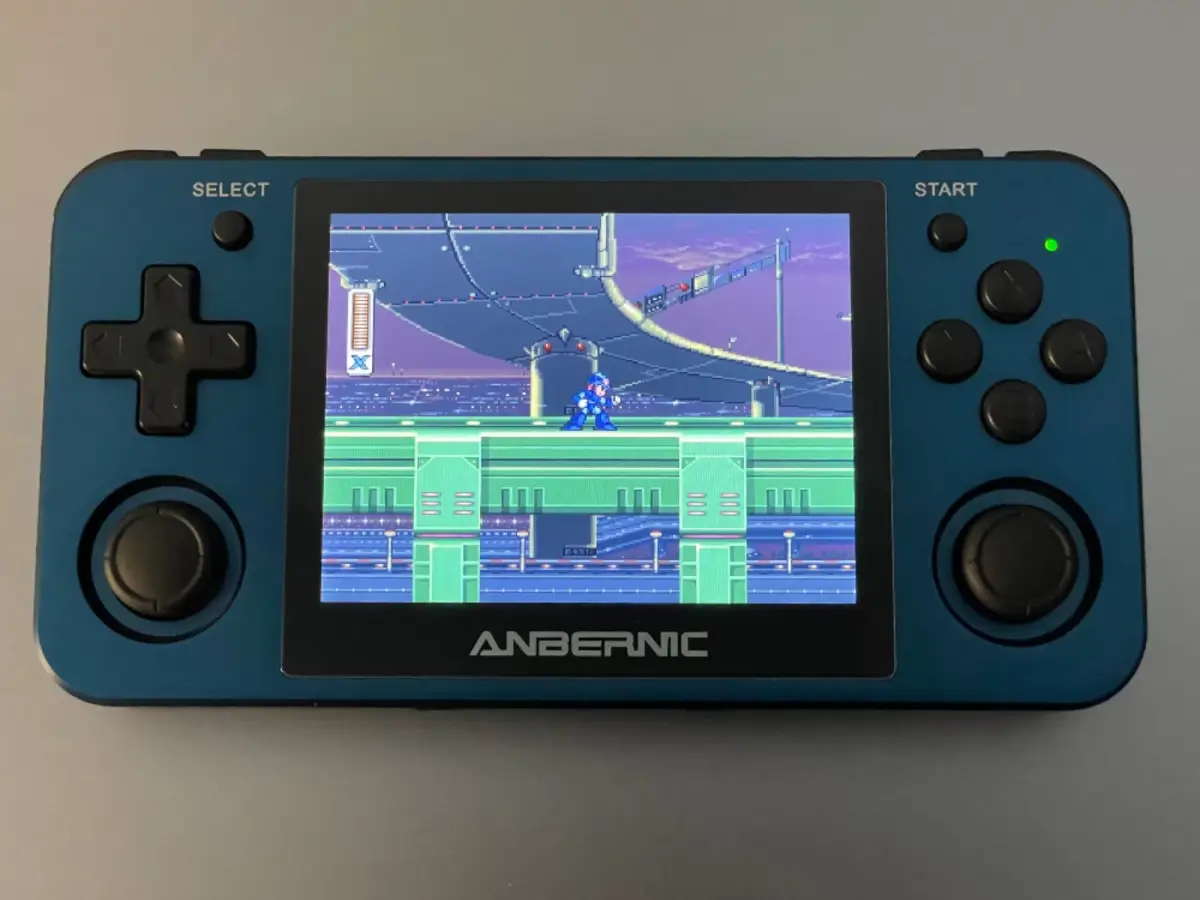 The RG351mp arrives at bit of an inflection point. We're on the cusp of a tidal wave of new Android-based handhelds which promise full N64 and Dreamcast compatibility, with the potential for some GameCube support for good measure. The RG351mp could have been the RK3326 handheld to get before the next generation got fully underway.
To be clear, the RG351mp is by no means going to be the last RK3326 handheld. During the writing of this review, Powkiddy went and launched the redesigned RGB10 Max 2 for instance. Even late this year we've seen the launch of the Powkiddy Q20 Mini and Anbernic RG300x running previous generation F1C100S and JZ4770 processors. Good chipsets have a habit of staying around. But there was definitely a feeling in the retro handheld community that there was still an opportunity for a definitive RK3326 handheld.
The RG351p has the controversial 3:2 screen. The RG351v has a larger Game Boy design. The GameForce Chi has unique Neo Geo stylings. For fans looking for a straightforward premium 4:3 experience, there was still a gap that the RG351mp could have filled.
Instead, we got another opinionated handheld. The RG351mp isn't perfect. It lacks the onboard WiFi that could have removed a ding from this device's spec sheet, and it's metal case further causes potential buyers to waffle for weight or price reasons.
Despite all this, I think the RG351mp is going to continue to find its way into collector's hands for quite some time. The next generation of handhelds are targeting increasingly large 4.5″, 5.5″, and even 6.5″ screens. With the exception of next year's 3.5″ Retroid Pocket 2+, the RG351mp will still have a niche for itself in the premium portable retro handheld scene. The metal case of the RG351mp makes the device more expensive, but it's also an enticing curiosity. If you're in the market for a metal handheld, there aren't many on the market with as few compromises as the RG351mp.
It's a shame Anbernic decided not to make a "Plastic Pro" entry in the RG351 line. Not only would RG351pp be fun to say, but a lightweight sub-$100 4:3 Anbernic handheld would be an instant recommendation for any beginner looking to get into the space. As it stands, the RG351mp is still easy to setup and use, feels great to play on, and handles any 2D game you can throw at it. It's an indulgence to be sure, but come on, treat yourself.
Delicious:
Tied with the RG351v for the best 4:3 screen on the market.
Outrageously high build quality.
Mature custom firmware ecosystem.
Suspicious:
Lack of built-in WiFi.
Metal body can tire hands out after a while depending on your posture.
High price for this late into the RK3326 lifecycle.
Conclusion:
Until the next generation lands, this is the handheld to get if you can justify the cost. Otherwise maybe see if you can find a good deal on a used RG351p.
*The RG351mp featured in this review was provided by Anbernic for evaluation and firmware development purposes.