If you're deeply immersed in the world of retro gaming, there's a device you should know about – the KTR1. For those who haven't yet crossed paths with this gadget, prepare to dive into a new gaming dimension. The KTR1 started as a rumor, and now that it's in the hands of gamers, it's sparking debates about its capabilities and place in the emulation universe. In this review, we'll share our insights and opinions on the KTR1 based on our gaming experiences. Buckle up for a retro gamer's perspective!
Want the Short version? TLDR!
Gaming Gear Galore
The KTR1 offers a plethora of options that would make any gamer's head spin. It's like a buffet of choices. Want to customize the position of the analog stick and D-pad? You got it. Fancy a plastic or metal shell (although metal isn't currently available)? Take your pick. But the choices don't stop there. The KTR1 comes equipped with an MTK Helio G99 (2x A76 & 6x A55 cores) paired with a Mali G57 MC2 GPU. Then there's the RAM and storage configurations, ranging from 4GB of RAM and 64GB of storage in the base model, to 6GB of RAM and 128GB of storage in the mid-tier, and a whopping 8GB of RAM and 256GB of storage in the top-tier variant. To ensure you can game on-the-go, it packs a beefy 7000mAh battery. For this review, I went all-in with the 8GB model.
First Impressions from a Gamer's Lens
Unboxing the KTR1, you immediately notice its heft, courtesy of that 7000mAh battery. I wasted no time with a button check, and the results were… decent. The top trigger buttons felt somewhat flimsy and lacked the solid click of other gaming devices like Anbernic or Retroid. The thumbsticks, while on the smaller side, offered a full range of motion. The 1080p screen was impressive, but it left a lot to be desired in terms of brightness. Even at max brightness, it struggled to shine outdoors, though the "super dim" function was a welcome feature for late-night gaming sessions, sparing me from disturbing my sleeping partner. The tactile feedback from the face buttons against the shell reminded me of RG503, not terrible but noticeable. While some users reported quality control issues, my unit seemed to fare better, with no significant problems. The speakers packed a punch, delivering loud audio. The solid shell held everything together, but the shoulder buttons on top did rattle a bit.
KTR1 vs. T618 Competition: Battle of the Chips
The closest rival to the KTR1 is any device sporting a Unisoc T618 chip, and there's quite a selection to choose from. While the KTR1's hardware outshines the T618, the difference in performance isn't astronomical. Both chips handle games up to the PSP era with ease. The real test comes when tackling GameCube and PlayStation 2 titles. In that realm, the KTR1 does have a slight edge, running a handful more games than its T618 counterparts. However, it's not enough to claim a resounding victory. We'll delve deeper into gameplay shortly.
Showdown of the Handhelds: KTR1 vs RG505 vs RG405M
In a showdown of epic proportions, I compared the KTR1 with its relatives, the RG505 and RG405M. The focus was on size, button layout, tactile sensation, and unique aesthetics. Each device's physical build, ergonomic design, button performance, and overall look were closely examined to decide what features were right. This event went beyond gadgetry; it was a quest for the fusion of form, function, style, while giving the shortest answer.
KTR1 vs RG505: A Step Up
Size-wise, KTR1 slims down but shares thickness with RG505. Yet, KTR1's sticks jut out, risking pocket scrapes. Where KTR1 shines is its button layout, sporting extra mapping buttons for home and back functions. Plus, those front-firing speakers? A total win compared to RG505's downward speakers. RG505 does have Anbernic's signature button magic, but KTR1 holds its ground with innovation. it's not just about the specs; it's about how these devices fit in your hands. Personally, I found the KTR1 more ergonomic, making it easier to hold and reach those shoulder buttons, giving it an edge in the tactile gaming experience.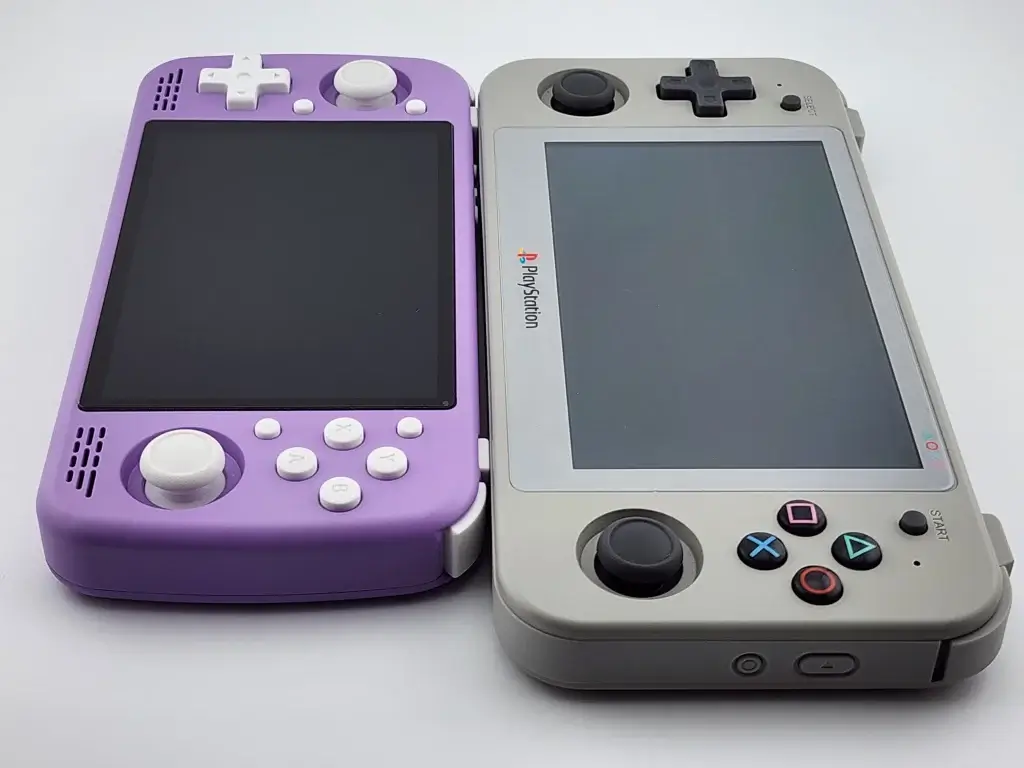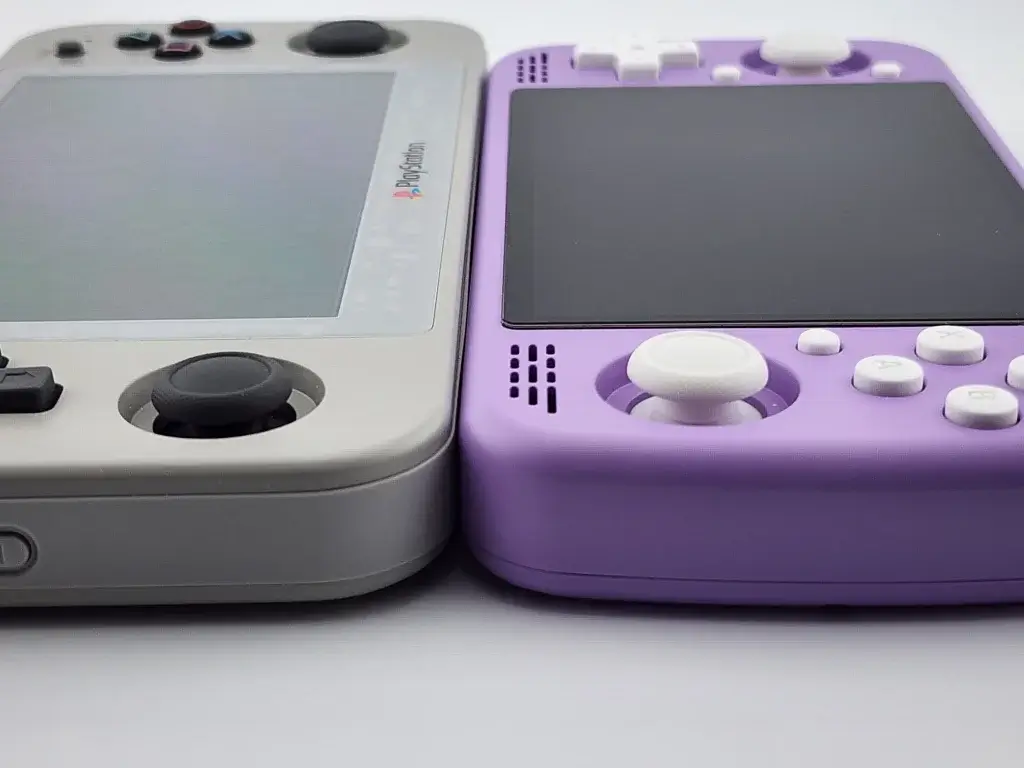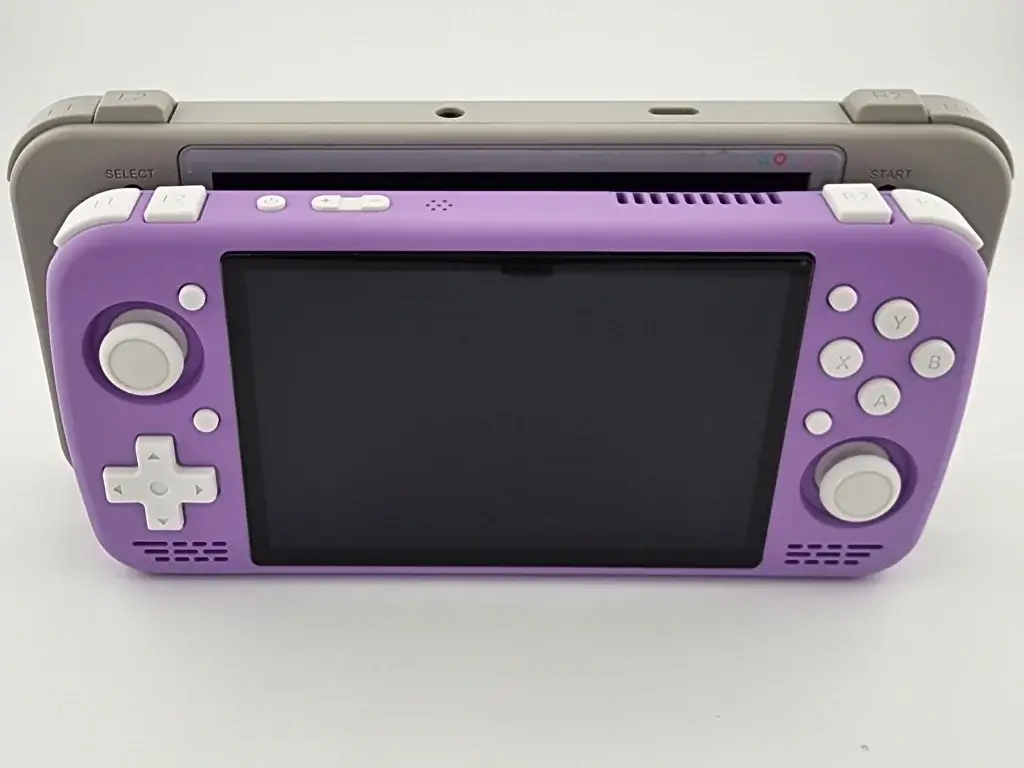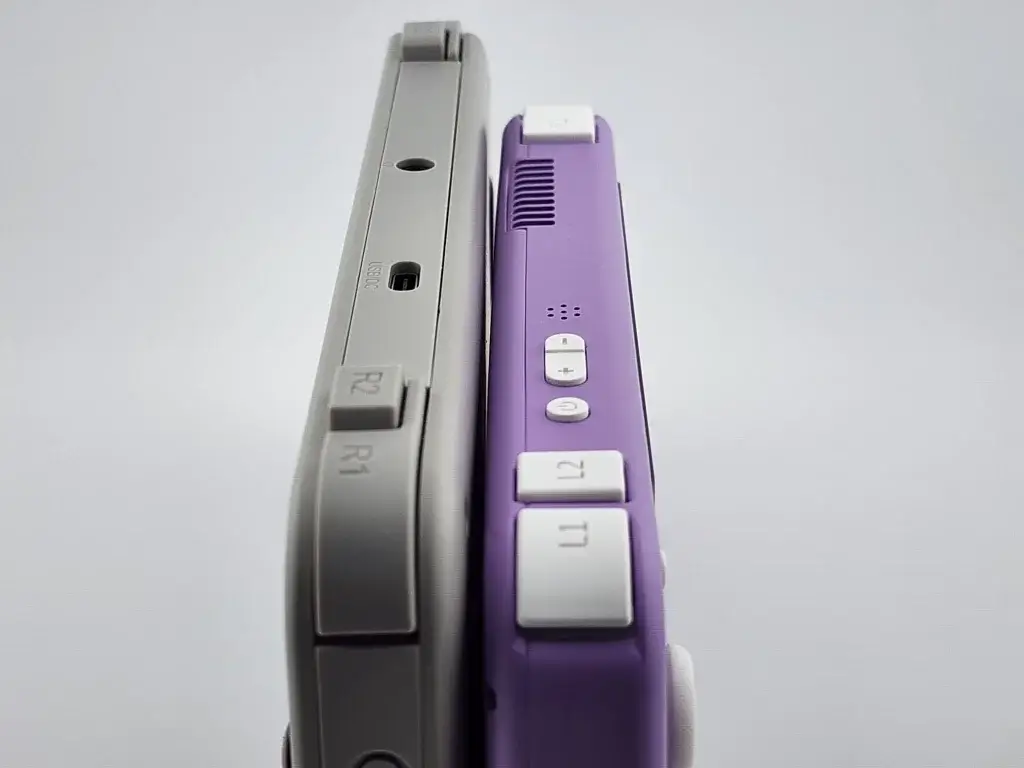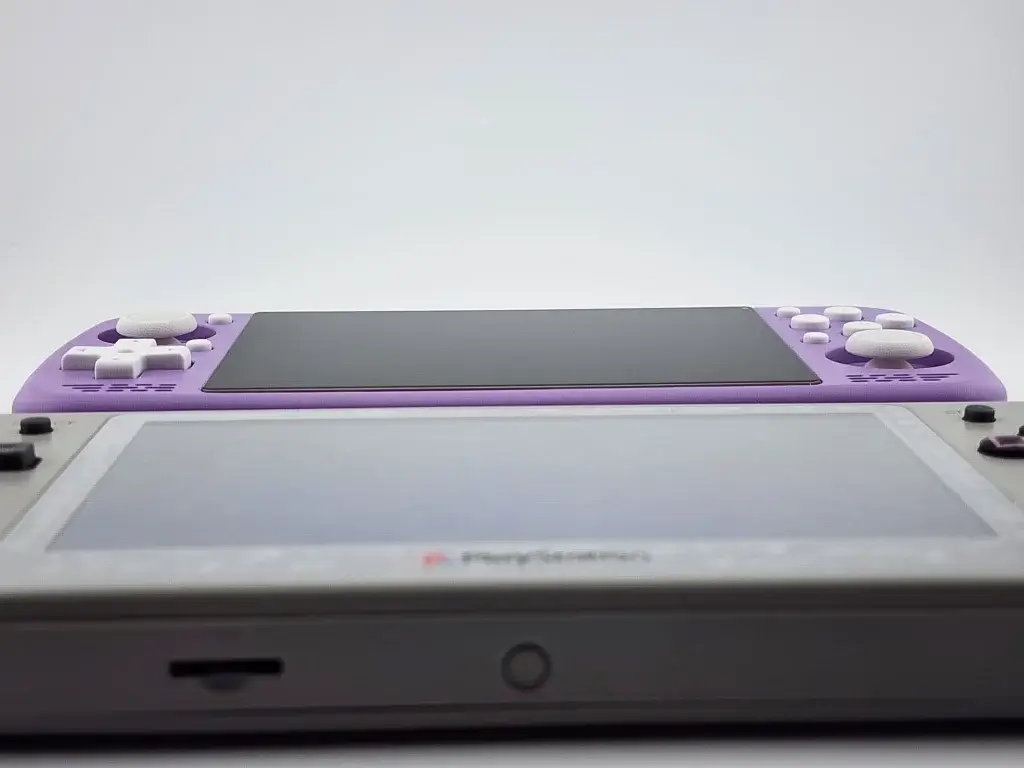 KTR1 vs RG405M: A Tight Fight
Here we have another Anbernic favorite taking on the KTR1. Size-wise, the RG405M is slightly smaller and thinner than the KTR1. Personally, I'm a fan of the KTR1's extra mapping buttons, but the 405M compensates by featuring a face-mounted home button, which is handy. Metal shells have always been my jam; they feel sturdy and help dissipate heat, a feature the 405M adds, making it a bit heavier despite the KTR1's 7000mAh battery.
In the button quality department, it's no surprise that the 405M, hailing from Anbernic, offers superior button feel compared to the KTR1. Now, let's talk ergonomics. Both the KTR1 and 405M have shoulder buttons well within reach, but the KTR1's thickness provides more grip, perfect for marathon gaming sessions. And let's not forget the front-firing speakers on the KTR1, a game-changer compared to the 405M's bottom-firing ones. Having the sound directed right at you truly elevates the gaming experience."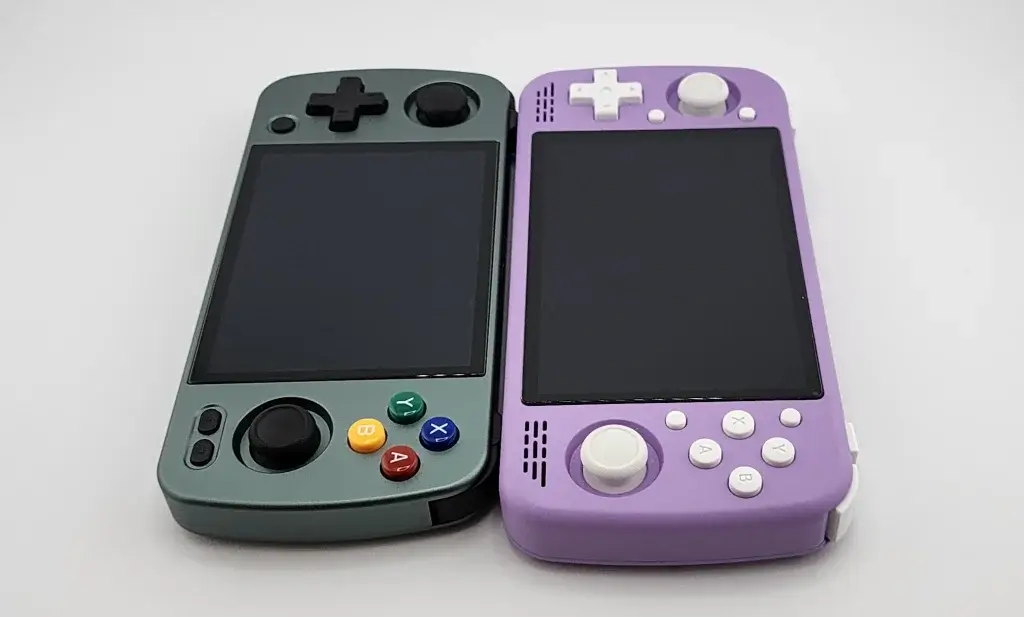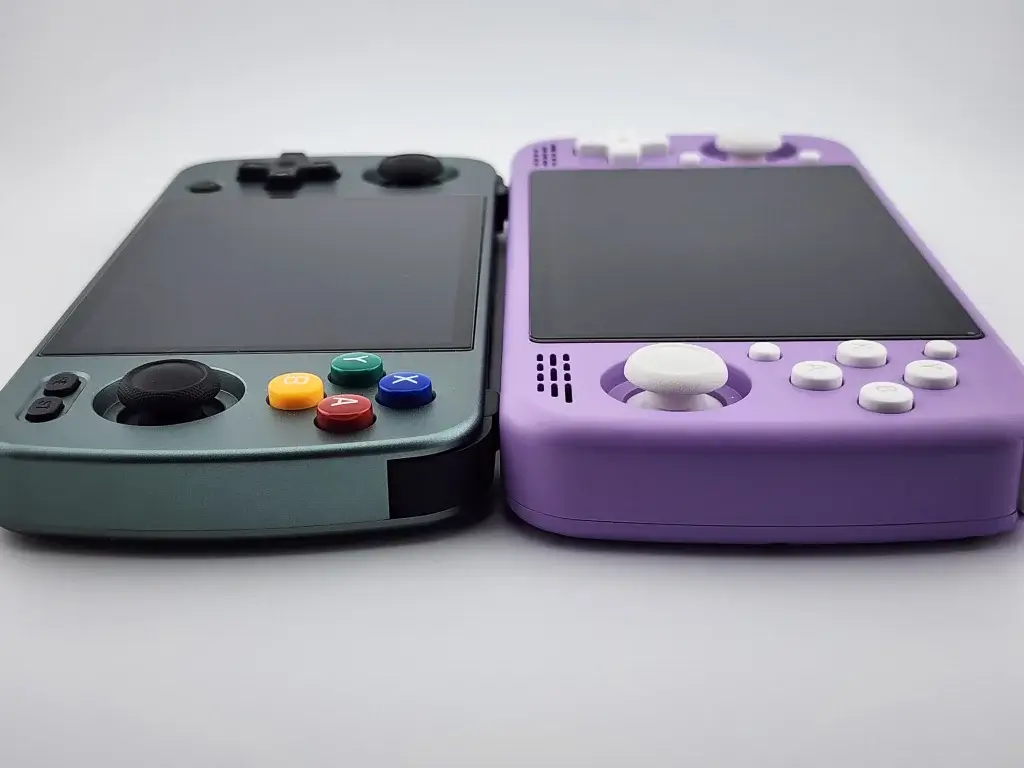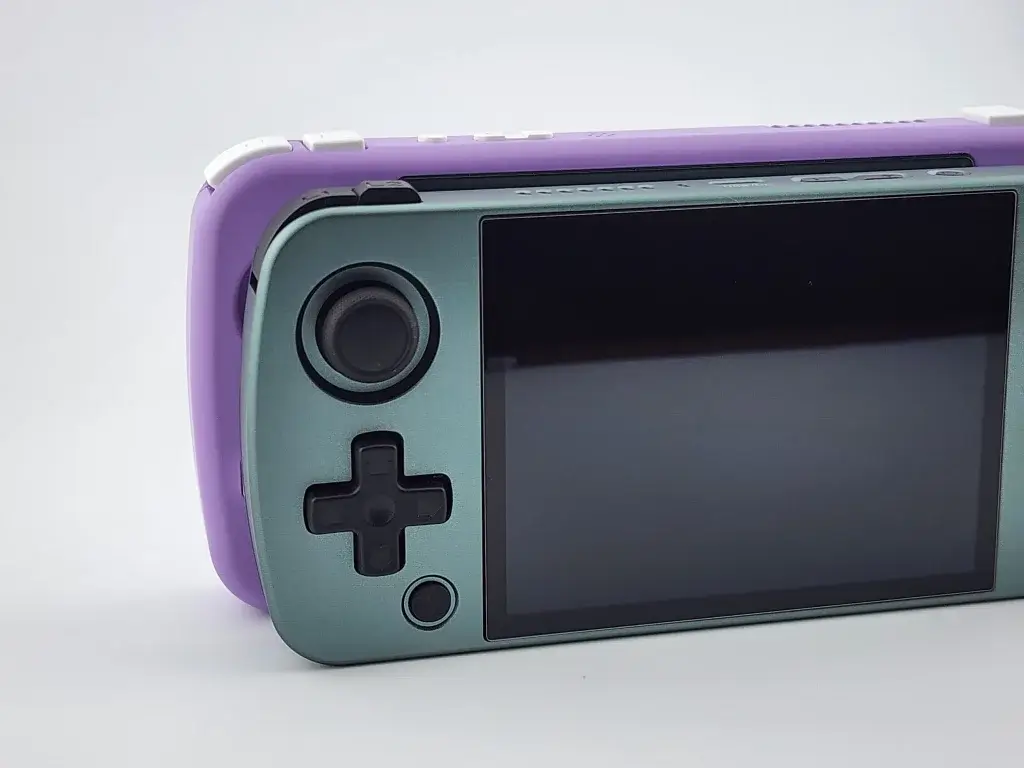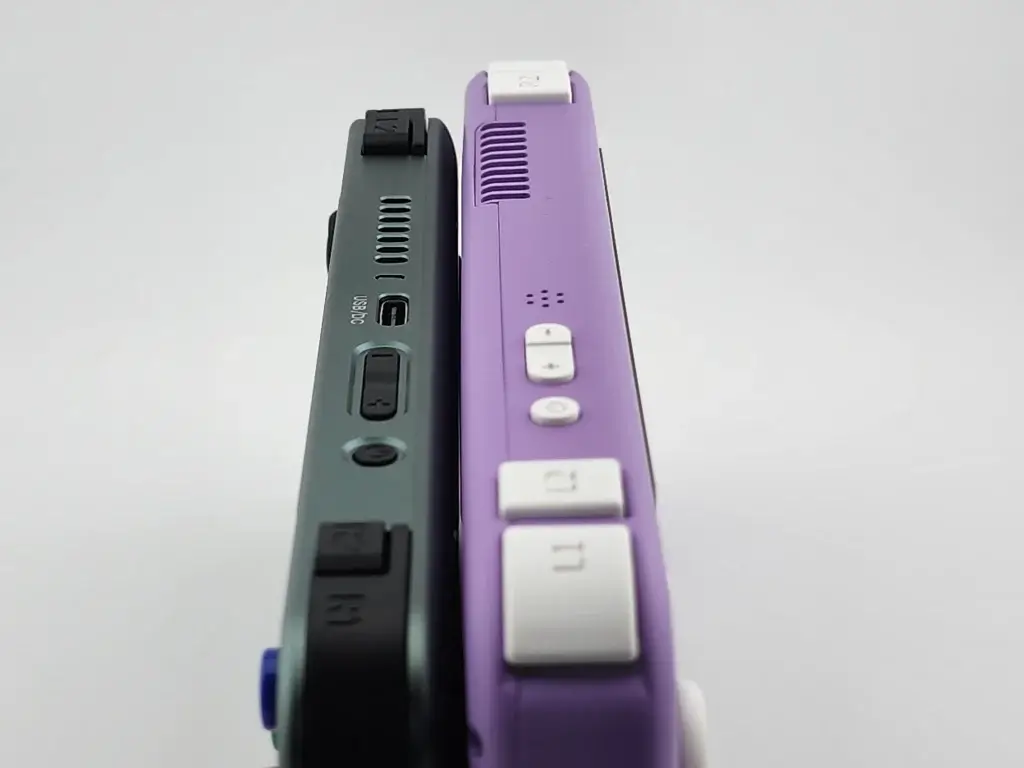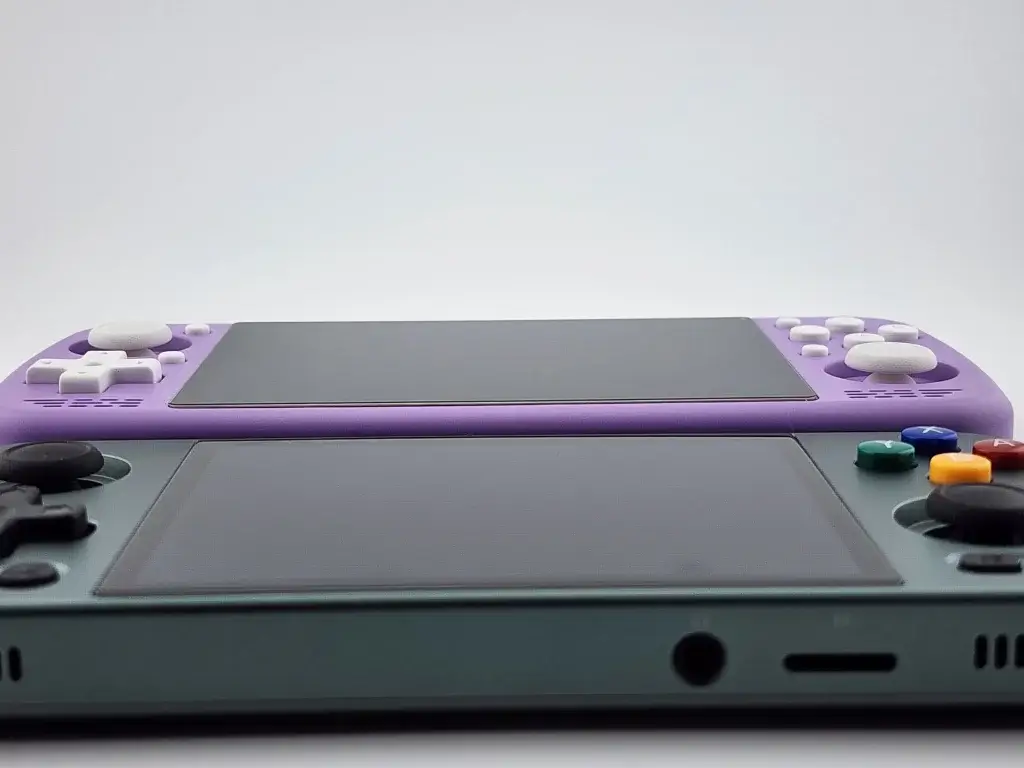 Gaming Adventures: Can It Play That?
Now, the moment you've been waiting for: gameplay! This is where it all comes together, and the burning question is, "What can it play?" Let's break it down by console generations, starting with 8-bit and 16-bit consoles, which we'll group together.
8-Bit Delights
Running 8-bit games on the KTR1 is a cakewalk. It handles these classics with ease, like shooting pixelated fish in a retro barrel. The 3:2 aspect ratio screen is a perfect match for these games, leaving minimal bezels on each side for that authentic gaming experience.
16-Bit Bliss
Moving up to 16-bit consoles, the KTR1 continues to shine. Set up RetroArch, and it effortlessly handles these consoles. The 3:2 aspect ratio again proves ideal, with minimal bezels that don't distract from the gaming fun.
GameBoy Advance Greatness
The KTR1 truly shines when it comes to GameBoy Advance games. Its aspect ratio matches that of the GBA, providing a perfect fit on the screen. Plus, it has plenty of power left to enable lightning-fast gaming with the fast-forward option.
PlayStation Power
Equipped with DuckStation, the KTR1 makes light work of PlayStation games and can even achieve a 3-4x resolution across the library. While some titles can handle higher resolutions, staying in the 3-4x range is ideal, as the improvements become less noticeable beyond that.
Nintendo 64 Nostalgia
The N64 has been a challenging console to emulate on retro handhelds, serving as a benchmark for older chipsets. But fear not, the KTR1 handles N64 games without breaking a sweat, even running them at a 1080p upscale!
Dreamcast Dreams
I put the KTR1 to the test with Dreamcast games using the paid version of Redream, which allows for game upscaling. The results were impressive. The KTR1 can upscale games to 960p, delivering a fantastic visual experience and smooth gameplay. Even in demanding titles, I encountered no significant slowdown. However, attempting to push it further to 1440p was a stretch too far for the KTR1, resulting in less-than-optimal performance.
Nintendo DS Dilemmas
Emulating the Nintendo DS on a smaller screen can be challenging. The KTR1 handles DS games at 2x resolution with ease, but the limited screen real estate forces you to use the screen-swapping function. While turn-based or single-screen games work well, stacking the screens makes the lower one quite small and challenging to use.
PlayStation Portable Prowess
Things get interesting with the PSP, as it pushes the KTR1 to its limits. To comfortably play most PSP games, I had to activate turbo mode. The screen's aspect ratio doesn't align perfectly with the PSP, resulting in letterboxing at the top and bottom. While playable, I found the screen a tad too small for a flawless gaming experience, especially in games requiring precision. Although some games can be pushed to 3-4x resolution, I recommend sticking to 2x for optimal performance.
Sega Saturn Struggles
The KTR1 faces challenges when emulating the Sega Saturn. It takes some effort to get Saturn games running on the device, but once you do, most games run reasonably well, surpassing T618 counterparts. However, it's far from perfect, with occasional frame rate drops and an inability to upscale games due to CPU limitations. If you're willing to accept standard resolution and occasional hiccups, you can scratch that Saturn itch.
GameCube Gambit
GameCube emulation is where we were hoping to see a significant improvement over the T618, but the KTR1 only marginally outperforms it. I conducted extensive testing with many games, with and without turbo mode. Unfortunately, turbo mode is necessary for playable performance.
While I managed to get games running with tinkering in emulation settings, each game required individual adjustments, including switching between OpenGL and Vulkan. PAL roms are recommended for smoother gameplay. Despite the slight performance boost over T618, I still experienced frame drops and occasional sound distortion, making GameCube gaming less than perfect. It's playable, but don't expect it to unlock the entire library or offer improved graphics.
PlayStation 2 Pursuit
Finally, the pièce de résistance – PlayStation 2 emulation. It's the dream of every retro gamer to have PS2 in their pocket. Does the KTR1 outshine the T618 in this department? Yes, it does. It performs better and can run some games that the T618 devices can't. But does it perform well enough to justify the KTR1's price tag? In my opinion, not quite. Through extensive testing, I found that you can play a few more PS2 games compared to T618 devices, but the difference doesn't justify the cost. Even with turbo mode and the top-tier KTR1, you're limited to native resolution and require significant tinkering, much like with T618 devices. For the smoothest gameplay, opt for PAL roms whenever possible, as they are less demanding. Many games needed underclocking to achieve playable performance while minimizing frame rate dips. Sound stuttering was also a common issue in several games, detracting from the overall experience. If you're not keen on extensive tinkering to make your PS2 roms playable, the KTR1 may not be your ideal choice. It lacks the performance required to be a top-tier PS2 emulation handheld.
The Final Level: Conclusion
Our journey with the KTR1 has been a rollercoaster, and while I'm still waiting for my metal version, I can attest to its allure. However, I can't find a compelling reason to opt for the higher-tier models. Despite marginally better performance in high-end console emulation, the price hike doesn't seem justified, especially with more promising handhelds on the horizon, boasting superior chipsets and more appealing pricing. At this stage, I can conclude that the KTR1 excels as a PSP emulator with an adjustable screen for dimness. Perhaps with custom firmware and further chip optimization, it could evolve into a more formidable gaming device. But for now, it stands as an overpriced PSP emulator, with cheaper alternatives matching its performance level.
TL;DR:
The KTR1, a retro gaming device, offers various hardware options but falls short of being a game-changer. It excels in emulating older consoles like the GBA and PSP but struggles with GameCube and PS2. Despite its potential, the higher-priced models don't justify their cost, if you want one, just get one of the lower ram models. While it's a solid PSP emulator, other handhelds offer matching performance at a lower price. Keep an eye on upcoming gaming devices for a more promising handheld with better performance.
Purchase the KTR1 from the KTPocket Official Store.
What did you think of this review? Let us know in our Discord!
This page may contain affiliate links, by purchasing something through a link, Retro Handhelds may earn a small commission on the sale at no additional cost to you.