Ahoy hoy! This is Mikhailov from Team Retrogue! If you just purchased an Asus ROG Ally, or are interested in purchasing a ROG Ally, you have come to the right place. This written guide will help you get through the initial setup process so you can jump right into your games as quickly as possible.
This article is a supplement to my video guide on the Asus ROG Ally. You can find my video guide below. 
If you are interested in buying a ROG Ally, you can find it using the link below: 
Initial Setup
Even if you decide to replace the hard drive, I recommend you go through the initial Windows setup with the stock hard drive in place.
I also recommend that you create a local account. You can bypass the Microsoft requirement by typing a@a.com with any password. It will give you an error and then it will also prompt you to create a local account. You can also set up your fingerprint and a PIN number as necessary in order to get to your device. 
Make sure your device is connected to power.
Once you get to the main windows screen you're going to want to boot up the Armoury Crate Software, and you're going to want to update everything that it prompts you to update. Then go into the customer support section in the My Asus app and update everything there including the BIOS. This is especially important if you plan on swapping out the hard drive. At some point during the update process your system will restart and take you right into the BIOS. Hit "yes" in order to do the BIOS update. While it's working you're going to get strict instructions not touch the ROG Ally.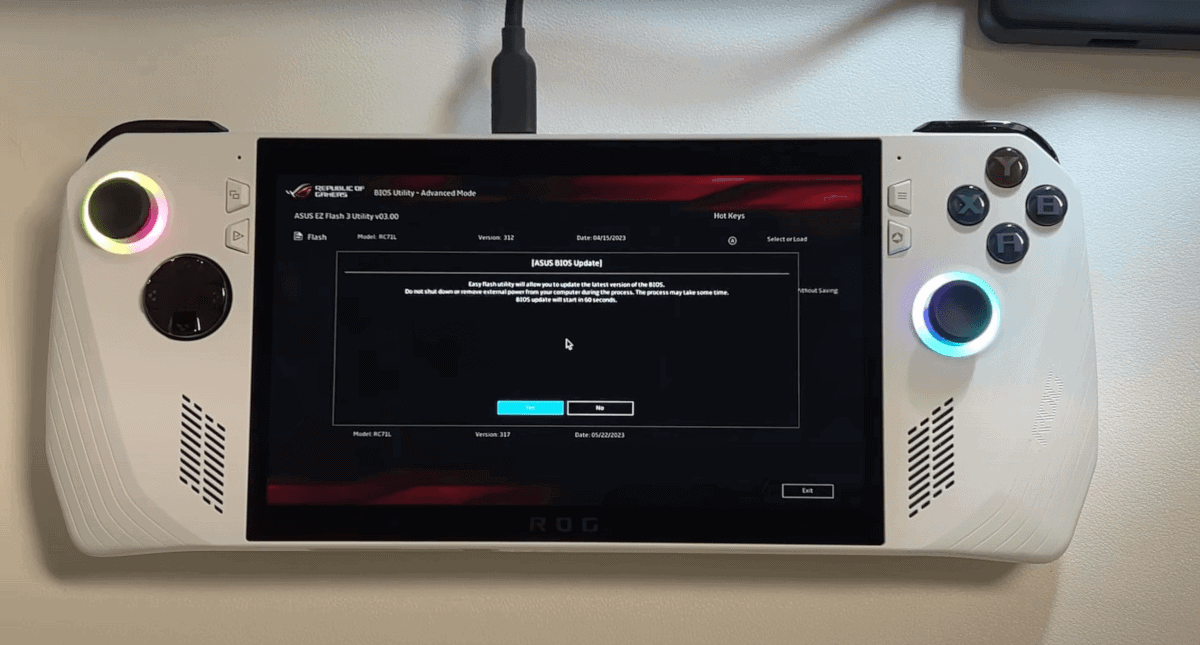 OPTIONAL: Hard Drive Upgrade
If you are not interested in upgrading your hard drive, feel free to skip this section. However, if you did buy a new hard drive and you want to see how to replace it, it's fairly simple. There are six screws on the back of the unit that will need to be removed with a small screwdriver. The bottom middle screw will not come out. You can just leave it in there loose. Then use a soft pry tool like a guitar pick to go ahead and open up this device.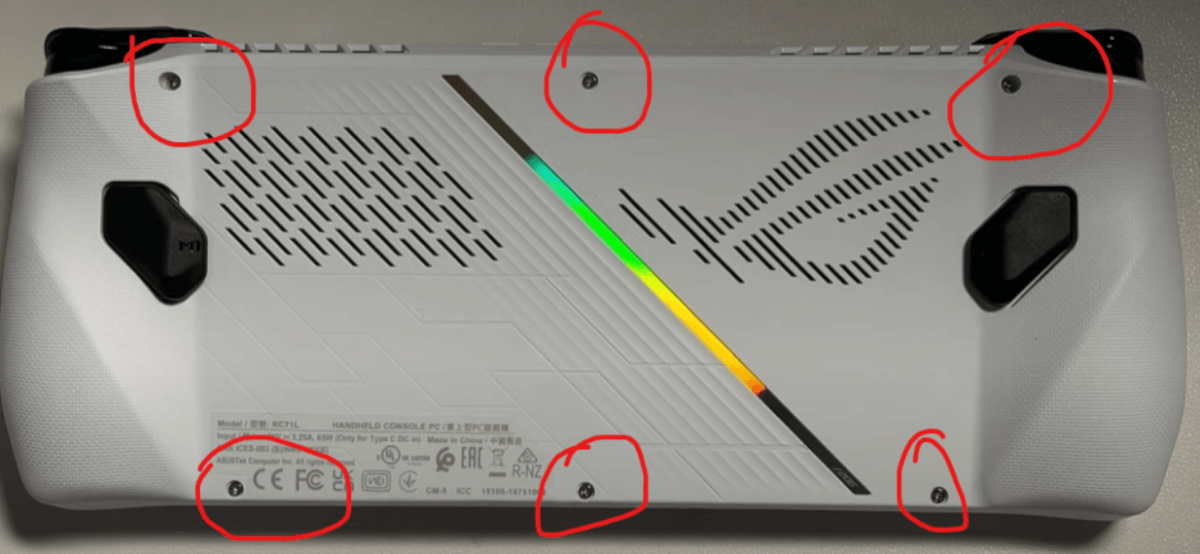 From there, it should be fairly simple. All you have to do is just take one screw out of the hard drive and replace it with your updated hard drive.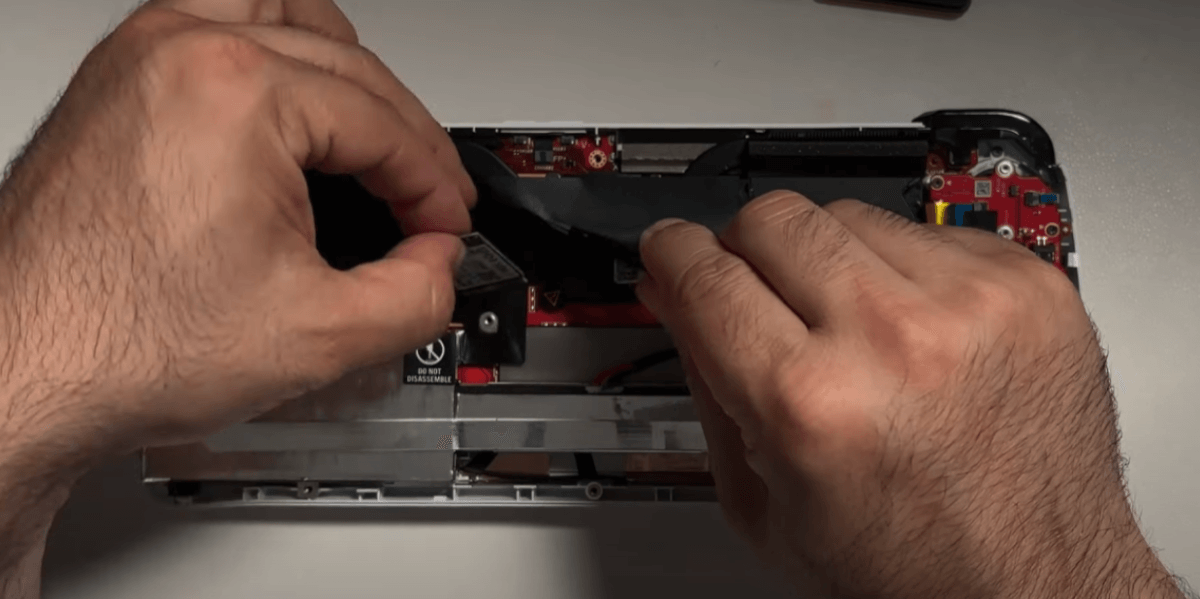 The ROG Ally takes a 2230 NVMe Hard Drive. This hard drive can also be found in the Steam Deck. 
Below is a recommendation of a good Hard Drive.
Once you're all buttoned back up go ahead and turn on the unit and hold the volume down button in order to get into the BIOS. Once you're there go ahead and press Y to go into advanced mode. Then go into Asus Cloud recovery. From there, go ahead and accept the Privacy notice. Then it's going to prompt you to connect to a wireless network. What this is going to do is download a fresh copy of Windows 11 along with the Armory crate and all the presets. However, this will take some time, so leave your Ally connected to power while you do this. 
Armoury Crate
The Command Center can be accessed by pressing the custom left button. From there, you're going to be able to adjust settings such as the refresh rate, the resolution, AMD RSR, and you can even turn off the embedded controller if you are playing in docked mode. You can also customize what options show up in the Command Center by accessing the Armoury Crate software itself using the custom right button. You can also use Armoury Crate as a front end to load your PC games by linking your Steam, GOG, and Epic accounts. 
In the lighting section, you'll have several options on how you want the LEDs around the joysticks to look. I use Aura Sync because it's the only option that lets me have a different color for each joystick. If you have other ROG devices, Aura Sync will match the lighting for each one.
Emulation Setup Options
One easy way to set up Emulation is using the early access of EmuDeck, which does require you to be a patron, but it also has official ROG Ally support, and will automatically set up your emulators and create shortcuts in Steam using Steam Rom Manager. You will also be able to use Emulation Station DE as a front-end if you don't want these systems in your Steam library.
But let's say you want a much simpler plug-and-play process and you don't plan on emulating any high-end systems. In that case, the Steam version of Retroarch is a completely viable option. You can load emulation cores and play your games right from Retroarch with minimal setup, and Retroarch will load from the Armoury Crate software. Below is a Retroarch setup video made by Russ from Retro Game Corps if you choose this option. 
Finally there is Playnite. I haven't personally used this frontend, but Joey from Joey's Retro Handhelds has, and he has a great setup video on how to get Playnite up and running on the Ally. 


Until next time: bye for now, and don't stop believing!
What did you think of this article? Let us know in our Discord!
This page may contain affiliate links, by purchasing something through a link, Retro Handhelds may earn a small commission on the sale at no additional cost to you.