Halloween has come and gone. The cool fall air replaced with cold and bitter breezes. Black and Orange quickly being replaced with Red and Green. And what goes best with Winter and Red/Green color schemes? That's right! Great and plentiful sales! Leading up to the winter holiday season you can find a new sale pretty much everywhere you turn, but here in November? It all starts out with singles day… 11/11… 2 days from now.
So let's take a look at some of the big sales going around pre 11/11 Singles Day sales. 

Let's start out with an easy one. Powkiddy; everyone's favorite high quality handheld manufacturer, is having their own sale, and it's $10 off. Yeah; that's it. $10 off most Powkiddy handhelds using the code 1111LOVE at their website. So while you could use that to purchase a Powkiddy X17 for only $100, I have some better recommendations. 
The Powkiddy RGB30 is only $70 for its perfectly square screen and nice RK3566 performance. The Miyoo Mini+ will only come out to $55, a really nice price for the experience. And if you need something larger, you can buy a TrimUI Smart Pro for only $80. While you can get $10 off of their higher end devices like the X18S or RGB10Max3 Pro, I would recommend waiting until the true 11/11 sale to see better deals on those specifically.
Another easy one, but also easy to recommend, is the AYN 11/11 sale. Which is currently running until 11/11 so if you're interested in deals, now is the time.
This sale consists of 2 items. The Ayn Odin Pro is currently $200. For a Snapdragon 845, and 8gb of ram, this is an excellent deal for the price, and is one that makes a lot of sense with the recently shipping Odin 2. On the other end of the price spectrum is the Loki Max for $550. For that you get a Ryzen 7 6800U, 16gb of Ram as well as 512gb of Storage. The 6800U may not be new but the mature drivers definitely keep the Loki Max as a viable option; especially at the price point.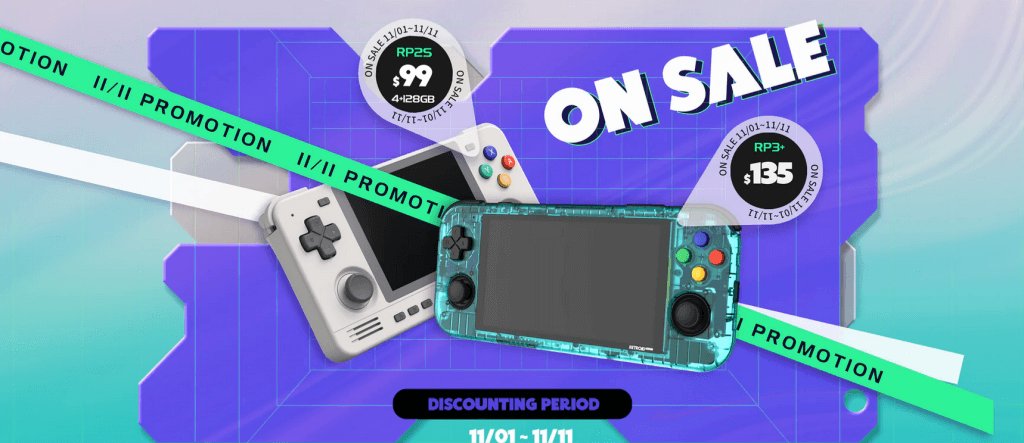 And the last manufacturer to touch on in these "Pre-11/11" sales is Retroid. Also running until 11/11 with their sales, Retroid currently has 3 in-stock products on sale. The biggest deal of the batch is the 4gb, 128gb storage version of the RP2S. $99 (instead of $119) basically gives you free shipping on the higher end RP2S, and in turn makes this one of the best values for a handheld right now. 
In the even higher end, Retroid has their Pocket Flip, and Pocket 3+ handhelds on sale for $145, and $135 respectively. A really nice 4.7" display, the venerable T618 processor, and their nicely sized 5,000 and 4,500 mAh batteries make these both nice experiences for the price, and definitely worth a pickup if you haven't already. 
And that wraps up the pre-11/11 sale deals in the handheld scene. If you're looking elsewhere for other hobbyist sales you're bound to find something of interest. Drop is having a sale on their MT3 keycaps; $90 for a beautiful Noctua Keycap colorway. Or perhaps you're interested in 3D Printers? Creality currently has their Ender 2 Pro for as low as $100. Which is a really good starting place if you haven't tried printing yet. But really, the rest of the big sales will be coming in the next two weeks; so I hope your wallets are ready. Mine sure isn't.
What did you think of this article? Let us know in the comments below, and chat with us in our Discord!
This page may contain affiliate links, by purchasing something through a link, Retro Handhelds may earn a small commission on the sale at no additional cost to you.